(*This post was sponsored by Arla® Cream Cheese, but the content and opinions expressed are my own.)
You are in for a treat because this Tuscan Chicken Pasta recipe is so easy to make! This recipe is easy to make gluten free, just use gluten free penne pasta!
I used to be intimidated to make pasta in an Instant Pot, but this creamy Tuscan garlic chicken recipe was so easy to make. Gluten free pasta can be a challenge, but it worked beautifully in this recipe! Read further to see how you can win $5,000!!!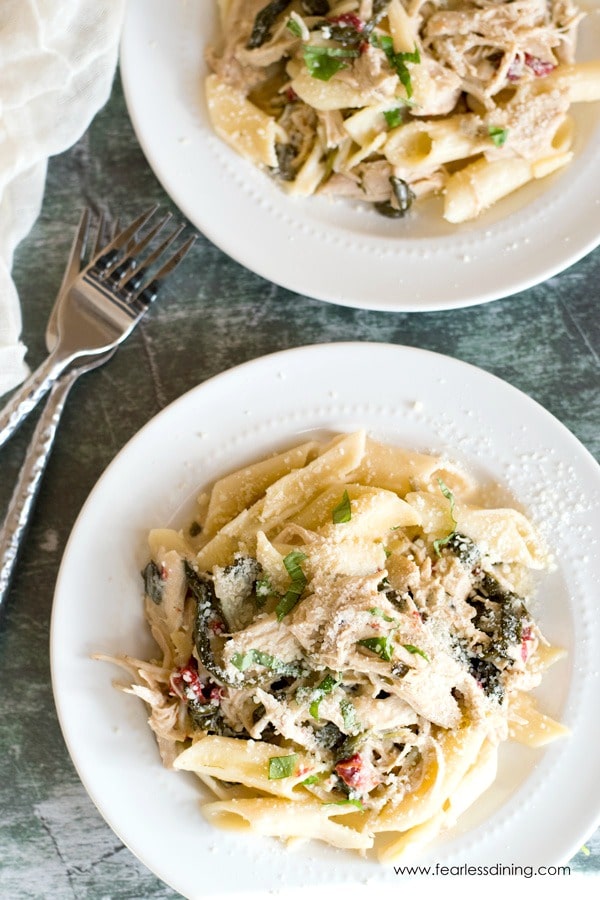 This post is going to be a lot of fun!
Have you watched Chopped on the FoodNetwork? It is a fun cooking show where the contestants are given a basket of items. They need to create a delicious recipe with all of the ingredients in their basket.
I am part of a Chopped at Home Challenge, which is being presented by Arla®, and I am here to encourage you all to play too! (*Note that all contestants will be required to upload a description of their recipe along with a photo of the finished dish that includes the Arla packaging in the shot.)
The winner will be selected based on appetite appeal (35%), creativity and incorporation of basket ingredients (15%), appearance and presentation (15%) and clarity of dish description (35%).
First prize is $5,000 and a gift basket full of delicious Arla cream cheese and helpful kitchen products valued at $350! Check out all of the rules HERE.
Here is more information on how to enter this awesome cooking contest.
Challenge Basket
Ingredients in my challenge basket included:
Arla cream cheese (more about this yummy stuff shortly!)
Chicken
Baby Spinach
Roasted Red Peppers
I have been experimenting quite a bit with my Instant Pot lately. My biggest challenge has been to get gluten free pasta to stay firm and not turn to mush when cooking in a pressure cooker. Cooking pasta in an Instant Pot isn't easy. You want the pasta to be al dente.
Don't forget to read all about the contest!!
The hero of this recipe is the Arla cream cheese. It makes such a delicious creamy sauce for this pasta! Arla cream cheese doesn't only come in the Original plain flavor I used for this recipe, but there are also fun flavors like Blueberry, Strawberry, Herbs & Spices, Mediterranean Garden, and Skyr.
Arla's Original cream cheese is made with four simple ingredients that you can recognize: cream, skim milk, cream culture, and salt! Arla cream cheese is also free of artificial flavors, preservatives, thickeners, and stabilizers so you can feel good serving it to your family. Find Arla at a store near you.
Are you ready to make this creamy Tuscan Garlic Chicken recipe?
First, grab your Instant Pot or pressure cooker and these ingredients:
Boneless chicken breasts
Arla Original cream cheese
A jar of roasted red peppers
Garlic and fresh basil
Onion
Chicken broth
Spinach
Salt and pepper
Gluten free penne pasta
I used two packages of Original Arla Cream Cheese in this recipe.
The first step is to sauté the onions on the Sauté setting.
Next add one package of Arla Original cream cheese, the chicken breasts, red peppers, basil, 1/2 of the chicken broth, and seasonings.
Cook on the Poultry setting according to your Instant Pot or pressure cooker directions.
When the chicken is done, depressurize your pressure cooker according to the directions. When it is done, open your Instant Pot. Add the spinach and stir. The leaves will wilt, but not fall apart.
Remove the chicken breasts and shred them with two forks. Add the chicken back into the pot. The chicken is so moist it will pretty much fall apart as you shred the chicken.
Instant Pot Pasta Trick
Now for the instant pot pasta trick. Now is when I add the uncooked gluten free pasta to the Instant Pot. I just dump it right in. Next, add the second package of Arla cream cheese, and the other half of the chicken broth.
Set the Instant Pot (or pressure cooker) to cook for just 5 minutes. That is all it takes. If you overcook the pasta in the pressure cooker, it will turn to mush.
When the pressure cooker is done, let the pressure release. Open the pressure cooker when it is totally depressurized and stir. Enjoy!
How to make this Tuscan Chicken Pasta recipe:
Instant Pot Tuscan Chicken Pasta
An easy Instant Pot chicken pasta recipe
Ingredients
2 chicken breasts
1/3 cup roasted red peppers
32 ounces chicken broth
3 garlic cloves
14 ounces cream cheese , plain flavor
2 cups water
1/4 cup fresh basil
2 cups fresh spinach
1 small onion, diced
1 tablespoon olive oil
1 teaspoon salt
1/2 teaspoon pepper
10 ounces gluten free pasta, uncooked
1/4 cup parmesan
Instructions
In the Instant Pot, add olive oil, garlic, and diced onion. Cook on Sauté for 5 minutes.
Add salt, pepper, basil, chicken, broth, water, 7 ounces of the cream cheese, and roasted red peppers. Close and lock the pressure cooker. Cook on poultry setting or 15 minutes.
Safely release pressure per your pressure cooker brand's safety instructions.
Open the pressure cooker and remove the chicken. Shred the chicken and put back into the pot. Add the uncooked pasta to the pot. Cook on manual 5 minutes.
Safely depressurize the pressure cooker again. Add raw spinach leaves and last 7 ounces of cream cheese and mix well. 
Garnish with parmesan and more fresh basil
Nutrition Information:
Yield:

6
Amount Per Serving:
Calories:

533
Saturated Fat:

14g
Cholesterol:

123mg
Sodium:

1453mg
Carbohydrates:

40g
Fiber:

1g
Sugar:

2g
Protein:

27g