If you love cookies, these gluten free pfeffernusse cookies will soon become one of your favorites :-).
I am so excited for this holiday season.
Two years ago, I started this blog for fun; to try to help people who were gluten free. When we were originally diagnosed, there wasn't much information out there and I wanted to make sure others could find delicious recipes to enjoy.
Over the past two years, my blog has grown so much. I am truly grateful for all of my readers.
Pfeffernusse are a popular cookie in Germany, the Netherlands, and Denmark. My husband's family is from Germany and his grandmother used to bake pfeffernusse during the holidays. Since going gluten free, he hasn't really thought about this cookie…until he was grocery shopping with our daughter a few days ago.
I was at fencing class with my son when I got a text message from David. It was a photo of a box of regular pfeffernusse cookies and a note, "please make this gluten free for me soon."
It is pretty hard to resist when he asked so nicely :-).
Want to see more gluten free cookie recipes? Click here to see all cookie recipes on this site.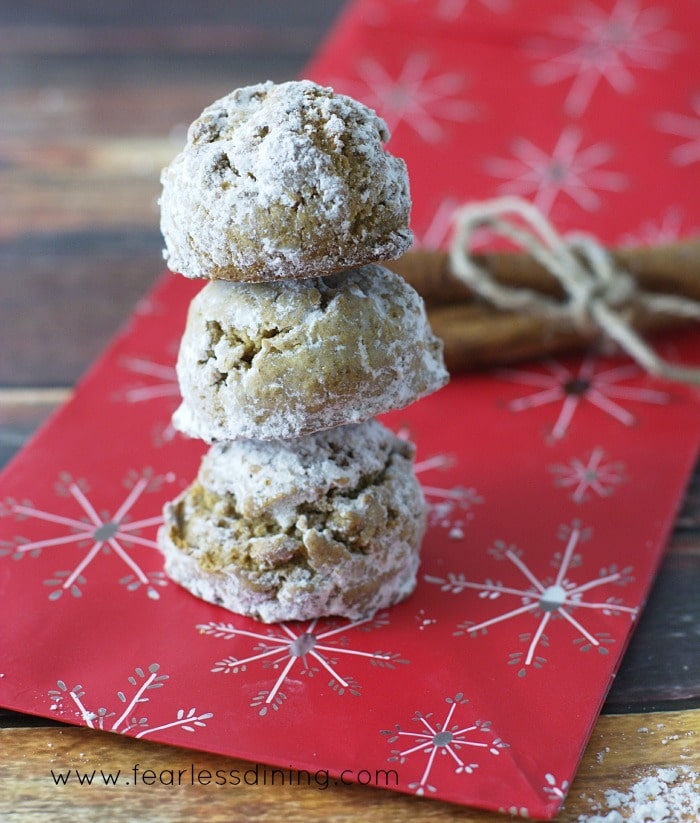 Mix the wet and dry ingredients.
(*Please note this post has affiliate links. Ordering through my site will not change the price you pay. A tiny commission will come to Fearless Dining to help offset the cost of running this blog. I truly appreciate the support.)
| | |
| --- | --- |
| | |
Preheat the oven to 350 degrees.

In a large bowl, add all dry ingredients.

In a small bowl, add all wet ingredients and mix well.

Pour the wet ingredients into the dry ingredients.

Use a cookie scoop to drop dough balls onto a parchment paper lined cookie sheet.

Bake for 8-10 minutes until done.

Remove and move to a cooling rack.

Drop each cookie into powdered sugar and toss to coat.
For more cookie recipes, check out my Gluten Free Cookie board on Pinterest!
Follow Fearless Dining – Gluten Free's board Fearless Dining's Gluten Free Desserts on Pinterest.
Here are More Yummy Holiday Cookie Recipes
Save
Save