Hawaiian butter mochi is an easy dessert made with coconut and butter in a rice flour base. This butter mochi recipe makes a great gluten free dessert for any tropical themed party.
If you haven't tried mochi, this super easy Hawaiian Bata Mochi recipe is worth trying. Soft and creamy, this butter mochi just melts in your mouth.
Bata Mochi / Hawaiian Butter Mochi
"Bata Mochi" also known as Butter Mochi, is a naturally gluten free Hawaiian local treat.
A lot of people have never heard of butter mochi. Think of it like a baked custard made with sweet rice flour.Butter mochi is a soft cake made with coconut (or regular) milk, sweet rice flour, sugar, and eggs. You may be surprised how easy this butter mochi recipe is to make. Mochi is naturally gluten free, and our kids love it as a snack or dessert.
As I worked with Skool restaurant for a blog interview, their co-owner/pastry chef, Hiroko Nagano, and I became friends. Her baking style has a Japanese influence from her family.  Many of her recipes are gluten free. (You can read all about Skool and their gluten handling procedures.)
When Chef Nagano shared her amazing gluten free Black Sesame Banana Bread recipe with me, she also shared her Auntie Ellen's family mochi recipe. I knew this was special, and I asked if I could also write-up this recipe for the blog.
Auntie Ellen was so sweet, and she loved the idea that more people can try her mochi recipe. Her Aunt's butter mochi recipe is so easy to make.
Our family often bought mochi at our local Japanese market, Mitsuwa. Now that we know how easy it was to make, we will always make our own. You will find this mochi recipe is just as good, if not better than store-bought mochi.
We all hope you enjoy this butter mochi recipe as much as we did. My kids devoured this mochi very quickly.
Here is a photo of the Hawaiian butter mochi batter so you can see the consistency. It is creamy and smooth.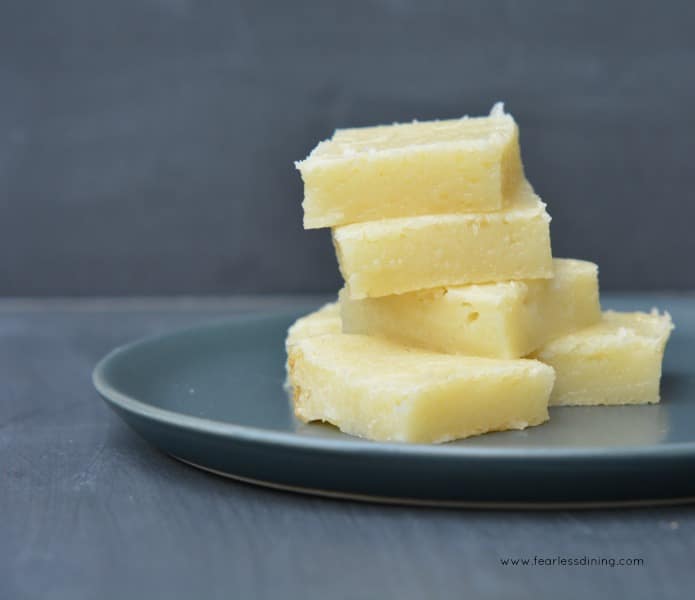 More fun Japanese Dessert Recipes to Try:
(*Please note this post has affiliate links. Ordering through my site will not change the price you pay. A tiny commission will come to Fearless Dining to help offset the cost of running this blog. I truly appreciate the support.)
Things You Need to Make This Recipe:
An 8×8 pan to bake this mochi in.
How to Make Hawaiian Butter Mochi:
Auntie Ellen's Bata Mochi Recipe
Delicious Hawaiian bata mochi, or butter mochi recipe.
Ingredients
1 cup sweet white rice flour, 120 g
1 cup coconut milk, or regular milk, 220 ml
1/2 cup of organic sugar, 100 g
1 large egg
2 tablespoons melted butter, 30 g
1 teaspoon baking powder
Instructions
Preheat oven to 325 degrees.
Mix together rice flour, baking powder, and sugar in a medium mixing bowl.
Add egg, coconut milk, and melted butter and mix well.
Pour into a greased 8x8 baking dish.
Bake at 325 for 25 minutes.
Nutrition Information:
Yield:

14
Serving Size:

piece
Amount Per Serving:
Calories:

120
Saturated Fat:

4g
Cholesterol:

15mg
Sodium:

21mg
Carbohydrates:

16g
Sugar:

7g
Protein:

1g
Here are more Yummy Desserts to Try!
Save
Save
Save
Save
Save
Save
Save