Easy gluten free oatmeal muffins are always a delicious breakfast treat. These muffins are an easy grab and go breakfast for busy families. Keep reading because I included a short video that walks you through every step to make these moist and delicious muffins!
(*Hint, make a double batch because these healthy oatmeal muffins also freeze well!)
This is my favorite healthy breakfast. Fresh blueberries, gluten free oats, and lots of healthy ingredients. It is gluten free, dairy free, and refined sugar free! All of the good stuff for these gluten free oatmeal muffins.
I will even let my kids have two if they want.
This gluten free oatmeal muffins recipe will surprise them every time.
What do you like to eat when you are looking for a healthy treat? For us, our healthy treats end up being muffins. For even more yummy gluten free muffins, check out my favorite gluten free muffins! If you love fruit in your muffins, these Gluten Free Blood Orange Streusel Muffins make a great treat too.
Can I use Different Fruits in These Muffins?
These healthy blueberry oatmeal muffins taste like a treat, but they are healthy enough to eat without the guilt.
You will love that you can also use any fruit with this muffin recipe! Here are a few ideas to try:
fresh raspberries
apple
mango
blackberries
strawberries
If you love muffins too, these blueberry oatmeal muffins are super healthy. You can also try these light and fluffy Gluten Free Blueberry Coconut Muffins!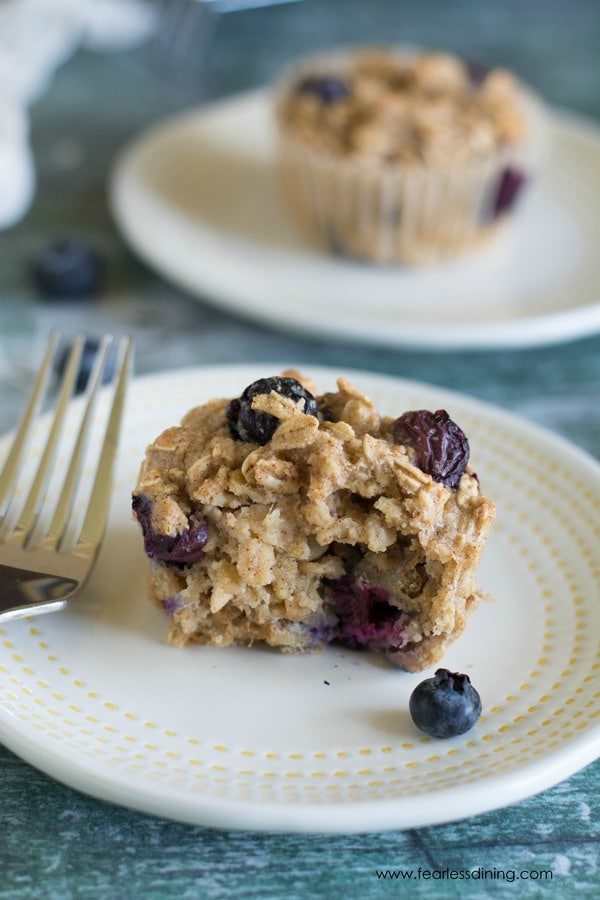 Customize Your Muffins
The other thing I love about this muffin recipe is how customizable it is. Not only can you use fresh fruits, but you can add other things to boost the protein content!! These muffins make an awesome grab and go breakfast!
The sky is the limit. Consider this recipe just a healthy muffin base for your favorite mix-ins!
Here are some fun ideas to change up these muffins:
Use walnuts or a different nut
Add 1/2 cup mashed banana (and 2 tablespoons flaxseed meal)
Seeds like sunflower, pumpkin, flaxseeds, chia seeds
Add 1/4 cup shredded coconut (just add an extra tablespoon of oil)
Can I substitute the almond milk in this recipe?
This recipe works with most dairy and non-dairy milks! Feel free to use coconut milk (not canned!), flax milk, cashew milk, or organic milk.
I can't have coconut oil, can I use a different oil?
You can definitely substitute the coconut oil in this recipe. Feel free to try avocado oil or another light oil, or use ghee or butter.
Ensure Your Oats are Certified Gluten Free Oats
**Make sure the oats you use for this recipe are certified gluten free. It is really important because oats can get cross contaminated so easily. Bob's Red Mill and Trader Joe's both have certified gluten free oats available. Here is a big list of gluten free certified oats to choose from.
Here is a short video to show you how easy this gluten free oatmeal muffin recipe is to make:
More Delicious Oatmeal Recipes To Try:
(*Please note this post has affiliate links. Ordering through my site will not change the price you pay. A tiny commission will come to Fearless Dining to help offset the cost of running this blog. I truly appreciate the support.)
Things You Need To Make This Healthy Oatmeal Muffins Recipe:
An awesome muffin tin is essential for muffin making.
This gluten free flour blend is one of my favorites.
Certified gluten free oats. Make sure your oats are certified gluten free. Oats are very easily cross-contaminated with wheat so really make sure so you stay safe.
How to make gluten free dairy free oatmeal muffins:
Gluten Free Oatmeal Breakfast Muffins
Yield: 12 muffins

Prep Time: 10 minutes

Cook Time: 30 minutes

Total Time: 40 minutes

Healthy gluten free oatmeal blueberry breakfast muffins.
Ingredients
2 1/4 cups Bob's Red Mill Gluten Free Rolled Oats
1 cup almond flour
1 teaspoon baking powder
1 teaspoon cinnamon
1 teaspoon xanthan gum
1/8 teaspoon salt
1 3/4 cups almond milk
2 large eggs
2 tablespoons coconut oil, melted
1/4 cup maple syrup, grade B if possible.
1/4 cup chopped pecans
1 cup your favorite chopped fruit
Instructions
Preheat the oven to 350 degrees.
Spray a muffin baking tin with coconut oil.
In a large bowl, add all dry ingredients and whisk well.
In a medium bowl, add all wet ingredients and whisk.
Pour wet ingredients into the dry ingredients.
Add chopped fruit and nuts.
Blend gently until just mixed.
Don't over mix the batter.
Bake for 20 minutes or until done.
Nutrition Information:
Yield: 12
Amount Per Serving:Calories: 181 Saturated Fat: 2g Cholesterol: 27mg Sodium: 91mg Carbohydrates: 17g Fiber: 3g Sugar: 4g Protein: 5g

Love muffins? Try this recipe for gluten free cherry and chocolate chip muffins!
(*This post was updated from the original posting date of July 21, 2014.)
(Here is one of the original pictures.)
More Yummy Gluten Free Muffin Recipes to Try!
Save
Save
Save
Save
Save
Save
Save
Save