This chilled fresh pineapple soup with basil and cojita cheese is a delicious summer soup. It pairs beautifully with cold white wine.
(*This post is sponsored by zzysh®. zzysh® is on a mission to save wine from going bad. All gushing opinions on this are my own!)
This pineapple gazpacho is filled with fun flavors from dates, basil, limes, coconut, and of course the juicy ripe pineapple.
Cold Soups for Summer
I have been making cold soup recipes for a long time now. They are the perfect summer soup! Chilled soups can come in a variety of flavors based on if you use savory vegetables or sweet fruits.
You can even combine the two for a unique cold soup! Pair this cold pineapple soup with an even balanced white wine, and it is magic!
If you know me, you know I LOVE wine! I write a lot about wine and pairings on Fearless Dining.
Mr. Fearless Dining doesn't drink wine very often, but I have 2-3 glasses a week. This means a wine bottle can take 5+ days for me to finish. What really happens is I drink two glasses of wine from a bottle, then I end up dumping the rest down the kitchen sink because it went bad.
This wouldn't be the end of the world, but to be honest, I love good wine. Cheap wine…dump away, but we belong to several wine clubs and it kills me to dump good wine!
Why would I have to dump wine? A normal bottle of wine will only keep for a couple of days. Nothing is worse than when you can't finish a bottle and the wine goes bad. Talk about a waste of money!!
When zzysh® asked me to try their wine preservation kit, I knew it could help solve my problem! If I could make wine last longer, not only would I save money, but I could open a bottle of wine without worry.
(And don't think this is only for wine. zzysh® has a special kit for champagne too!)
zzysh® is designed to preserve taste, flavor, color, and fizz by sealing and replacing the air inside the bottle with a highly pure, protective atmosphere. For wine, it uses the inert gas argon and for sparkling wine, argon/CO2. With that protective barrier in the wine bottle, wine keeps a lot longer.
How long will zzysh® keep your wine fresh?
Weeks, until you open the bottle again. You will never feel guilty wasting a good wine again.
The zzysh® system is so easy to use.
Snap the special top onto your open wine bottle. Push it down until it can't go any further!
It will stay in your bottle!
Next snap in the special handpiece. This is where the magic happens. When you press it down for 3-4 seconds, it releases the preserving inert argon into the bottle. You can open the bottle and pour yourself a glass of wine, then reseal with another blast of inert argon.
Now that you know you can open a bottle anytime with no guilt, let's talk about the chilled soup!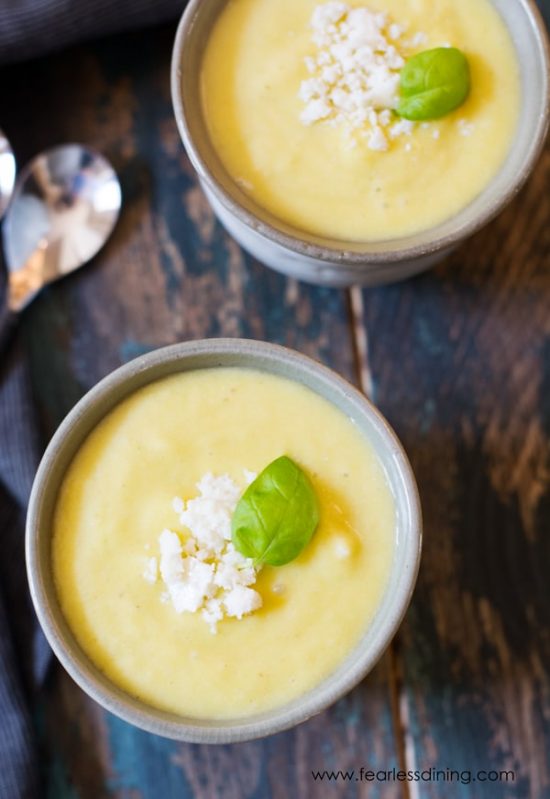 This chilled pineapple soup recipe aka pineapple gazpacho is a soup your whole family will love. It has simple ingredients and is guaranteed to be devoured by your kids. How often can you say that about a soup?
My picky one even loved this soup. Of course, I did not tell her there was fresh basil (something green!) or dates in this soup. Sometimes it is better to keep those secrets to myself.
More Delicious Cold Soup Recipes to Try:
Are you ready to make this soup for yourself?
How to make pineapple gazpacho:
Chilled Pineapple Soup with Cotija Cheese and Basil
Easy chilled pineapple gazpacho soup recipe
Ingredients
3 cups pineapple, (1 whole pineapple with core removed)
1 tablespoon lime juice, (juice from 1 whole lime)
3 tablespoons guava juice
1 tablespoon lemon juice
3 dates, (remove the pits!)
1 tablespoon fresh basil
1/2 cup coconut cream
1/4 cup banana
1 tablespoon cotija cheese
Instructions
Add all ingredients to a Vitamix or blender.
Puree until smooth.
Chill in the refrigerator for 1 hour. Garnish with cotija cheese.
Nutrition Information:
Yield:

4
Serving Size:

1
Amount Per Serving:
Calories:

246
Total Fat:

7g
Saturated Fat:

6g
Trans Fat:

0g
Unsaturated Fat:

1g
Cholesterol:

2mg
Sodium:

43mg
Carbohydrates:

48g
Fiber:

3g
Sugar:

40g
Protein:

2g
Please note this nutrition information is calculated by a recipe plugin and is an estimate based on the ingredients used in this recipe.
More Delicious Gluten Free Recipes to Try!