These gluten free mini Italian meat loaves may look like cupcakes, but they are a savory and delicious dinner idea.
This easy dinner recipe would have been a perfect April Fool's joke for my family….but I am often behind the times because it's already May. These mini meat loaves looked so plain, and quite frankly quite ugly sitting on their plate.
I couldn't resist making these little meat loaves to look like cupcakes.
I wanted to see what my kids would think. Would they eat it??
This has all of the classic ingredients of a fabulous trick to play on my family.
Vegetables…check.
Hidden sources of nutrition…check.
Looks like a dessert…check.
Taste? Lets not go there yet. Check out these fabulous April Fool's Day Food Pranks…next year I am planning ahead more to try a few of these out on my family!
(*If you love to hide veggies in your cooking, give these Gluten Free Acorn Squash Caramel Cookies or Gluten Free Butternut Squash Caramel Cake Bars a try!)
Lets start with the ingredients.
Spring is my favorite time for green garlic. Green garlic is garlic before it the inside cloves become defined. This is usually only available for a couple of months a year. This green garlic is the last of the bunch I got from our CSA. It is almost on the border of being full on garlic, but not quite.
How to make gluten free meat loaf:
I chopped up the green garlic, added the gluten free panko, egg, fresh basil, and mozzarella cheese.
Spread it out in a muffin tin to bake.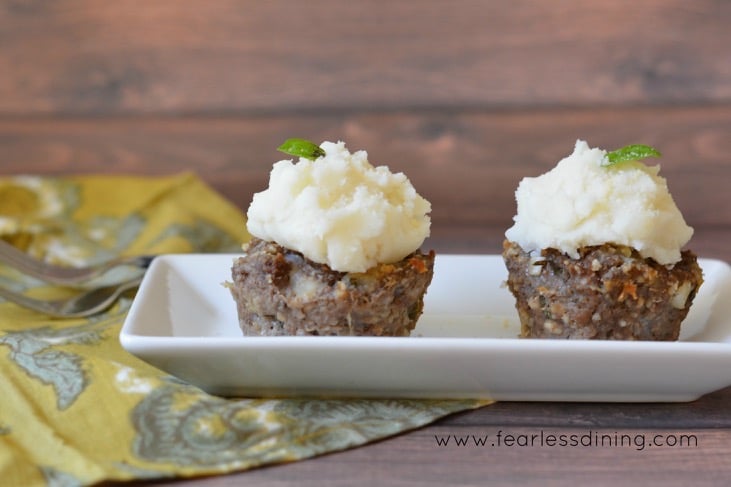 Unfortunately, nobody was fooled for long. My son really dug in and enjoyed this new way to eat a meat loaf. My picky one…well, lets just say her teenaged palate was not impressed. More for everyone else who loved them 🙂 .
Click here to see all of the meat recipes on this blog.
Tools You Need To Make This Recipe:
Muffin pan: This is the easiest way to get those cute cupcake shapes for these meat loaves.
Electric mixer: My favorite way to whip up potatoes so they are creamy and fluffy! This is the brand I use. I also like that it has dough hooks and a whisk attachments.
Gluten Free Italian Mini Meat Loaves
Easy gluten free meat loaf.

Print
Ingredients
1 1/4

pounds

organic grass fed ground beef

1/3

cup

gluten free panko

1/2

cup

mozzarella cheese

1

bulb fresh green garlic

thinly sliced

1

large egg

1/2

teaspoon

salt

2

tablespoons

fresh basil

thinly sliced
Instructions
Preheat the oven to 350 degrees.

In a large bowl, add all ingredients.

Mix well.

Take a muffin tin and fill each cup 3/4 full with the meat mixture.

Bake for 20 minutes until done.

Optional, serve with mashed potato.
(*There are affiliate links in this post. The price you pay if you purchase through this link will not change. A tiny commission will come to Fearless Dining to offset the costs of running this blog. I appreciate your support.)
More Delicious Dinner Ideas!
Looking for a side dish to serve with these Italian Mini Meat Loaves? How about trying these Sweet Potatoes with Honey and Leeks?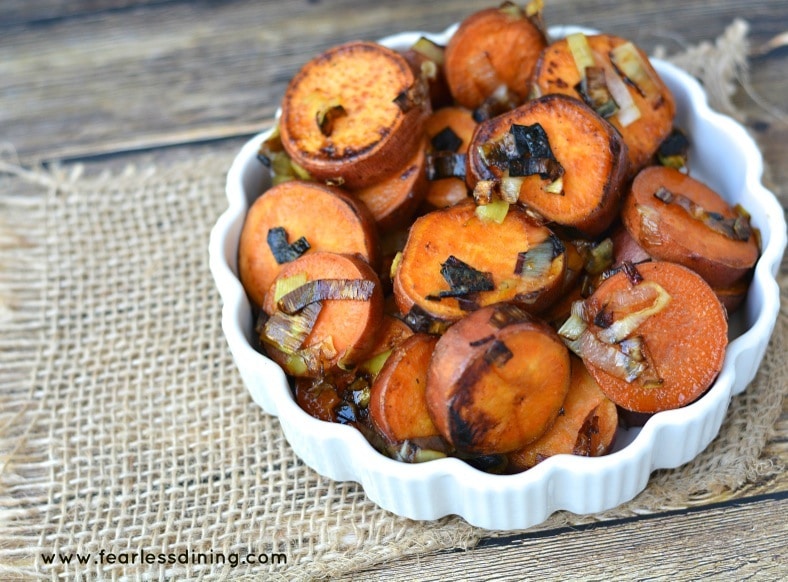 Save
Save
Save
Save
Save
Save
Save