This easy roasted Brussels sprouts with bacon recipe is straight from Grandma's recipe book.
My family is a little hesitant to eat Brussels sprouts, but add some bacon, and they will dig right in! Is your family picky like this? I would love to hear how you convince your family that Brussels sprouts can be delicious!
One Pan Side Dish
This roasted Brussels sprout with bacon recipe is a lazy recipe. Over the holidays, when cooking a lot of different foods at once, it is hard to find oven and stove space.
Out of the necessity for simplicity, this is a one pan dish. There is no need to dirty up a bunch of pans to make this recipe. Add everything to a bowl and dump it into a baking dish. It turns out perfectly every time!
If you love easy one pan meals, give this One Pan Chicken Legs and Vegetable dinner or this easy Gluten Free Chicken Picatta recipe a try!
You can see the bacon and leeks mixed in…it all caramelizes together in the pan as you roast it.
Are Brussels sprouts little cabbages?
It is funny you ask this because my daughter asked this too. They look just like tiny versions of green cabbage…and they are in the cabbage family.
How to cut Brussels sprouts:
The easiest way to chop Brussels sprouts is with a sharp knife. I cut off the end on the bottom (that part where it attached to the stalk). Next, cut the Brussels sprout in half.
Tips for making the best roasted Brussels sprouts:
Slice off the stem. Some outer leaves may fall off, but that is okay.
Slice the Brussels sprout in half. This allows the seasoning and oil to penetrate throughout the sprout.
Use precooked bacon to save time (and leave fewer pans to clean up!) I used Trader Joe's precooked bacon.
Use a good olive oil. It really does make a difference!
If you want, feel free to break up the Brussels and cook the leaves like in this Sautéd Brussels Sprouts Leaves recipe.
Recipes to Serve With Brussels Sprouts:
(*Please note this post contains affiliate links. Purchasing from these links does not change the price you pay, but a tiny commission comes to me to help offset costs from running this site. I really appreciate your support!!)
Things You Need to Make This Recipe:
I love to use a 9×13 pan for roasting these roasted Brussels sprouts.
A colander to wash your veggies.
How to make roasted Brussels sprouts: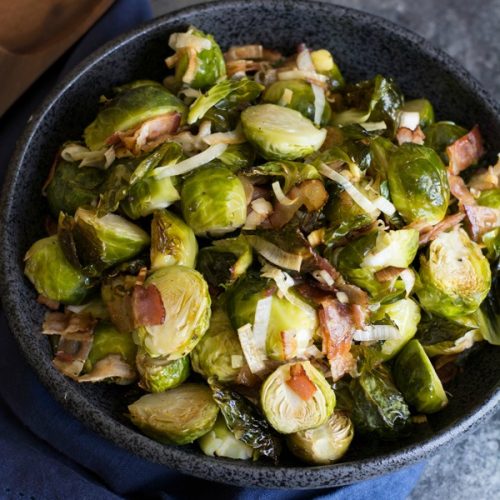 Grandma's Roasted Brussels Sprouts with Bacon
An easy roasted Brussels sprouts with bacon and leeks recipe.
Ingredients
1 pound Brussels sprouts
6 slices bacon
1/2 teaspoon salt
1/8 teaspoon pepper
1/3 cup leeks
Instructions
Wash the Brussels sprouts. Use a sharp knife to cut the base stem off. Slice the Brussel sprout in half. Repeat with all of the sprouts. Set the sprouts aside in a large bowl.
In a pan, cook the bacon slices until they are crispy.
Chop the bacon and add to the Brussels sprouts in the bowl. 
Add salt, pepper, oil, and leeks to the bowl. Toss to coat.
Add the Brussels sprout mix to a greased baking pan. Bake for 20 minutes, remove the pan and stir the Brussels sprouts. Place the pan back into the oven and bake for another 15 minutes.
Serve hot.
Nutrition Information:
Yield:

8
Amount Per Serving:
Calories:

95
Saturated Fat:

2g
Cholesterol:

10mg
Sodium:

269mg
Carbohydrates:

5g
Fiber:

2g
Sugar:

1g
Protein:

4g
**If your gluten free flour blend doesn't include Xanthan Gum, please add 1/2 to 1 teaspoon! **Please note this nutrition information is calculated by a recipe plugin and is an estimate based on the ingredients used in this recipe.
More Yummy Gluten Free Recipes To Try!