If you are gluten-free and love pancakes for breakfast, it is important to know which gluten-free brands of pancake syrup. I include a list of brands of gluten free pancake syrup to try and even some delicious flavored syrup recipes!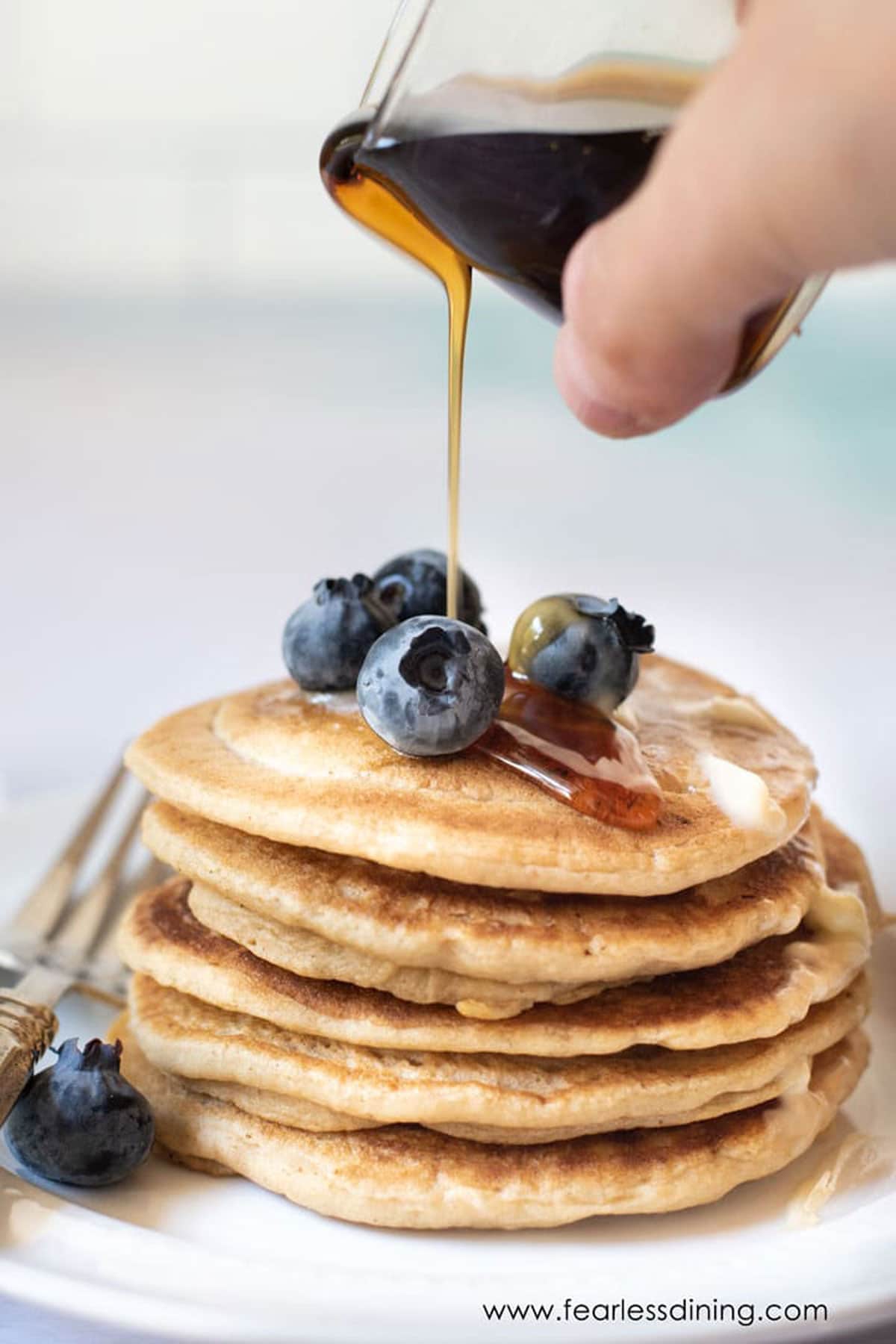 Jump to:
Pancakes are one of our favorite foods and knowing what syrups are gluten free is key to avoiding stomach issues. Although we mostly make pancakes as our weekend family tradition, all of the syrup information and recipes are equally delicious on gluten free waffles and gluten free French toast too!
If you are a big breakfast fanatic, I have a lot of easy gluten free breakfast recipes to try!
Is Pancake Syrup Gluten Free?
The short answer is maybe. 100% pure maple syrup is almost always gluten free because nothing is added besides maple. I always recommend reading labels to look for hidden gluten, but I have never seen flour added to pure maple syrup.
If you are new to gluten free, this is a great guide to gluten free living with lots of tips to help you learn how to keep safe, identify safe products, and learn where gluten is hidden. It also includes a ton of other information and easy beginner-level gluten-free recipes.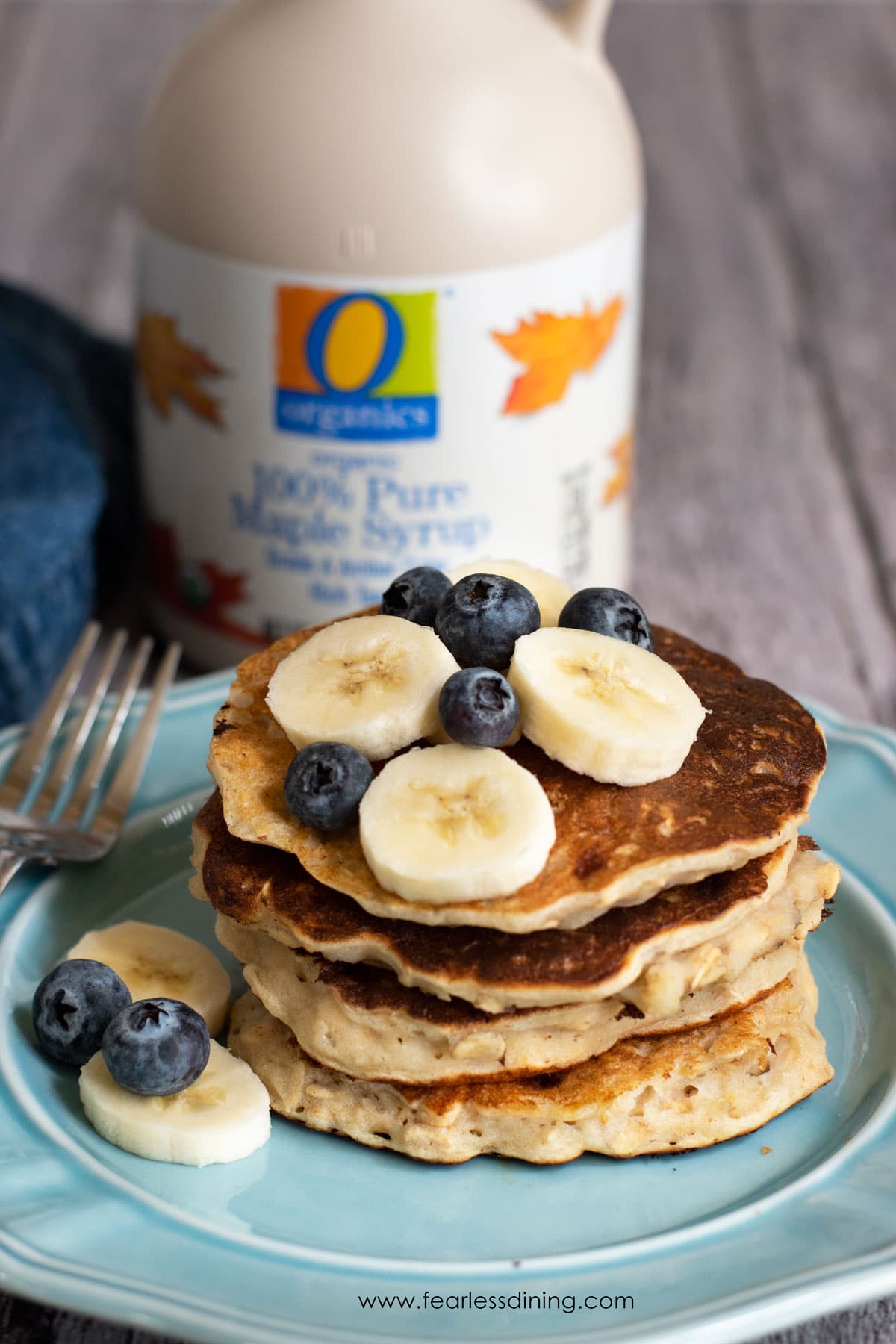 Gluten Free Pure Maple Syrup Brands:
Natural maple syrup comes in different grades of maple syrup. The most common grades are A and B. Grade A is a great choice for your pancakes and is the most commonly sold. Grade B syrup tends to be harvested later in the season, is darker, and has more minerals. Here are some delicious syrups to try:
Trader Joe's 100% Maple Syrup
Kirkland 100% Maple Syrup
Wholesome
Nokomis
365 100% Maple Syrup
Pure Canadian Maple Syrup brands are gluten free
ChocZero Maple Syrup
Maple Grove Farms
Vermont Maple Syrup
Nob Hill brand 100% Maple Syrup (Raley's store so this applies to their other stores.)
O Organics 100% Pure Maple Syrup
Gluten Free Imitation Syrup Brands:
Imitation, or artificial maple syrup, is made with a combination of ingredients, including high fructose corn syrup, artificial flavors, natural flavorings, caramel color, malt syrup, and artificial colors.
It is critical to read labels and look at the manufacturer's websites to really ensure an imitation syrup is safe for you.
Aunt Jemima
Mrs. Butterworth
Log Cabin Natural Table Syrup
More Pancake Topping Ideas:
Pure Maple Syrup vs Imitation Syrup:
I am a big proponent of using pure maple syrup over artificial syrup. It is natural and is very unlikely to contain hidden gluten ingredients like those listed above. I always opt for the low-risk option.
Is Aunt Jemima Gluten Free?
Aunt Jemima aka Pearl Milling Company: Maybe.
Aunt Jemima Syrup appears to be gluten free but caramel color is a potential for hidden gluten. The manufacturer does have any allergy information on their site. Some caramel color is made from corn, but other grains like barley are also used. For this syrup, I will say it depends on how sensitive you are to gluten.
Note that the manufacturer of Aunt Jemima changed the name and branding of Aunt Jemima syrup. The new name of this artificial syrup is now Pearl Milling Company.
Is Mrs. Butterworth Gluten Free?
Mrs. Butterworth: Probably gluten free because of their website allergy statement.
Mrs. Butterworth is another popular imitation syrup. In looking at the ingredients, this syrup also has a caramel color. My above statement is also applicable here. The brand does have an allergy statement, which I shared a screenshot of below. This leads me to think the caramel color is corn-based, but we do not know 100%.
Mrs. Butterworth Ingredients: High Fructose Corn Syrup, Corn Syrup, Water, Contains 2% or Less of Cellulose Gum, Salt, Cane Syrup, Caramel Color, Sodium Hexametaphosphate, Sodium Benzoate, and Potassium Sorbate (Preservatives), Natural and Artificial Flavors, Citric Acid, Molasses, Lactic Acid, Mono and Diglycerides.
Is Log Cabin Gluten Free?
Log Cabin Regular: Maybe (caramel color)
Log Cabin Natural: Doubtful (brown rice syrup)
Log Cabin makes both artificial and a more natural syrup without corn syrup. This artificial syrup I am most hesitant about. The regular flavor has caramel color, which I already talked about as risky. The all-natural has brown rice syrup, which is often made with barley.
Regular Log Cabin Ingredients: Corn Syrup, Water, Sugar, Contains 2% or Less of Salt Natural Flavor, Sodium Hexametaphosphate, Sodium Benzoate, and Sorbic Acid (Preservatives), Caramel Color, Phosphoric Acid, Mono and Diglycerides.
Log Cabin All Natural Ingredients: Brown Rice Syrup, Water, Cane Sugar, Brown Sugar, Natural Flavors, Citric Acid.
Does IHOP Have Gluten Free Syrup?
IHOP has some gluten free syrup options. You just need to ask your server. I know a lot of gluten free people have gluten sensitivity and are not celiac, and many do eat gluten free pancakes at IHOP. I just want to note IHOP's gluten free pancakes are not considered Celiac safe.
Delicious Gluten Free Pancakes Recipes:
With all of this talk about syrup, I would be remiss if I didn't share some of my incredible gluten free pancake recipes with you! I can't wait to hear which you liked best!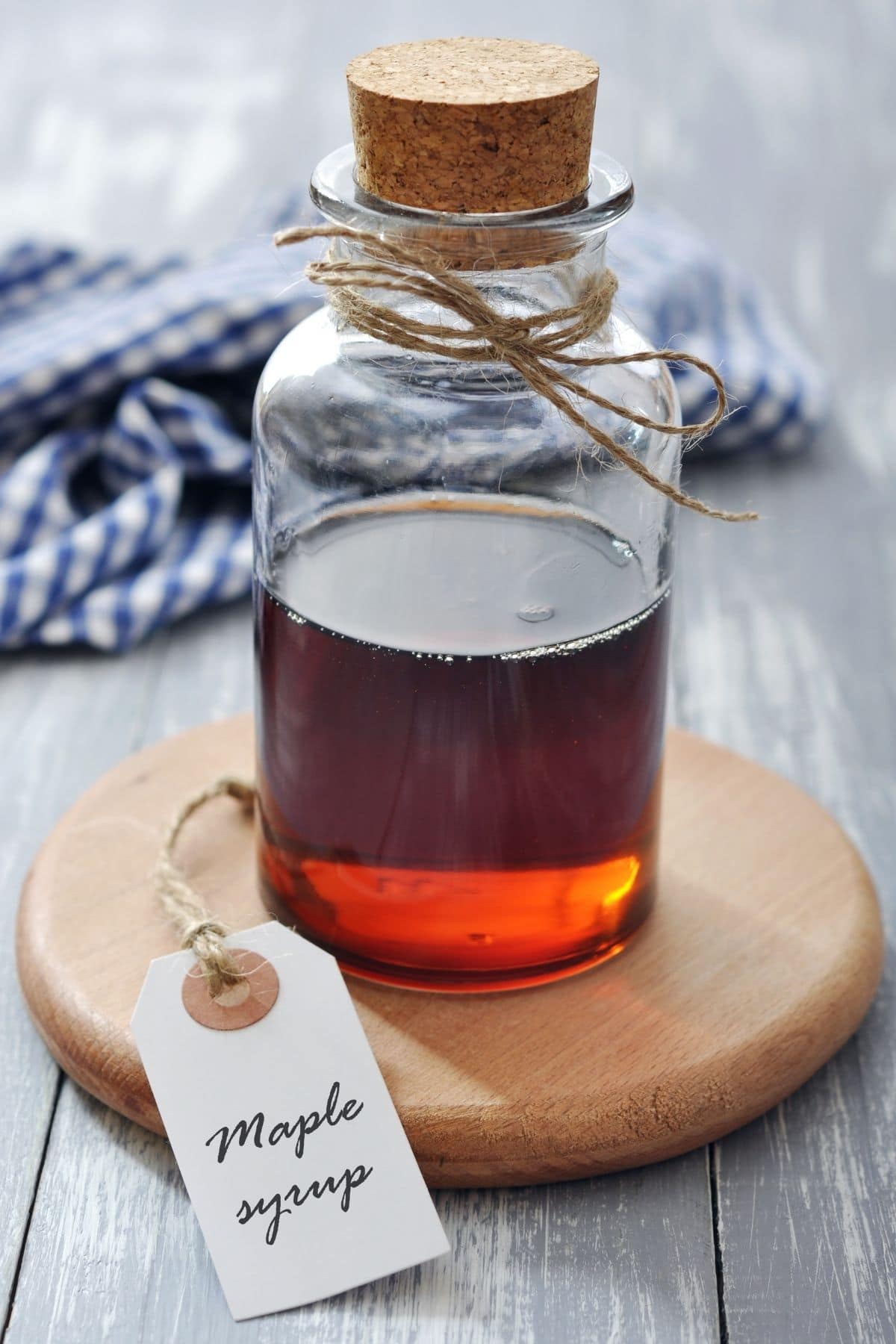 Brown Sugar Syrup
If you want to make your own syrup, I love this simple Brown Sugar Syrup recipe! It is perfect on pancakes and waffles!
Brown Sugar Butter Syrup
Brown sugar and butter simmer together and create a caramel toffee flavored homemade syrup like nothing you've ever tasted.
Check out this recipe
Old-Fashioned Vanilla Cream Sauce
My old-fashioned vanilla cream sauce is amazing on desserts and breakfast foods like pancakes and waffles. It is easy to make.
Homemade Vanilla Cream Sauce
Easy homemade creamy vanilla cream sauce. This old-fashioned cream sauce is delicious on bread pudding and cakes.
Check out this recipe
Homemade Blueberry Syrup
If you love blueberries, this easy homemade blueberry syrup should be a must-make!
Homemade Blueberry Syrup Recipe - 4 ingredients and 30 minutes
Homemade blueberry syrup is simple with just 4 ingredients. This recipe shows how to make this delicious syrup for pancakes or ice cream.
Check out this recipe
Butter Syrup
This creamy butter syrup is a winner! All you need are a few simple ingredients!
AMAZING BUTTER SYRUP
Amazing homemade butter syrup made with butter, sugar, cream & vanilla! Light in color with a delicious caramel-like flavor that is perfect on pancakes, waffles, crepes, etc!
Check out this recipe
Strawberry Syrup
If you love strawberries, this is a fun syrup to make. Use fresh or frozen strawberries!
You can also use maple syrup in place of honey to make these roasted cashews! They are delicious on top of a stack of pancakes!
Looking for more? Get my FREE Gluten Free Lemon Desserts E-Cookbook when you sign up for my weekly recipe newsletter!