Honey Apple Gluten Free Galette is the best gluten free galette recipe to make with fall apples. The addition of pure honey as a natural sweetener compliments the apples' flavor, and is healthy, too!
If you love honey and apples, this beautiful gluten free galette is a delicious dessert recipe to try this fall. Cinnamon and apples are a delicious combination that is sure to please anyone looking for a gluten free dessert recipe to try this fall.
If you love fresh apples as much as we do, check out the best gluten free apple recipes on the blog!
Jump to:
(*This post was sponsored by the Honey Board. All delicious opinions are my own!)
It is National Honey Month and we are celebrating! Honey is a delicious natural sweetener that is perfect to use in both sweet and savory recipes!
Did you know I have now been blogging for over three years? It feels like time has gone by so fast. In all of this time, I have never created an apple pie.
That is one of the most popular pie recipes and I feel like I have neglected my duty to share a delicious pie recipe with you. I know gluten free crust can be tricky, but this recipe is very easy to follow!
Well, I didn't quite make a gluten free apple pie, but I did make a delicious gluten free apple galette for you. While I am making my confessions, I must also admit that I made this gluten free dessert recipe for a special date night with Mr. Fearless Dining. He LOVES apple pie and I have a feeling this galette will help make a special memory for our date night.
Don't forget to check out these 50+ Incredible Gluten Free Pie Recipes! Or, if time is short, here is an amazing cheat to make Gluten Free Hand Pies in half the time!!
I am sure you all know what an apple pie is, but do you know what a galette is? Think of a galette as a sloppy pie. You take your favorite gluten free pie crust recipe and roll it out into a thin circle, just like you were going to make a gluten free apple pie.
The big difference is that you roll the crust out and then put the fruit or other pie filling in the center of the pie crust. Fold the pie crust over the topping so that the center is uncovered by the crust. Bake and eat :-).
You can use so many different fruits to make a galette. Check out this fabulous gluten free plum galette recipe too!
The star of this easy apple galette recipe is the honey. I used honey to sweeten this instead of sugar. Honey helps make these sweet moments memorable!
What type of apples are best for pie filling?
I prefer to use Granny Smith apples in this recipe, though I must admit the few organic Granny Smith apples in our market were not very fresh. I opted to use a red apple, the Jonagold Apple. I like this apple as well.
Tart apples are best for pies and galettes. Don't use a Red Delicious as they don't have the tartness to stand out once you introduce the sweetener. If you want to try something wild, try this Gluten Free Hatch Chile Apple Pie. It is sweet and spicy!
Instructions: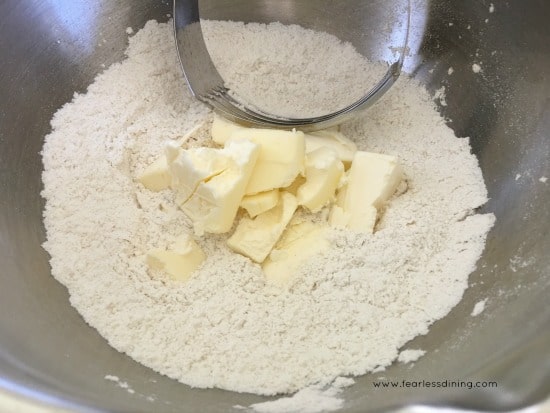 Cut cold butter into the dry ingredients. I love using my pastry blender to do this quickly.
Add raw eggs and the other wet ingredients and mix until a ball of dough forms.
Layout the dough into the cast iron pan. Fill with your pie filling and fold the sides over the fruit.
How do you keep the pie crust from cracking?
If your pie crust cracks or crumbles, most likely the dough was too dry. Next time try adding a bit more butter.
How do you know when the crust is baked?
The crust is ready when it is a very light golden color.
More Gluten Free Apple Desserts to Try:
Reader Rave:
Smells heavenly, honey, apples & cinnamon❤️."

Livia J, Pinterest user
If you tried this recipe or any other recipe on my blog, please leave me a rating and a comment. I LOVE hearing from you!! You can also FOLLOW ME on Facebook, Instagram, or Pinterest to see even more delicious recipes!
📖 Recipe
Gluten Free Apple Galette
If you don't want to make a whole pie, a galette is a great dessert to make. This gluten free honey apple galette recipe is half the work, but still has all of that delicous apple pie flavor.
Ingredients
1 ½

cups

gluten free flour blend

¼

teaspoon

salt

8

tablespoons

butter

1

egg

1

tablespoon

lemon juice

¼

cup

water

2 ¼

cups

sliced apple

peels removed

¼

cup

honey

1

egg

for brushing on crust
Instructions
Preheat the oven to 350 degrees.

In a large bowl, add flour and salt. Mix well.

Add cold butter and use a pastry blender to cut in the butter. 

Add the egg, lemon juice, and water. Mix well until it forms a dough ball.

Place the dough on a piece of wax paper. Cover with another piece of wax paper.

Use a rolling pin to roll into a flat circle about ¼-1/2  inch thick.

Press the crust into a cast iron skillet. If you don't have a skillet, put the dough on a cookie sheet.

Add the apple honey mixture in the middle of the dough.

Fold the crust over and pinch to seal edges. 

Brush mixed egg onto the top of the crust. (Don't put on the apple mixture.)

Bake for 30 minutes until apples are cooked and crust is golden.
Nutrition
Serving:
1
g
Calories:
255
kcal
Carbohydrates:
31
g
Protein:
4
g
Fat:
13
g
Saturated Fat:
8
g
Polyunsaturated Fat:
4
g
Cholesterol:
77
mg
Sodium:
177
mg
Fiber:
1
g
Sugar:
12
g
If you love the recipes you are finding on my blog, I would love for you to sign up for my newsletter (and get my free chocolate e-cookbook!)