You are going to really love this homemade gluten free pie crust. This is a tried and true pie crust recipe that gets rave reviews! Use this gluten crust recipe for both sweet and savory pies. If you love flaky pie crust, this recipe will become a staple for you. There is a dairy-free option too!
Jump to:
Whether this is your first time or hundredth time making a pie, this flaky gf pie crust recipe will be the one you make for all occasions. This recipe uses simple ingredients that you can find at your local grocery store.
My recipe yields perfect results with a lot of different gluten free flour blends. If you are looking for the best gluten free pie crust, this is it!
Turned out beautiful! Finally a pie crust I can move from counter to pan without it falling apart! Didn't need more than ¼ c water either. Highly recommend this recipe!!!"

Reader A Wilson
If you are looking for pie-filling ideas, don't forget to check out this list of 50+ gluten free pies!! There is a pie for every diet: paleo, whole30, keto, and vegan!
How To Use Gluten Free Pie Crust?
You can use this pie crust recipe to make both savory pies and sweet pies.
Making gluten-free pastries with rice flour and other gluten free flour can be tricky! I have tons of helpful baking tips for gluten free baking, too!
Our Pick
Cup4Cup Gluten Free Multipurpose Flour, 3 lbs
This is an awesome gluten-free flour blend for pizza crust, biscuits, and pie crust. It is also great for yeast recipes! Note, this blend does have dry milk powder, so it is not suitable for those who avoid dairy.
Buy Now
We earn a commission if you make a purchase, at no additional cost to you.
Ingredient Notes:
I used Cup4Cup for this recipe because it makes the pie crust so flaky. I also tested this recipe using Bob's Red Mill 1 to 1 Gluten Free Flour Blend, Pillsbury Gluten Free Flour, and King Arthur's Measure for Measure Gluten Free Blend. I haven't tested other flour blends, and I can not guarantee the recipe will work if you use other mixes.
Xanthan Gum - If your gluten free flour blend doesn't contain xanthan gum or guar gum, please add 1 teaspoon. Xanthan gum is what holds your pie crust together so it doesn't fall apart.
Butter - You want to use very cold, unsalted butter. If you are dairy-free, use dairy-free or vegan butter. (Note: Cup4Cup has dried milk powder, so if you are dairy-free, use another blend.)
Water - I usually don't include a note about water, but when making a really flaky pie crust, using really cold water is best. This way, the butter bits stay cold and bake flakiness into the crust. Make ice water, then strain the ice out before using.
This is my go-to gluten free pie crust. My whole family loves it. I've used it for pot pies, blueberry pie, pumpkin pie, hand pies and even for gluten free pop tarts."

Pinterest user Twisted Enchantment
If it has been a long time since you enjoyed gluten free pastry, give this gluten free flaky pastry recipe a try.
Recipe Step By Step Directions:
Note: This pie crust recipe makes a single-crust pie. If you plan to have a top crust, you will need to double this recipe for a double-crust pie.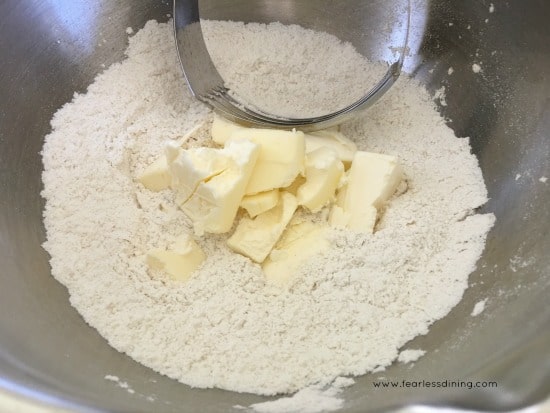 Step 1: Put your dry ingredients into a large bowl. Whisk to blend.
Step 2: Add cold butter chunks and cut the pieces of butter into the flour with a pastry cutter. You will want your flour to resemble crumbs or small chunks of butter throughout. These tiny pieces of cut butter are what make your pie crust so flaky and delicious.
Tip: Make sure the butter is really cold before cutting it into the flour. Cold butter makes your pie crust flakier!
Step 3: Pour your wet ingredients into the dry ingredients, and mix . Time to get your hands dirty! Use your hands to blend in until you have a firm gluten free pastry dough ball.
Step 4: Prep your work surface with a piece of wax paper. lace the pie dough on the wax paper and add a second sheet of wax paper on top. Use a rolling pin to roll the pie dough into a circle shape. Make the circle a little larger than your pie pan.
Step 5: Remove the top piece of wax paper. Keep the wax paper on one side of the crust dough so you can transfer it to your pie pan easier. Spray your 9-inch pie pan with spray oil to prevent sticking.
Step 6: Position the dough over your pie pan. Pinch the edges (you can see how to do this in the video.)
Step 7: If you are making a single-layer pie crust with a filling, you will bake the pie crust now. Use a fork to poke a few holes in the crust to vent the air so the bottom crust does not get air bubbles.
Bake at 350º F for 15 minutes if you add a filling and baking more, or 30 minutes if you are putting in a cream non-baked filling. If you are going to have a top crust, you will add your pie filling and top crust.
Step 8: Brush the top crust with an egg wash, then bake the pie.
How To Make A Fancy Top Crust:
It is easy to give your pie crust a fancy bakery look!
Here, I am weaving a lattice-style crust top so the juicy baked apples will show through! I have a recipe with full instructions to weave the crust in my Gluten Free Apple Pie recipe.
Grab your favorite cookie cutter and make a statement with the top crust! I used stars for the 4th of July. You can use any shape or size of cookie cutters. The full directions are in my Gluten Free Mixed Berry Pie post.
You can also make mini pies in ramekin dishes as I did with this Gluten Free Strawberry Pies recipe.
More Gluten Free Pie Crust Types:
If you don't like to roll out the dough and make a pie crust this way, there are lots of other easy gluten free pie crust styles to try. Here are a few of my favorites:
Storage:
This dough will keep fresh in the refrigerator for up to 3 days. Baked, this pie crust will keep fresh in the refrigerator for up to 3 days. You can also freeze this pie crust unbaked.
Freeze it as a dough ball (easiest), or freeze the crust in your pie pan. Place the dough or crust pan in a zipper bag and put it into the freezer. To thaw, remove the pie crust from the freezer and let it thaw on the counter. Roll the dough when it is soft enough to roll.
Expert Tips and Recipe FAQ:
Do you have to grease the pie pan?
Even though there is a lot of butter in this pie crust recipe, I like to use a light oil spray to lightly coat the pie pan. This is just extra caution to prevent the pie crust from sticking to the pan.
How do you prevent getting air bubbles in the crust when baking?
Heat can cause all sorts of mischief when you bake. Pinch the edges of the dough in a design. Use a fork to make steam holes on the bottom. These steam holes prevent your crust from bubbling and puffing up in a weird way.
How big do you roll out pie crust dough?
I like to roll my pie crust dough, and then when I think I am close to the size of the pan, I will hold the pan up to the dough circle. You want the dough to be rolled out and big enough to go up the sides and to have a little extra to pinch along the outer edges.
Why did the crust turn out tough?
If you have a tough crust, it is because you overmixed the butter into the flour. You need those butter chunks to make pockets for flakiness.
Can you use a food processor?
I do not like to use a food processor because you can over-grind the butter, not leaving chunks that create those flaky layers in the crust.
Now your pie crust is ready to fill to make your gluten free pie! Don't forget there is a dairy-free version of this homemade pie crust too!
If you don't feel like making a top crust, you can also use this pie crust recipe to make this Honey Apple Galette. You can also use this crust to make this Gluten Free Hatch Chile Apple Pie!
Reader adaptations:
Lard works very well instead of butter in this pie crust recipe.

Reader Alicia P
This recipe rocked!!! I don't have a pastry knife, so I just used a fork. Comes together fast and tastes delicious. This will be my new go-to!!"

Lucy
📖 Recipe
Gluten Free Pie Crust Recipe
How to make a flaky homemade gluten free pie crust.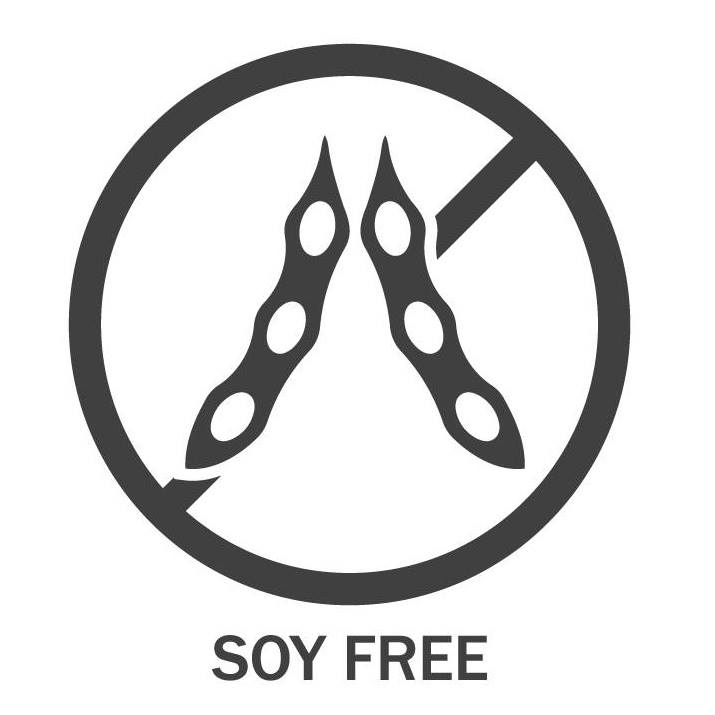 *As an Amazon Associate, I earn a small commission from qualifying purchases.
Ingredients
1 ½

cups

gluten free flour blend

* see note

¼

teaspoon

salt

9

tablespoons

butter

* see note

1

large egg

1

teaspoon

lemon juice

¼

cup

water

+1 to 3 additional tablesppons
Instructions
Preheat the oven to 350º F.

In a large bowl, combine dry ingredients.

Use a pastry blender to cut in the butter until it is in tiny pieces.

In a small bowl, add wet ingredients and mix.

Pour wet ingredients into the dry ingredients and mix. Use your hands to make a dough ball.

Place the dough ball onto a piece of wax paper.

Top with another piece of wax paper and use a rolling pin to roll flat in a circle shape.

Remove the top piece of wax paper. Place the dough dough side to the greased pan and drop in. Remove the top piece of wax paper.

Bake for 10 minutes. Remove from the oven and fill the crust with sweet or savory filling. Bake an additional 25 minutes.
Notes
I have tested this recipe with Cup4Cup, King Arthur Measure for Measure GF, Bob's Red Mill 1 to 1 GF blend, and Authentic Foods Multi Blend. That doesn't mean others will not work, I just have not tested other flours. Note Cup4Cup turns out the flakiest.
If your gluten free flour blend doesn't contain Xanthan Gum or Guar Gum, please add 1 teaspoon.
To make this recipe dairy-free, substitute the butter for vegan butter.
These pie crust will keep up to 4 days in an air-tight container, or up to 4 months in the freezer.
SPECIAL NOTE
Please know that every gluten free flour blend has a different starch to grain ratio. If you use a blend I didn't test, you may need to adjust your moisture levels in your baked goods.
Nutrition
Serving:
1
g
Calories:
196
kcal
Carbohydrates:
16
g
Protein:
3
g
Fat:
14
g
Saturated Fat:
8
g
Cholesterol:
54
mg
Sodium:
193
mg
Potassium:
8
mg
Fiber:
2
g
Sugar:
1
g
Vitamin A:
423
IU
Vitamin C:
1
mg
Calcium:
22
mg
Iron:
1
mg
Nutrition Disclaimer
Nutritional information is an estimate provided to you as a courtesy. You should calculate the actual nutritional information with the products and brands you are using with your preferred nutritional calculator.
Simplifying the art of baking and cooking gluten-free recipes.
Save