This slow cooker lamb stew with roasted hatch chile peppers is a hearty, spicy stew that goes beautifully over rice. Tender meat with a spicy kick makes this a satisfying dinner.
Dump the ingredients into a slow cooker and enjoy 5 hours later.
If you have been reading along with me the past few weeks, I have been talking about school starting. I always worry that our family will be too busy to enjoy family dinners together.
This easy lamb stew with hatch chile peppers cooks up in your crock pot during the day, making our family dinner a possibility!
(This post was sponsored by Veetee Dine In Rice but all raving opinions are my own.)
Hatch Chiles
Since we are in hatch chile season, I knew I wanted to create a recipe with roasted hatch chiles. Hatch chile season is a two month time period from August to September. When we lived in Austin, restaurants and grocery stores would have giant fire roasters set up in their parking lots so you could just drive up and order hatch chiles. You could buy everything from hatch chile jam to hatch chile apple pie!
For this recipe I paired the roasted hatch chiles with lamb. Lamb has a meaty flavor that I knew would absorb the spiciness of the hatch chiles. I used my slow cooker so that I could cook everything on low heat all day, making the meat soft and tender.
(*Just in case you have never roasted hatch chiles before, it is really easy. Light up your grill on medium heat. Toss the washed chiles onto the grill. Allow to char and roast. Remove from the grill and allow to them to cool. Put on a pair of rubber gloves and then peel the charred peels off. Take out the seeds and they are ready to be used in any recipe!)
To make this recipe, add the lamb, chiles, onion, broth and spices to the crockpot. Roast on low temperature for 6 hours.
Quick and easy rice
Luckily, I found a new rice that will cut the time to make dinner in half. Have you seen the new pre-cooked rices by Veetee Dine In yet? These GMO free rices get heated up in your microwave and they are ready in just 2 minutes. No more waiting for the water to boil, these make it so much easier on busy school nights!
The lamb recipe cooks up and stays so moist and delicious.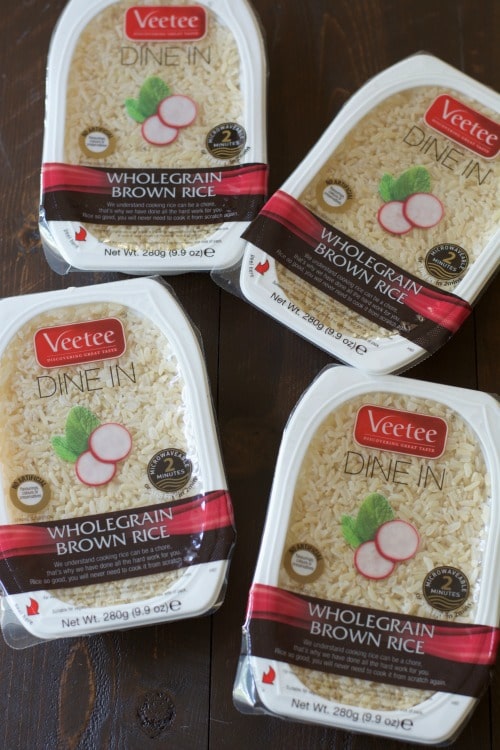 This Veetee Dine In rice cooks to the perfect consistency…no mushy rice!
Most flavors of Veetee are gluten free including:
Basmati Rice
Long Grain Rice
Thai Jasmine Rice
Thai Lime & Herb Rice
Basmati & Wild Rice
Chicken Flavor Rice
Wholegrain Brown Rice
Because our whole family is gluten free, we eat rice 2-3 times per week. It is always fun to create easy recipes that can be served on top of rice.
If you love using your slow cooker, you will LOVE this recipe for Easy Slow Cooker Butter Chicken from my friend at Dishing Delish.
Lamb and Roasted Hatch Chile Pepper Stew
Total Time:
4 hours
10 minutes
Easy spicy slow cooker lamb and roasted hatch chile pepper stew
Ingredients
2 pounds lamb
1 tablespoon olive oil
1/4 cup roasted hatch chiles, Less if you don't want spicy!
1 onion, thinly sliced
2 cloves garlic, minced
1 cup beef broth
1 cup water
1 teaspoon salt
Instructions
Add all ingredients into a crockpot and simmer on low for 6 hours. Do not remove the lid, just allow to cook all day.
Recommended Products
There are affiliate links in my posts. This doesn't change the cost you pay for an item, it just means a tiny commission comes to Fearless Dining to help offset the costs of running this blog.
Nutrition Information:
Yield:

8
Serving Size:

1
Amount Per Serving:
Calories:

359
Total Fat:

26g
Saturated Fat:

10g
Trans Fat:

0g
Unsaturated Fat:

13g
Cholesterol:

110mg
Sodium:

460mg
Carbohydrates:

2g
Fiber:

0g
Sugar:

1g
Protein:

28g
Please note this nutrition information is calculated by a recipe plugin and is an estimate based on the ingredients used in this recipe.
More Yummy Dinner Ideas to Serve with Rice
Save
Save
Save
Save
Save
Save