Sweet delicious ice cream is a staple in our house. I wanted to pull together the BEST gluten free ice cream recipes and include a handy list of what ice cream brands are gluten free. If you love cones, I include a delicious easy  DIY homemade gluten free cone recipe and review the gluten free cones you can buy in stores.
Table of Contents
If you are like me, you love ice cream ALL YEAR LONG. Who can resist that frozen creaminess? I pulled together my very favorite no-churn ice cream recipes so you can try a few as well.
Some of my ice cream recipes are also dairy-free so I noted this as well. Dairy-free no-churn ice cream is easier than you think!!
These homemade gluten free ice cream recipes are all no-churn, meaning you don't have to cook anything to make them. It doesn't get any easier than this. If you're new to gluten free, you may want to check out this post about what I keep in my gluten free pantry. Gluten free doesn't have to be hard.
How do you make no-churn ice cream?
My favorite way to make no-churn ice cream is to use a Vitamix or blender to whip the heavy cream or coconut cream. You can use an electric mixer as well, but it can get messy if you don't use a large bowl.
You can also use an electric hand mixer to make no-churn ice cream if you don't have a blender!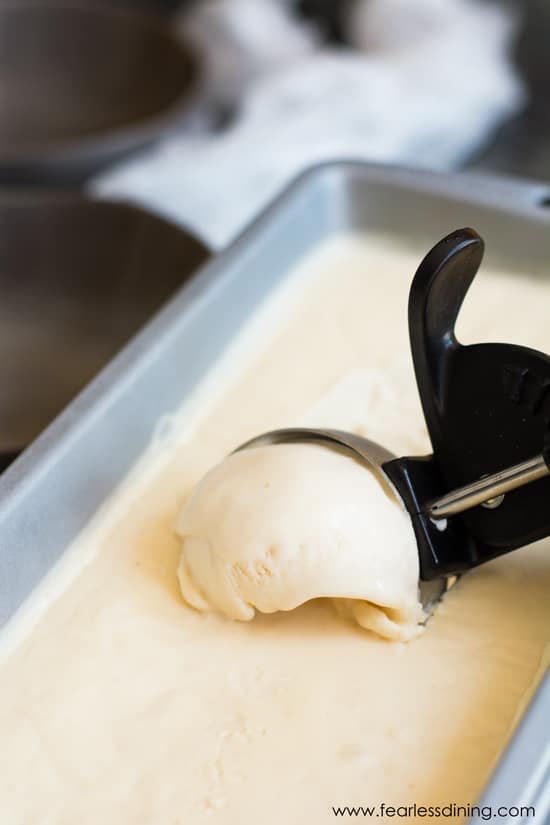 Gluten Free Ice Cream Cones Brands
Over the past couple of years, several brands have started to make gluten free ice cream cones. You can find them at your local grocery stores and online. Here are a few we love:
Goldbaum's (gluten free sugar and plain cones)
Joy (gluten free sugar and plain cones)
Let's Do Gluten Free (plain and sugar cones)
My son came up with a fun way to make your own gluten free waffle cones using gluten free waffles and you can check out his DIY Waffle Cone recipe. Kids will love making these!!
If you feel like more of a challenge, check out my friend Jules easy Gluten Free Waffle Cones recipe.
What store brand ice cream is gluten free?
Gluten in ice cream is always a big concern for people. I have found a lot of ice cream brands are gluten free if you avoid the obvious flavors like cookie dough and cookies and cream types of flavor. ALWAYS read labels to make sure you are avoiding gluten in ice cream.
The brands of ice cream that my family loves include:
Breyers
Talenti
Dream
So Delicious
Steve's Ice Cream
Wink
Arctic Zero
Tillamook
Blue Bunny
Ben & Jerrys
Dryers
Blue Bell
Of course, it is still important to read labels to ensure there is no mention of gluten on the label.  As I mentioned above, avoid the obvious gluten flavors like cookie dough and cookies and cream.
Cookies To Make For Ice Cream Sandwiches:
Why not make some delicious gluten free cookies and make homemade ice cream sandwiches with the ice cream you make!! Here are some of my favorite gluten free cookies to make:
The Best Gluten Free Ice Cream Recipes
Some of the best gluten free ice cream recipes around. These ice cream recipes are no-churn and no cook, making them so easy to make!! I also include recipes for ice cream pies, gluten free cookie bowls, and a homemade diy gluten free waffle cone!
If you love the recipes you find on my blog, I would love for you to sign up for my newsletter (and get my free gluten free chocolate desserts e-cookbook!)