Gluten free ground chicken meatballs are a simple dish that is healthy and packed with lots of sweet and sour flavors. Each juicy chicken meatball leaves you yearning for the next. Plus, ground chicken is low cost and makes a healthy option for budget entertaining.
If you can't get enough meatball recipes, I have the ultimate list of tasty gluten free meatball recipes. Each one has something different to offer, so I am certain you will have several new favorites!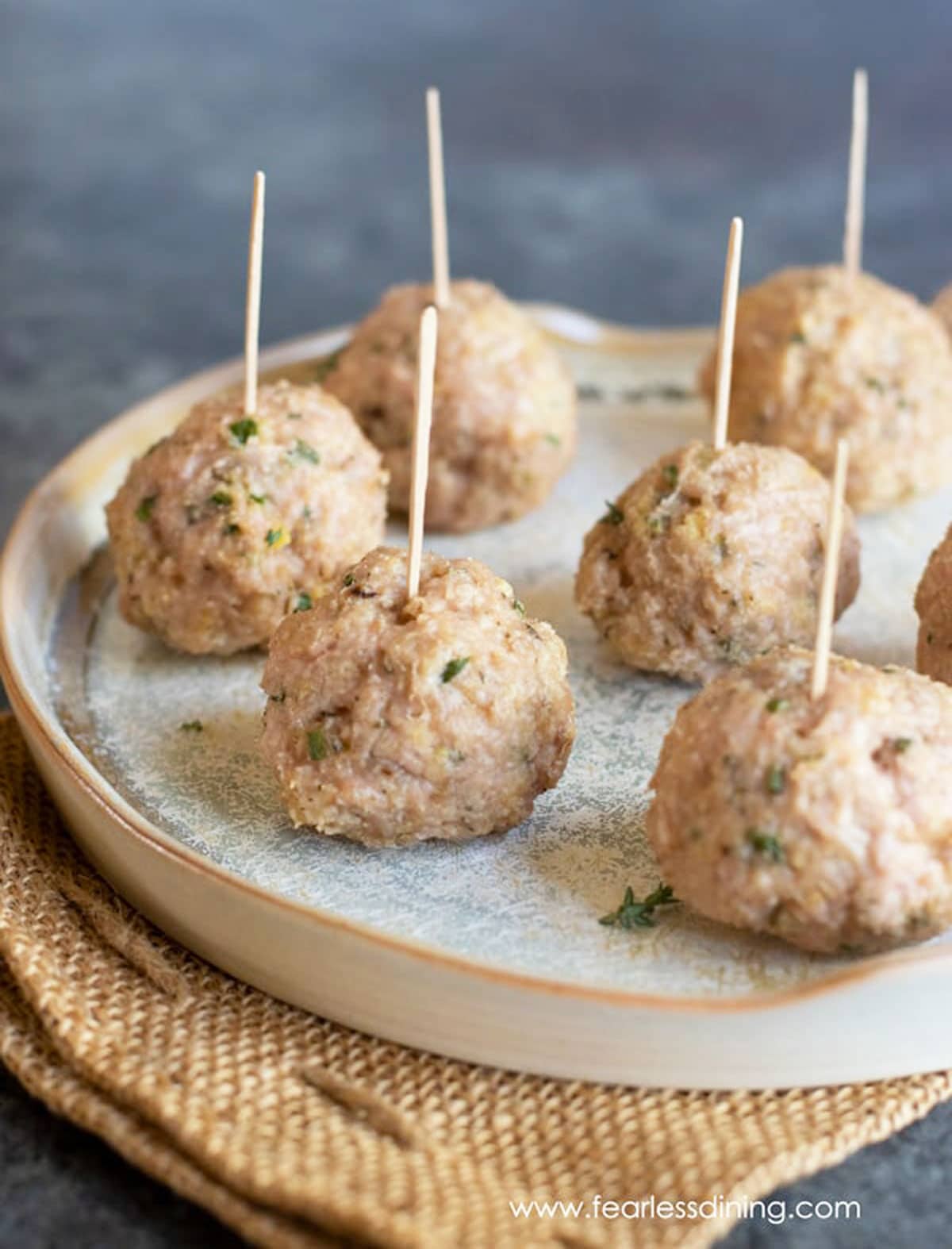 Jump to:
These addictive ground chicken meatballs are always a hit because they taste so delicious. These low-fat chicken meatballs are plump and have just the right amount of sweetness. You can cook these ground chicken meatballs in an Air Fryer or in the oven!
I think what draws the Fearless Dining household towards meatball recipes is the versatility they offer. For example, they are fancy enough to serve at a dinner party. But, they are low-key enough to have on a busy weeknight.
These little meatballs are ready in under 20 minutes with an Air Fryer!! If you are having a party to watch the game with friends and family, these gluten free ground chicken meatballs are an excellent idea!
If you love using an air fryer, check out all of my easy gluten free air fryer recipes!
Sauces to dip meatballs in:
Plus, you get a craving for some Asian take-out, you can whip up a batch and nibble on these low-fat chicken meatballs dipped in this gluten free Asian sauce. Oh, and one more thing, your friends and family won't realize these are gluten free unless you tell them!
You can also dip them in:
Speaking of Asian take out, if you are new to eating gluten free, you may have several concerns when it comes to going out to eat. It can be so scary because you don't know what goes on in the kitchen.
Take a peek at my Safe Gluten Free Dining Tips And My Most Popular Recipes. Don't forget to reach out to me if you have any questions; I am always here to help.
(In case you are wondering what the heck Rice Crumbs are, they are a new gluten free item at Trader Joe's. They work beautifully in place of gluten free breadcrumbs!)
Recipe step by step directions:
Step 1: Add your raw ground chicken and the other ingredients in a bowl. Mix it well.
Can you use any ground meat?
You can use any ground meat to make this meatball recipe. Note that ground beef has a higher fat content and you may need to slightly increase the amount of gluten free bread crumbs to keep it from getting tough from cooking.
Step 2: Next, form the ground chicken into meatballs.
Air fryer directions:
Add the ground chicken meatballs into an air fryer. Air Fryer TIP: Make sure there is room for the hot air to circulate around each meatball. You can also try this easy ground turkey meatballs recipe in the air fryer!
Oven directions:
You can definitely make these in an oven instead of an air fryer. Bake at 350 degrees for 25 minutes. Make sure they have a cooked internal temperature of 165 degrees.
Cook in your air fryer for 12 minutes. Enjoy!
Tips and Recipe FAQ:
How do you know when the meatballs are cooked?
Your chicken meatballs are cooked when they have an internal temperature of 165 degrees F inside. Check with a digital thermometer by inserting it into the middle of a few of the meatballs.
What can I do with these meatballs?
These meatballs can be eaten plain, dipped in sauce, put into pasta sauce, and served in a meatball sub. You can also make them into very cool appetizers. Here are 4 fun appetizer recipes to make with meatballs.
Why are my meatballs tough?
Tough meatballs can be frustrating because they just don't taste as good as moist, delicious meatballs. You might be scratching your head and wondering why this happened. Odds are, there simply wasn't enough moisture in the meatballs as they cooked.
Can you freeze raw meatballs?
Yes, you can actually freeze these gluten free ground chicken meatballs while they are raw. If you haven't tried flash-freezing food yet, this is a great time to learn. To flash freeze, lay the meatballs on a cookie sheet or in a baking pan.
Can you freeze these meatballs?
Place the raw meatballs on a cookie sheet and make sure they do not touch each other. Then place the pan in the freezer for around 2 hours.

When you feel a meatball, it should be pretty hard and frozen. Then you can add all the meatballs together into a freezer-safe container. They will last around 4 months
Why did my meatballs fall apart?
Chicken meatballs falling apart is the opposite issue as them being too dry. If you use too much binder in the meatballs, then they won't correctly hold together as they cook. I use a combination of gluten free panko, egg, garlic, and thyme. Make sure you use the amounts I recommend, so you don't have this issue. 
More gluten free meatball recipes:
I LOVE hearing from you!! You can also FOLLOW ME on Facebook, Instagram, or Pinterest to see even more delicious recipes!
📖 Recipe
Air Fryer Gluten Free Ground Chicken Meatballs
Delicious gluten free ground chicken meatballs made in your air fryer in under 20 minutes from start to finish.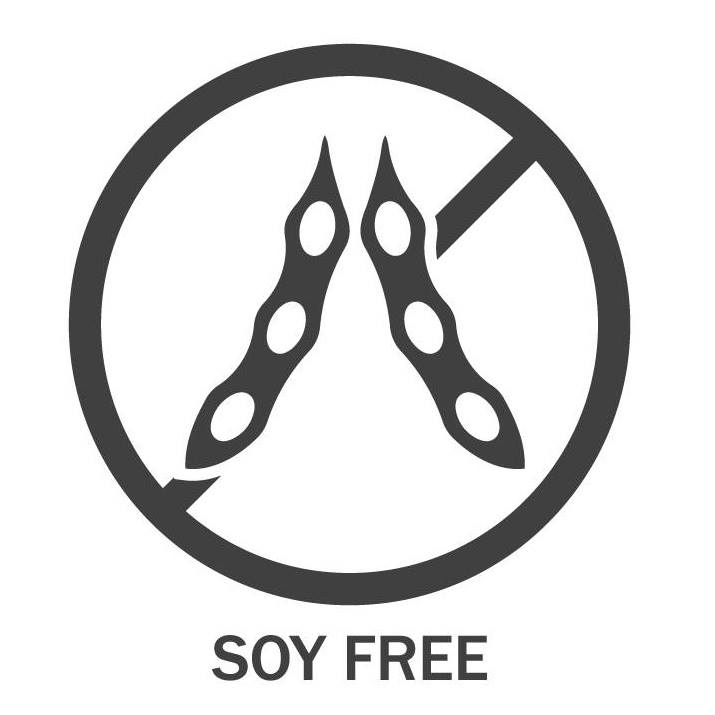 Ingredients
1

pound

ground chicken

* see note

⅓

cup

gluten free panko

* see note

1

teaspoon

salt

2

teaspoons

chives

½

teaspoon

garlic powder

1

teaspoon

thyme

1

egg
Instructions
In a bowl, add all of the ingredients and mix well.

Open the air fryer and remove the tray.

Use a spoon to take some of the raw chicken mixture and roll it into a meatball.

Place in the air fryer and repeat until you fill the air fryer basket.

Make sure none of the meatballs are touching. You want the hot air to be able to circulate around each meatball.

Cook for 15 minutes on 350º F.

Enjoy!
Notes
You can use ground beef, pork, or turkey for this recipe if you don't have ground chicken.
You can buy or make homemade gluten free bread crumbs.
Check the internal temperature to ensure your meatballs are 165º F to ensure they are done cooking.
You can cook these in the oven if you don't have an air fryer. Bake at 350º F for 20-25 minutes. (Note the actual baking time will depend on the size of your meatballs.)
These meatballs will keep up to 4 days in an air-tight container, or up to 4 months in the freezer.
Nutrition
Serving:
1
g
Calories:
47
kcal
Carbohydrates:
2
g
Protein:
4
g
Fat:
2
g
Saturated Fat:
1
g
Cholesterol:
29
mg
Sodium:
144
mg
Potassium:
121
mg
Fiber:
1
g
Sugar:
1
g
Vitamin A:
21
IU
Vitamin C:
1
mg
Calcium:
3
mg
Iron:
1
mg
If you love the recipes you are finding on my blog, I would love for you to sign up for my newsletter (and get my free chocolate e-cookbook!)