If you love lemon desserts like I do, this is a must try recipe! Picture a moist Gluten Free Lemon Poppy Seed Cake with a Lemonade Icing. It is perfect with a cup of coffee, tea, or for dessert!
One bite and you will be hooked on this easy to make dessert. You can also do what I like to do, make a double batch and freeze one gluten free lemon loaf for another time. If you are a big make ahead baker, you may also like this Gluten Free Pumpkin Bread or this Gluten Free Matcha Green Tea Banana Bread.
You may also like my Top Ten Gluten Free Lemon Desserts recipe roundup.
With this new recipe, you will notice I am moving away from many store-bought gluten free flour blends for a little while. For the next year, one of my kids has to stay away from white potatoes, and potato starch seems to be in every gluten free flour blend except a few.
Healing the gut is important, so bear with me as I create fun new gluten free flour blends for you."
(The flour blend I found without potato starch is by Pamela's and it is a bread mix. I used it to make lemon muffins, which I hope to post on my alternate site Grandma's Recipes Made Gluten Free in a week or two.)
For this recipe, I used Pamela's gluten free flour blend. You can also use a combination of sorghum, brown rice, almond flour, and arrowroot flours (I recommend 1/2 cup sorghum, 1/2 almond, 1/4 brown rice, and 1/4 arrowroot.) When you are baking gluten free, you can't use one flour and get good results. I blend two flours and a starch, which seems to mimic non-gluten free the best. Don't forget 1 teaspoon xanthan gum to bind it all together.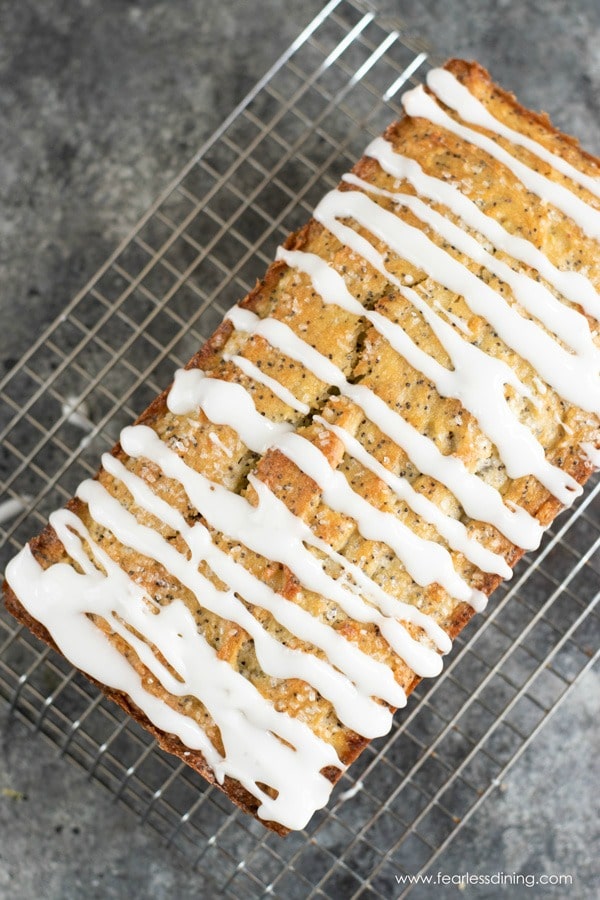 Loaf, Bread, or Cake
Do you ever wonder what to call these sweetbreads? I always get confused if something is a loaf, a bread, or a cake. This lemon poppy seed recipe is definitely sweet enough to be a dessert so maybe bread isn't the right word here.
You can call this gluten free lemon poppy seed cake recipe anything you like, perhaps the bigger decision is what lemon poppy seed cake topping is best :-).
For this recipe, I created a simple lemonade icing. You don't need any topping if you don't want your poppy seed loaf to be too sweet.
Other lemon poppy seed cake topping ideas:
Lemon glaze (a much runnier version of my lemonade icing, you want the lemon juice and sugar to absorb into your cake.
Vanilla frosting
Cream cheese frosting
If you love all things lemon, you will want to check out the best gluten free lemon desserts on the blog!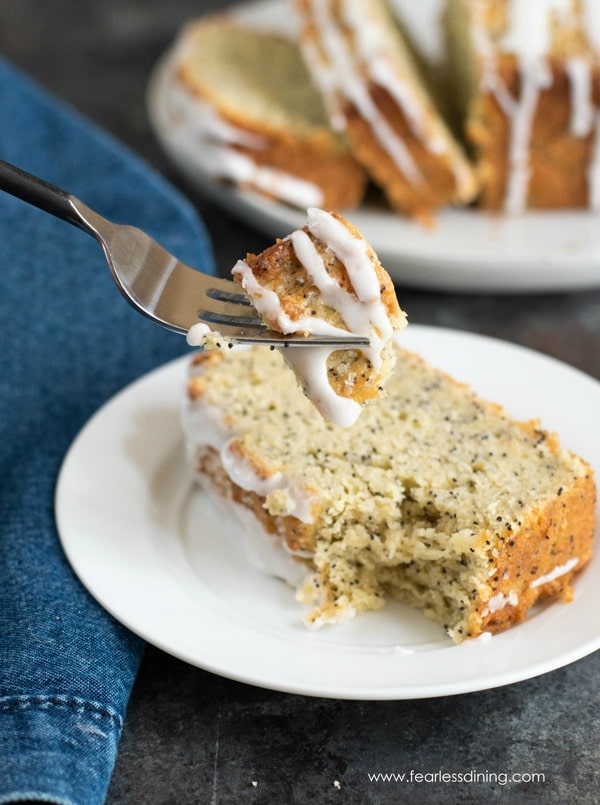 More Delicious Gluten Free Lemon Desserts:
(*Please note this post has affiliate links. Ordering through my site will not change the price you pay. A tiny commission will come to Fearless Dining to help offset the cost of running this blog. I truly appreciate the support.)
Things You Need to Make This Poppy Seed Cake Recipe:
An easy to use lemon juicer makes getting fresh lemon juice a breeze!
A simple zester can get the right amount of zest, and not the white bitter pith.
How to make a Gluten Free Lemon Poppy Seed Cake:
Add the dry ingredients to a bowl and whisk to blend. In a separate bowl, add the wet ingredients and mix well.
Pour the wet ingredients into the wet ingredients and mix. Don't over mix because this will make your poppy seed cake not as fluffy!
Next, pour the batter into a greased bread loaf tin and bake at 350 degrees for 30 minutes, or until done. (You can test if your cake is done by inserting a toothpick into the middle of the cake. If the toothpick comes out clean, it is ready!)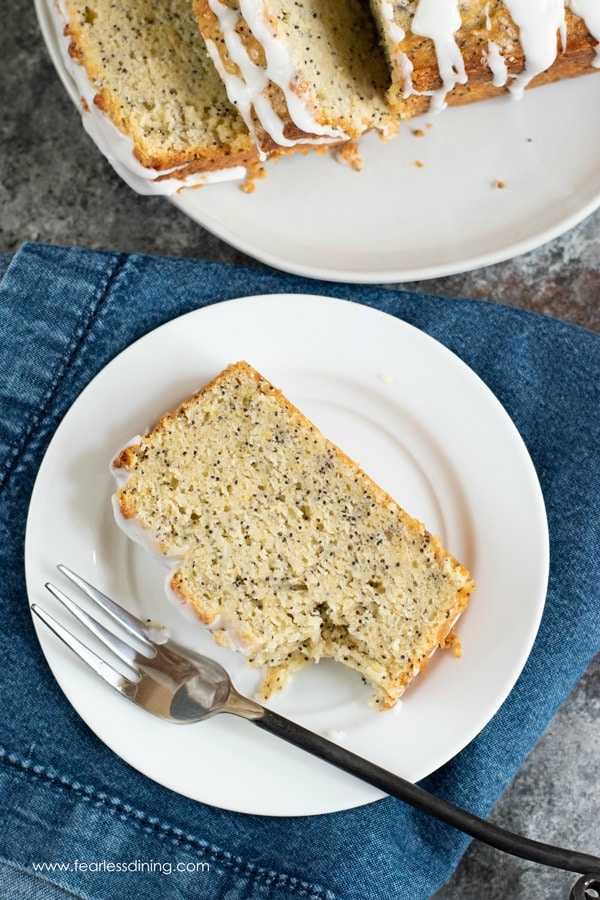 Next, eat and enjoy!
Gluten Free Lemon Poppy Seed Cake
A moist and delicious gluten free lemon poppy seed cake.
Ingredients
1 1/2 cups gluten free flour, I used Pamela's Bread Mix
1/2 cup almond flour
2/3 cup sugar
2 tablespoons poppy seeds
1 teaspoon baking powder
1/2 teaspoon baking soda
1/8 teaspoon salt
2 eggs
1/4 cup coconut oil
4 tablespoons lemon juice
2 tablespoons lemon zest
1 teaspoon vanilla
1/2 cup almond milk
2 tablespoons almond milk
For Icing:
2/3 cup powdered sugar
3 tablespoons lemon juice, feel free to adjust this if you want your icing thicker or runnier.
1/2 cup melted butter
Instructions
Preheat the oven to 350F degrees. Grease a bread loaf pan with coconut oil or butter.
In a large bowl, add all dry ingredients and whisk to blend.
In a smaller bowl, add all wet ingredients, including zest and whisk to mix.
Pour the wet ingredients into the dry ingredients and mix. Don't over mix or your cake will not be as light and fluffy.
Bake for 30 minutes, or until done. Insert a toothpick into the top middle to test.
Allow the cake to cool completely. 
In a bowl, add icing ingredients and mix. Drizzle on top of the cake and enjoy!
Nutrition Information:
Yield:

10
Serving Size:

1
Amount Per Serving:
Calories:

368
Total Fat:

20g
Saturated Fat:

11g
Trans Fat:

0g
Unsaturated Fat:

8g
Cholesterol:

62mg
Sodium:

254mg
Carbohydrates:

43g
Fiber:

2g
Sugar:

24g
Protein:

5g
Please note this nutrition information is calculated by a recipe plugin and is an estimate based on the ingredients used in this recipe.
More Delicious Gluten Free Recipes to Try: