This gluten free lemon cake is layered with delicious lemon curd and cream cheese frosting between each layer, perfect for any special occasion.
Lemon gluten free cake is my daughter's favorite birthday cake. It just takes one bite, and you will be hooked on this moist lemon cake!
If you love lemon desserts as much as we do, you will want to check out all of the gluten free lemon desserts on the blog. It may be hard to decide which to make first!
Click for Table of Contents:
When I found these cute layer pans at Target for $12.99, I couldn't resist picking them up. I have never made a gluten free layer cake like this and these pans made it look so easy. I have made lots of different gluten free lemon desserts...it is time to get fancy!
Although the rainbow layer cake in the photo looked soooo fun, I decided to start off with an easier lemon cake recipe for my first layer cake attempt. If you look at all of the gluten free desserts I have created on this blog, NONE are fancy layer cakes.
(If you LOVE lemon flavor, these Gluten Free Lemon Cupcakes, Gluten Free Lemon Donuts, and these Gluten Free Lemon Filled Cupcakes are fun to make.)
We hope you love this gluten free birthday cake as much as we did."
It isn't that I don't love layer cakes, I have just been intimidated to ever try to make one. My kids don't get big layer cakes from me on their birthdays...and I think they have been okay with that. But now that I have discovered these pans, they may start getting layered cakes now :-).
Is this gluten free cake the prettiest cake out there?
Nope. But it is extra special and tastes amazing :-).
How to make moist cake from scratch?
The secret to this moist lemon cake is almond flour. (*Note you want to use almond flour, not almond meal. Almond meal is ground thicker and doesn't bake with a smooth texture like almond flour does.)
Have you baked with almond flour yet? I use it in a LOT of my gluten free baking. Not only does it keep my baked treats moist, but using almond flour in the recipe adds protein to balance out some of the sugar :-).
One of my favorite almond flours is by a company called Anthony's. Their prices and quality level are hard to beat. (You can find it on Amazon.)
Can you make this cake nut-free?
If you can't have almond flour, you can definitely make this lemon cake recipe nut-free. Substitute an additional 1/2 cup gluten free flour blend instead of almond flour.
But what I can say is that this gluten free cake recipe is moist and delicious.
How many people will this cake recipe feed?
Each lemon cake layer is the same size, light and fluffy! This gluten free lemon cake recipe will feed 6 people, make 12 cupcakes, or one gluten free lemon sheet cake.
Or, it can feed two hungry teenage boys :-). I don't know how teens do it, but it is almost like they have an extra dessert stomach!
These little pans make it so easy to build a layer cake.
Instructions:
The first step is to add the dry gluten free cake ingredients to a bowl. Use a whisk to blend them thoroughly.
Add the wet ingredients to a bowl and whisk to blend.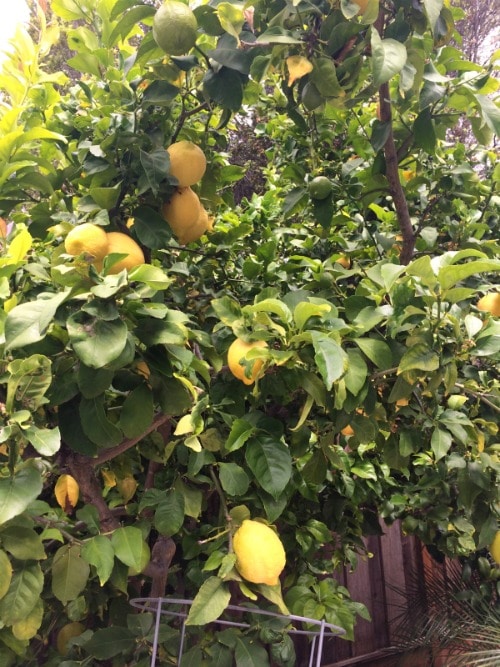 We are lucky to have this giant lemon tree so we can easily get fresh lemons most of the year.
Can you use store-bought lemon juice?
If you don't have fresh lemons, you can definitely use store-bought lemon juice for this recipe.
Pour the wet ingredients into the dry ingredients and mix gently.
Baker's Tip: Don't overmix the cake batter or your cake will be denser.
Bake the cake layers at 350 degrees for 20 minutes. If you are using a larger cake pan, you will need to adjust your bake time.
How do you know when the cake is done baking?
Use the toothpick test to see if your cake is baked through. Insert a toothpick into the middle of the cake. If it comes back clean, your cake is done baking. If there are crumbs or batter on your toothpick, bake it longer.
Can you use a different size baking pan for this recipe?
You can use any size cake pan, depending on how many people you are serving. This recipe can also make:
A gluten free sheet cake
Gluten free cupcakes
I layered Trader Joe's Lemon Curd between the layers. I spread on the lemon curd, then add frosting on top, then add another layer of cake. It is so foolproof. You can also make homemade lemon curd with this easy Lemon Curd recipe.
Not a great photo, but you get the idea :-).
Reader adaptations:
Pinterest user, Hello Lovely, wrote: "I doubled the salt (kosher), used Bob 1:1, still added an extra 1/4tsp xanthan, subbed whole buttermilk for the almond milk and I split the extract 1/2 tsp vanilla and 1/2tsp lemon extract. We frosted with a lemon buttercream instead of cream cheese. Because when you are 101 years old and want a lemon birthday cake with buttercream that's what you get! Made 2 perfect 6 inch round cakes which we created 5 layers with. Everyone raved young and old."
Here are all of the delicious gluten free desserts on this blog to explore.
More Delicious Gluten Free Cake Recipes to Try:
Tools:
If you can't find those mini layer cake pans at Target, these are even CHEAPER. (Who doesn't love when that happens?
Mixing bowls. My ultimate favorite bowls because their rubber bottom keeps them from sliding while you mix your batter.
📋 Recipe
Gluten Free Lemon Layer Cake
How to make a gluten free lemon layer cake. This lemon cake is perfect for a birthday, or any celebration.
Ingredients
1 cup gluten free flour blend, (*Note, my flour blend has xanthan gum included. If yours doesn't, add 1 teaspoon.)
3/4 cup almond flour
1/4 teaspoon salt
1 teaspoon baking soda
2 teaspoons baking powder
1 teaspoon vanilla
2 tablespoons lemon juice
2 large eggs
3/4 cup raw organic sugar
1/2 cup almond milk
1/3 cup melted butter
Jar of lemon curd
For Frosting:
3 cups powdered sugar
4 ounces cream cheese, softened
2 tablespoons water
1 tablespoon lemon juice
Instructions
Preheat the oven to 350 degrees.
Spray coconut oil in several baking dishes.
In a mixing bowl, add all wet ingredients and mix on low speed.
Gradually add dry ingredients and mix on low speed.
Pour batter into the baking pans, so each pan is 3/4 full.
Put the batter filled pans on a baking sheet and bake.
Bake for 20 minutes.
Remove from heat and allow to cool.
Add all frosting ingredients to a mixer and mix on high speed.
Remove first cake from the pan onto a plate.
Spread lemon curd on the cake.
Add a layer of frosting.
Continue to stack until you have used all layers of cake.
Spread frosting on the top and sides of the cake.
Optional top with fresh lemon zest.
Notes
I have tested Bob's Red Mill 1 to 1 Gluten Free Blend and King Arthur Measure for Measure Gluten Free Blends in this recipe.
Nutrition Information:
Yield:

12
Serving Size:

1
Amount Per Serving:
Calories:

432
Total Fat:

16g
Saturated Fat:

7g
Trans Fat:

0g
Unsaturated Fat:

7g
Cholesterol:

81mg
Sodium:

351mg
Carbohydrates:

68g
Fiber:

2g
Sugar:

49g
Protein:

6g
Please note this nutrition information is calculated by a recipe plugin and is an estimate based on the ingredients used in this recipe.
Save