You will love these gluten free oatmeal raisin cookies with a sweet Irish cream glaze. These chewy gluten free oatmeal cookies are soft and just melt in your mouth.
If you are a cookie fanatic like we are, you will want to check out all of my delicious gluten free cookie recipes!
Click for Table of Contents:
You are going to love this new classic gluten free cookie recipe. This is the one cookie that you will want to take a big bite out of and horde the batch for yourself! And don't forget to check out some of my favorite gluten free cookies for a cookie exchange!
These gluten free oatmeal raisin cookies have the option to top them with an Irish cream icing...it is a fun twist on an old-fashioned oatmeal raisin cookie.
I can't believe I have never posted an oatmeal cookie recipe on my blog. I make these cookies pretty often because they are so easy to make. Mr. Fearless Dining and my kids love them. They even love the new twist I gave these cookies for St. Patrick's Day.
(If you are a cookie fanatic, don't forget to try these Gluten Free Peanut Butter Oatmeal Cookies or these Gluten Free Chocolate Crinkle Cookies!)
I hope you agree this is the best gluten free oatmeal cookie recipe. My kids certainly think so :-).
Are Oats Gluten Free?
These gluten free oatmeal cookies are full of healthy oats. I want to take a moment to remind you how important it is to make sure your oats are certified gluten free.
Oats themselves are gluten-free but they frequently come into contact with gluten. Trader Joe's, Bob's Red Mill, and several other companies have gluten free oats available.
And just in case you are fairly new to gluten free and wonder if raisins are gluten free, they are. Where you have to be careful is if you purchase raisins through a bulk container. (You know those big barrels.) Cross-contact can happen so buy raisins pre-packaged.
Homemade Irish cream icing:
I used Bailey's Irish Cream for this icing, but you can always make your own Irish cream. Check out this homemade Irish cream recipe. I bet this sweet icing would also taste great on these Gluten Free Blonde Brownies or this giant Gluten Free Oatmeal Skillet Cookie!
Substitution and Variations:
If you don't like Irish cream, no worries! Feel free to skip it.
If you love old-fashioned glazed oatmeal cookies, you can easily make a glaze with powdered sugar and water. Just use 1/2 cup powdered sugar to 2 teaspoons water. Gradually additional add water as needed to make it runny!
Add nuts like walnuts or pecans to this cookie recipe. 1/2 cup should be enough.
The icing will harden on the cookie, just like one of those old-fashioned iced oatmeal cookies you probably ate before going gluten free!
Instructions: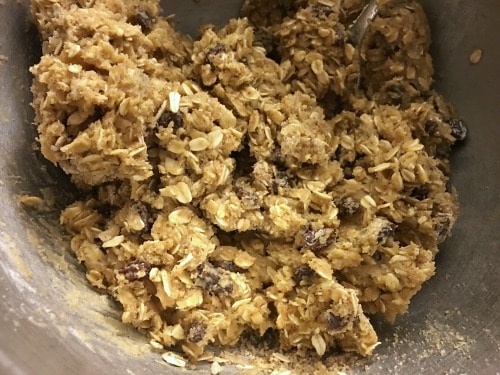 Combine the oatmeal cookie ingredients as listed in the recipe below. Mix the cookie dough well. Your oatmeal cookie dough will look like this picture. Moist and easy to scoop.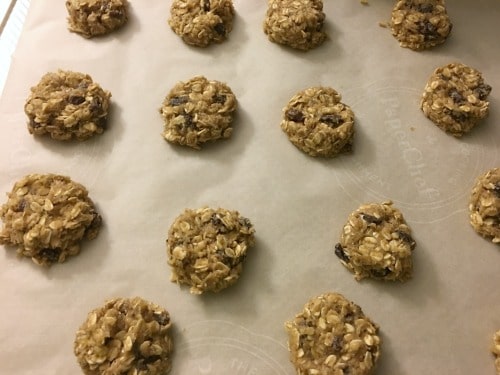 Use a cookie scoop to drop dough balls onto a baking sheet. Press down slightly with your hand to flatten slightly. Don't eat that gluten free oatmeal cookie dough since there are raw eggs in there! (I know you will be tempted!!)
Press down slightly with your hand to flatten slightly. Don't eat that gluten free oatmeal cookie dough since there are raw eggs in there! (I know you will be tempted!!) Trust me, these gluten free oat cookies are just as good baked!!
Bake, remove from the oven and allow to cool. Lastly, grab one of the gluten free oatmeal raisin cookies and take a bite 🙂
Reader adaptations:
Pinterest user Heather H changed them this way "GF husband loved these! Used flour mix for all the flour and 1/2 cup brown sugar instead of coconut sugar."
More Delicious Gluten Free Cookie Recipes to try:
Tools:
My favorite gluten-free flour blend.
Certified gluten-free oats.
An awesome cookie scoop.
📋 Recipe
Gluten Free Oatmeal Raisin Cookies with Irish Cream Icing
Easy soft gluten free oatmeal raisin cookies.
Ingredients
1 cup gluten free flour blend
2 cups gluten free oats
1/2 cup almond flour
1 1/2 teaspoons baking soda
1/8 teaspoon salt
1/2 cup sugar
1/2 cup coconut sugar
2 large eggs
8 tablespoons butter, melted
1 teaspoon vanilla
1/3 cup Irish cream
1 1/2 cups powdered sugar
1/3 cup raisins
Instructions
Preheat the oven to 350 degrees.
In a large bowl, add all dry ingredients except powdered sugar and mix well. In a small bowl, add all wet ingredients except Irish cream.
Pour the wet ingredients into the dry ingredients, add raisins and mix well.
Use a cookie scoop to drop dough balls on a parchment-lined cookie sheet. Press slightly on each with your hand to flatten a little.
Bake 10 minutes until done. Remove from the oven onto a cooling rack.
In a saucepan, add Baileys and powdered sugar. Bring to boil, stirring a lot. Reduce heat to a simmer and let simmer for another 5 minutes. Drizzle on cooled cookies.
Notes
1. Please make sure to use certified gluten free oats.
2. DO use gluten free rolled oats for this recipe, NOT quick oats or steel-cut oats.
Nutrition Information:
Yield:

24
Serving Size:

1
Amount Per Serving:
Calories:

175
Total Fat:

6g
Saturated Fat:

3g
Trans Fat:

0g
Unsaturated Fat:

3g
Cholesterol:

26mg
Sodium:

127mg
Carbohydrates:

27g
Fiber:

1g
Sugar:

18g
Protein:

3g
Please note this nutrition information is calculated by a recipe plugin and is an estimate based on the ingredients used in this recipe.
Save
Save
Save
Save