If you are looking for classic and unique biscuit recipes, here is a collection of the best gluten free biscuit recipes! There are sweet and savory biscuits that go with any meal!
Jump To:
There is nothing like taking a bite of a big flaky biscuit. If you are gluten free, it may be hard to find flaky biscuits, so I wanted to share these incredible gluten free biscuit recipes with you.
I have both sweet and savory biscuit recipes. I can't wait to hear what you make first!! If you love to bake, you may want to look at all of my awesome gluten free bread recipes!
Biscuit Tips For Success:
Baking biscuits can be really easy, but some important basic tips will help your gluten free biscuits rise better to help you achieve those big flaky layers.
The gluten free flour you choose matters. I tested eight gluten-free flour blends, and there are winners and losers. My favorite gluten free flour blend for biscuits is Cup4Cup. (Note that the blend does contain dairy.) I also like King Arthur Measure for Measure and Bob's Red Mill 1:1 Blend. Other blends will also work. Check my recipe to see the other flour blends I tested.
Measuring gluten free flour accurately matters! Use either the spoon or leveling method to measure flour. Put the measuring scoop into the flour and fill. Do not pack the flour. Use a knife to scrape along the top to remove the extra flour. You can also use a spoon to fill the measuring cup. Use a knife to level along the top to remove the extra flour.
I get a big rise in my biscuits by using a lot of baking powder. You MUST use aluminum-free baking powder, or you will have a metallic taste to your biscuits.
The colder the butter, the better. Use a pastry cutter to cut the cold butter into the flour mixture. You can also use a grater to grate frozen butter into the flour mixture.
Some flour blends may be slightly gritty, especially if they have a lot of rice flour in the blend. For these flour blends, wrap your biscuit dough in plastic wrap and refrigerate the dough for 20-30 minutes before cutting the biscuits. This will help the grittiness soften up.
Bake the biscuits at high heat. I bake mine anywhere from 400º F to 425º F. This helps the biscuits get a quick rise.
For all of my best gluten-free tips, check out these Gluten Free Baking Tips.
Tools For Making Biscuits:
You don't need a lot of tools to make biscuits, but here are some that will make things a lot easier for you.
Use a pastry cutter or grater to work the cold butter into the dry ingredients.
Rubber-bottomed, non-slip mixing bowls help prevent the bowls from sliding while you mix up your ingredients.
A biscuit cutter will help all of your biscuits turn out the same size.
I use a silicon mat for my surface for the biscuit dough. I use this silicone mat because it is multi-purpose.
I bake my biscuits on a parchment paper-lined cookie sheet.
Classic Gluten-Free Biscuits
These are the flakiest, best gluten free biscuits! They get rave reviews! As I mentioned above, I tested eight gluten free flour blends, so you can see how they all performed! Serve them with this Gluten Free Meatloaf.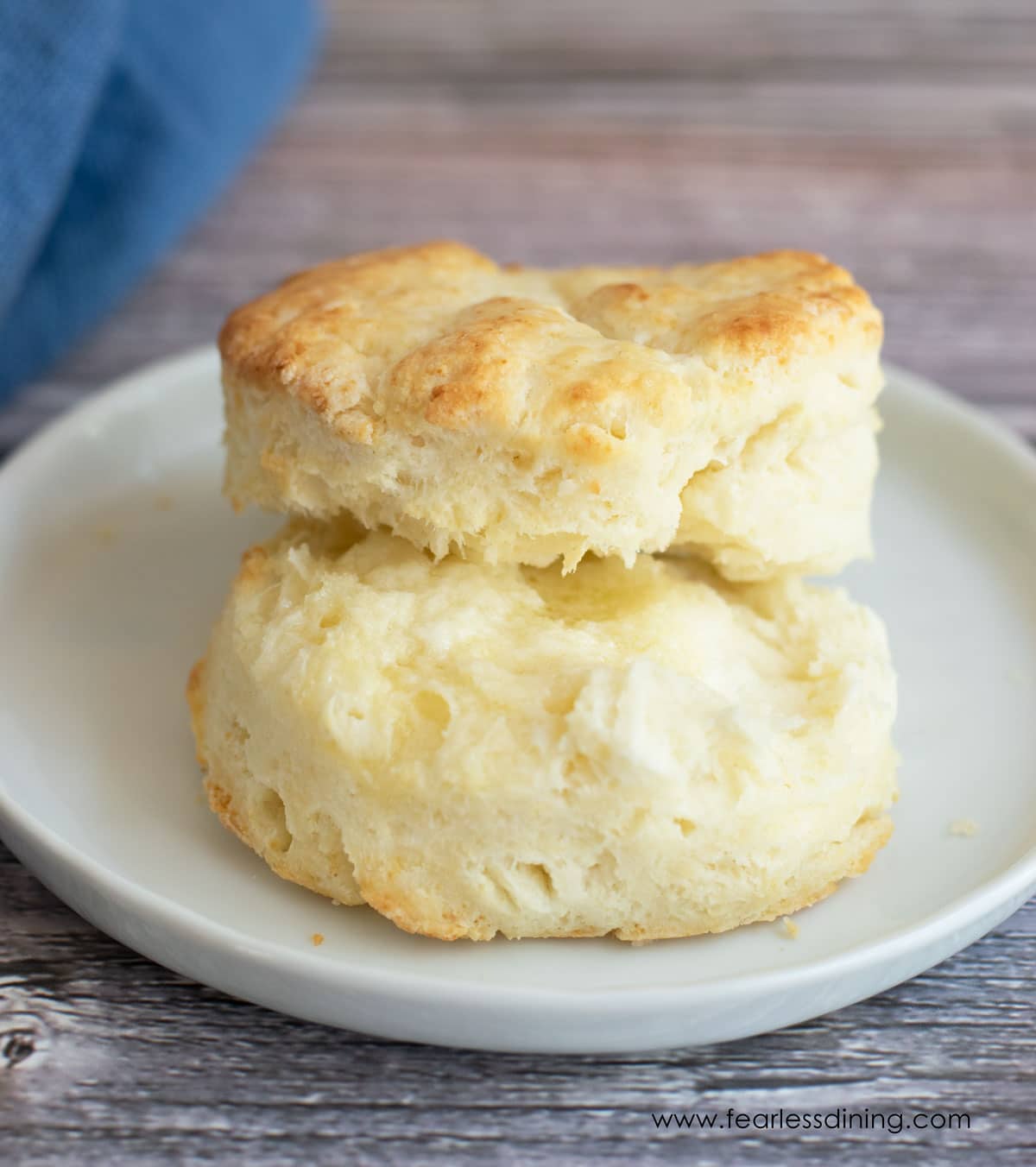 Gluten Free Bisquick Biscuits
If you used to make Bisquick biscuits before going gluten free, this is the recipe for you. Just note that with this flour blend, you will want to let the biscuit dough sit for 30+ minutes so that the grittiness of this rice-heavy flour blend softens. Serve these with my BBQ Slow Cooker Chicken Leg Quarters.
Gluten Free Pumpkin Biscuits
If you love pumpkin and spice, these gluten free pumpkin biscuits are amazing. They are so full of fall flavors! Serve with my Honey Garlic Salmon.
Paleo Biscuits (Grain Free)
If you can't have grain of any kind, don't despair because these fluffy grain-free biscuits are absolutely delicious. They get rave reviews! Serve these biscuits with my Grilled New York Strip Steak with Pesto.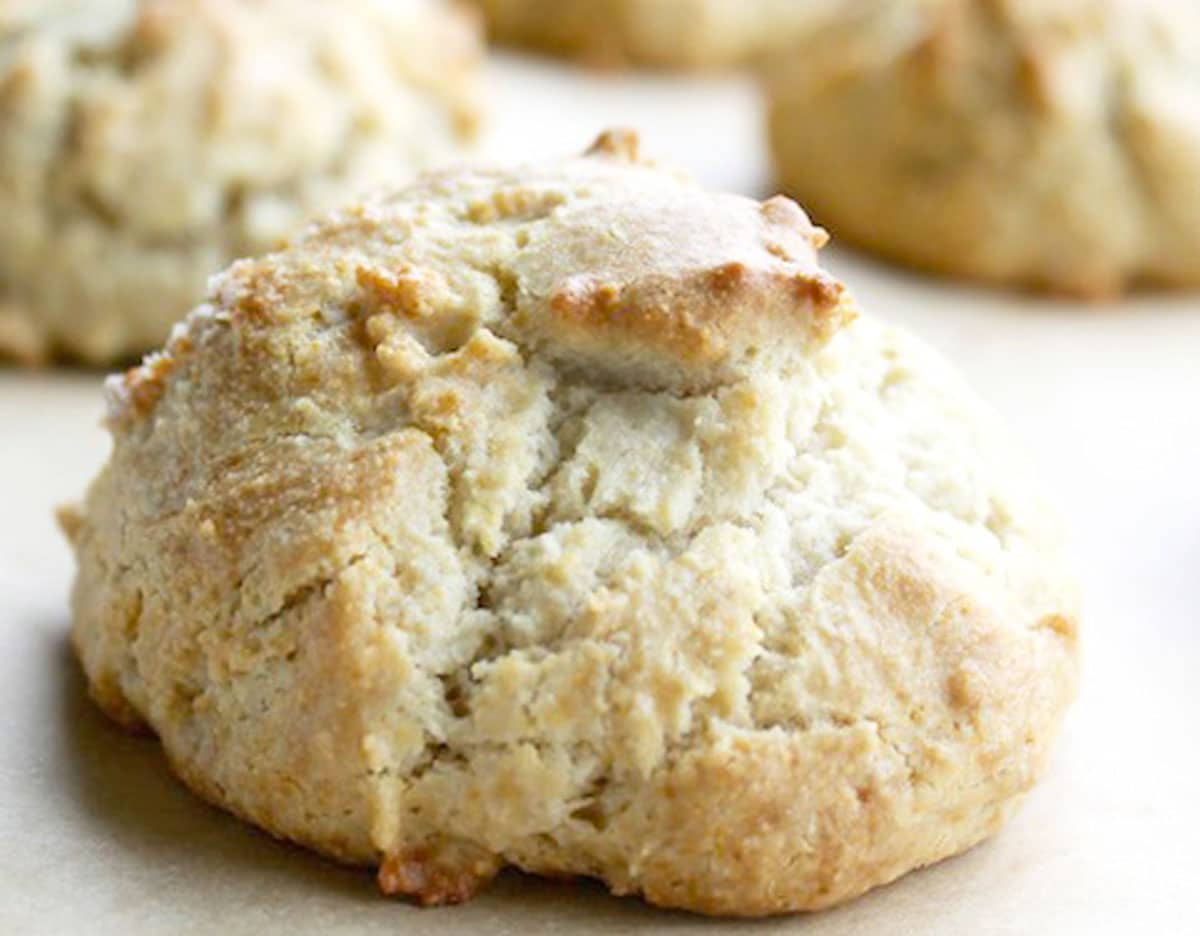 Gluten Free Cinnamon Sugar Biscuits
These homemade gluten-free cinnamon sugar biscuits are a great treat if you love things on the slightly sweet side. They are similar to a scone but with cinnamon sugar in the flaky layers. Try these biscuits with my Gluten Free Strawberry Shortcake recipe.
Gluten Free Cornmeal Biscuits
These delicious gluten free cornmeal biscuits rise up really nicely! They have so much delicious corn flavor, and you can add corn kernels or cheese and green chiles for some variations! Dip them in my Gluten Free Ground Pork Chili recipe!
Gluten Free Cheddar Biscuits
Lastly, if you love cheese, these are the biscuits for you! I love using cheddar, but any cheese works well. If you like a little spice, try pepper jack cheese. Try these cheddar biscuits with my popular Gluten Free Fried Chicken.
If you love these biscuit recipes, I would encourage you to try these incredible Gluten Free Garlic Knots and my homemade Gluten Free Pizza Crust recipes too!
If you love the recipes you find on my blog, I would love for you to sign up for my newsletter (and get my free gluten free holiday cookies baking tips!)