Simple Alfredo sauce is so easy to make! If you love white cheese sauce, you will love this easy gluten free Alfredo sauce recipe.
When you're learning how to eat gluten free, this will be your go-to sauce for pasta, seafood, appetizers, and many other recipes using this sauce you can think of.
Homemade Alfredo sauce is so much better than anything from a jar!
Gluten Free Alfredo Sauce From Scratch:
This Alfredo sauce is one of my favorite gluten free pasta sauce recipes. It has all of my favorite flavor profiles; garlic, olive oil, and parmesan.
All in one creamy homemade alfredo sauce! This tasty sauce is ready in just a few minutes and has only 4 simple ingredients. It is the best pasta sauce recipe I have ever made and it is so versatile!
Many homemade alfredo sauce recipes do not include garlic, but I love my garlic alfredo sauce version. The garlic just adds an extra zing of flavor to my recipes.
How to Make Fettuccine Alfredo:
If you want to make an incredible gluten free fettuccine alfredo, give this Gluten Free Alaskan Cod Fettuccine Alfredo recipe a try. You can make it with or without the cod, but my fish-hating kids love it with the cod. How weird is that?
More importantly, use this handy pasta hack to make sure your pasta is perfectly al dente. Mushy gluten free pasta is horrible! I love this sauce on gluten free spaghetti!
Cauliflower Alfredo:
If you are looking for a delicious vegetarian option, drizzle the gluten free Alfredo sauce on a whole roasted cauliflower. It is so easy to roast a whole cauliflower. Does this make you think about all of the delicious recipes you can use this quick and easy gluten free Alfredo sauce with?
Gluten Free Zucchini Lasagna Alfredo:
I made this pasta free Super Cheesy Zucchini Ribbon Lasagna Alfredo using my easy gluten free alfredo sauce recipe. My picky kids didn't even notice this lasagna had zucchini ribbons in place of lasagna noodles. Cheese can hide veggies perfectly!
How to Make Homemade Alfredo Sauce:
Simmer the olive oil with minced garlic over low heat.
Continue to simmer. Add heavy cream and more olive oil. This is such an easy Alfredo sauce recipe, isn't it?
Continue to simmer and add the parmesan cheese. Feel free to toss in some fresh basil if you like!
Pour the gluten free Alfredo sauce on vegetables or fish, toss it with pasta, eat it by the spoonful….use it in any dish you may like!
(*Please note this post has affiliate links. Ordering through my site will not change the price you pay. A tiny commission will come to Fearless Dining to help offset the cost of running this blog. I truly appreciate the support.)
Things You Need to Make This Alfredo Sauce Recipe:
Gluten free pasta or gluten fettuccine noodles.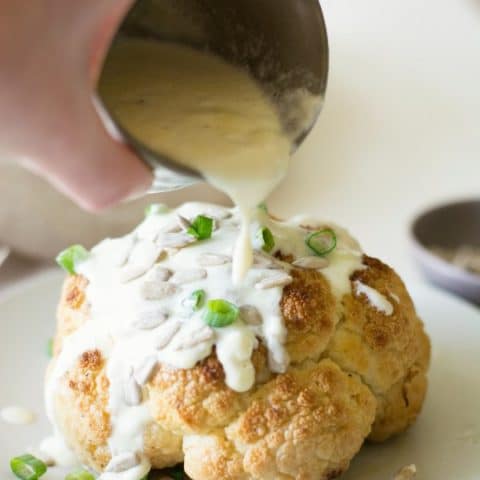 Simple Alfredo Sauce
Simple Alfredo Sauce is an easy gluten free Alfredo sauce recipe. This recipe is a go-to for pasta, seafood, and appetizers. BEST homemade Alfredo sauce.
Ingredients
2 tablespoons olive oil
1 cup heavy cream
2 cloves garlic, minced
1/4 cup parmesan cheese
fresh basil, optional
salt and pepper, to taste
Instructions
In a pan, heat olive oil for 2 minutes over low heat.
Add minced garlic and cook for 2 minutes until fragrant.
Add heavy cream and simmer 5 minutes.
Sprinkle in parmeasan cheese, salt and pepper.
Simmer 2 minutes and drizzle on vegetables, or toss into cooked pasta.
Nutrition Information:
Yield:

4
Serving Size:

1
Amount Per Serving:
Calories:

291
Total Fat:

30g
Saturated Fat:

16g
Trans Fat:

1g
Unsaturated Fat:

13g
Cholesterol:

73mg
Sodium:

203mg
Carbohydrates:

3g
Fiber:

0g
Sugar:

2g
Protein:

4g
Please note this nutrition information is calculated by a recipe plugin and is an estimate based on the ingredients used in this recipe.
Delicious Dessert Recipes for After Dinner

Save
Save
Save