If you love mug cakes, I have pulled together some of the best gluten free mug cake recipes for you. These mug cakes are my favorite because they are moist and delicious, and they cook in your microwave in about 2 minutes.
Jump to:
Grab a fork because you are about to indulge in a delicious single-serving cake in record time! Whether you love vanilla, chocolate, lemon, or another cake flavor, I have a delicious gluten free microwave cake recipe for you!
If you have been following my blog for a long, you know mug cakes are my thing. Our air conditioning isn't great due to the design of our house...this leaves me not wanting to use my oven on those hot days!
Summer is about fun and being outside, which makes this collection of single-serving gluten free mug cake recipes also a blessing. You can enjoy one of my simple mug cakes in just 3 minutes. That is so fast!!
As you can see from the pictures, it is really hard to make a mug cake "pretty." They have all sorts of little bubble marks from the high heat cooking pressure in the mug. Looks aside, these little mug cakes taste incredible, and they are so worth it when you don't want to bake a huge cake.
If you are new to gluten free living, don't forget to check out my tips for living and eating gluten free!
Can you bake a cake in a microwave?
The answer is YES, you can!! Let your microwave become your friend in helping you make cakes in just minutes!
All of my mug cakes are not only gluten free, but they are also dairy free! This makes them perfect for people with additional food allergies!
Top Pick
King Arthur, Measure for Measure Flour 3 lbs
This is one of my favorite gluten-free flour blends for cookies, cakes, pie crust, biscuits, and muffins! (Do not use this flour blend for yeast recipes.)
Buy Now
We earn a commission if you make a purchase, at no additional cost to you.
What gluten free flours are best for microwaving cakes?
I use a similar combination of flours in each recipe. To date, I have tested four different gluten free flour blends in my mug cakes. My DIY Gluten Free Flour Blend is my favorite in my mug cakes, but these three blends also work well:
Pillsbury Gluten Free.
The three blends contain Xanthan Gum as a binder to hold the cakes together. My DIY blend is gum free.
What coffee mug is safe to use for mug cakes?
Use any microwave-safe coffee mug or tea cup for these simple gluten free mug cakes. I do NOT recommend using a plastic mug, even if it says it is microwave safe. Plastic can put chemical flavors into your cake which is bad for the cake and you.
Are mug cakes safe?
Mug cakes are perfectly safe to eat when they are done cooking. The microwave cooks the egg and batter, so there is no need to worry.
Why did my mug cake explode?
Mug cakes can overflow, aka explode, for a few reasons. First, do not overfill your mug with cake batter. Second, If you use a tall narrow mug, the heat from the outside into the center pushes the batter up as it cooks.
Do I need to let the cake cool before eating it?
You can eat a mug cake at any temperature. If you are putting on icing or frosting, you will want to let the cake cool, so it doesn't melt your topping.
What does a mug cake taste like?
I will tell you the texture of a microwave cake is slightly different from an oven-baked cake. This is because of the rapid high heat used in microwave cooking versus heating slowly in an oven. Microwave cakes tend to be a little sticky, especially if your gluten free flour blend contains a lot of starch.
Why does my mug cake taste rubbery?
The cake batter, especially gluten free cake batter, can't be over-mixed. Over-mixing removes the bubbles and causes the cake to be rubbery.
The Best Gluten Free Mug Cakes:
Gluten Free Chocolate Mug Cake For Two
A delicious moist gluten free chocolate mug cake recipe. You can have this chocolate cake in about 3 minutes!
Check out this recipe
Gluten Free Blueberry Mug Muffin
This soft and fluffy gluten free blueberry mug muffin is easy to make in under 3 minutes!
Check out this recipe
Gluten Free Mug Brownie
A moist and delicious chocolate gluten free mug brownie recipe that cooks in the microwave in 3 minutes.
Check out this recipe
Gluten Free Carrot Mug Cake
A light and fluffy gluten free carrot cake that you can cook in under 5 minutes in your favorite coffee mug!
Check out this recipe
Gluten Free Vanilla Mug Cake
Easy gluten free vanilla mug cake recipe. This easy microwave cake is perfect for hot summer days. Enjoy this cake in about 5 minutes
Check out this recipe
Gluten Free Red Velvet Mug Cake
A moist delicious gluten free red velvet cake you can make in under 5 minutes!
Check out this recipe
Easy Gluten Free Mug Cupcakes In a Cone
If you are looking for a quick and easy treat, all you need is 45 seconds to cook these fun gluten free mug cupcakes in gluten free ice cream cones!
Check out this recipe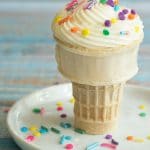 Gluten Free Banana Nut Mug Cake
Enjoy this moist and delicious gluten free banana nut mug cake in under 3 minutes!
Check out this recipe
Gluten Free Lemon Mug Cake
A gluten free lemon mug cake topped with lemonade icing. This delicious mug cake is ready in under 3 minutes!
Check out this recipe
Gluten Free Snickerdoodle Mug Cake
A delicious gluten free snickerdoodle mug cake that bakes in your microwave in just 90 seconds.
Check out this recipe
Gluten Free Dairy Free Lime Mug Cake
This is an easy gluten free and dairy free lime mug cake that cooks in your microwave in just 90 seconds.
Check out this recipe
Looking for more? Get my FREE Gluten Free Lemon Desserts E-Cookbook when you sign up for my weekly recipe newsletter!