Gluten free scones are perfect for tea time, but you don't have to love tea to enjoy a scone recipe from this collection! I put all of my best gluten free scone recipes in one place, so you can see all of your choices when deciding which simple gluten free scones to make.
On Fearless Dining, you will find all sorts of sweet scones and savory scones. There really is a scone for every taste bud!
Jump To:
If you are new to gluten free baking, don't forget to check out my Beginner Gluten Free 101 Guide for tips on how to live gluten free.
What are Scones?
Scones are sort of biscuit, sort of muffin, some can be heavy, others light and fluffy with flaky layers. They go well with coffee, tea, breakfast, brunch, or snack time. I love to make savory scones to go with a pot of soup or stew!
Scones are much easier to make than you think! Scones are considered a sweet (or savory) single-serve bread that is often enjoyed with a cup of tea or coffee.
Let's talk about the gluten free flours you can use to make these gluten free scone recipes.
What are scones made out of?
Scones can be made out of many different things. In gluten free baking, you will want to combine gluten free flours and starches or use a good gluten free flour blend. Butter, sugar, and eggs are also important ingredients for scones.
Flour Options for Making Scones Gluten Free:
You can also check out my Gluten Free Pantry recommendations.
Do scones need eggs?
Although scones don't rise much, you do need eggs to keep the consistency and mouthfeel of the scones. You can also use an egg replacer if you are on an egg-free diet.
How long do scones keep fresh?
Scones will keep for a week in an air-tight container. I like to freeze my extra scones and defrost them when I am craving them.
Should scones be crumbly?
This is a tough one. Scones are not supposed to be super crumbly, and it is going to depend on the gluten free flour blend you use. If you don't use a gluten free flour blend with starches like tapioca, potato, or corn starch...you do run the risk of having crumbly scones.
Scone step by step directions:
There are several ways to make gluten free scones. You can use a scone pan, or just roll out the scone dough onto parchment paper and cut it into triangles. They taste the same either way!
If you decide to make wedges for your scone shape, here are some easy ways to make the scones:
Step 1:
Mix up your gluten free scone dough. You want to form a ball.
Step 2:
Lay a piece of parchment paper on a cookie sheet. Form the dough into a ball and then roll until it is 1 ½ to 2 inches thick. Use a knife to cut the dough circle into wedges.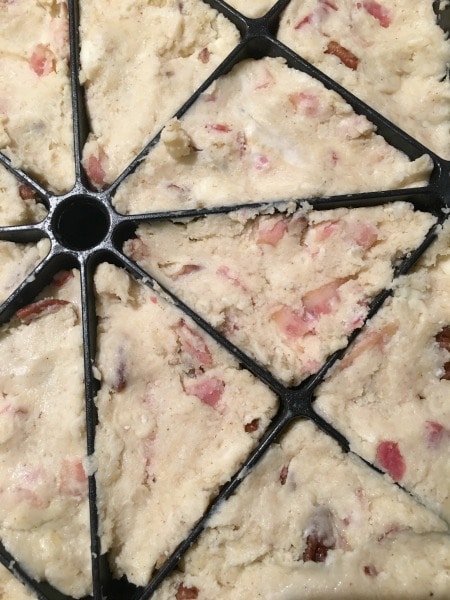 You can also use a scone pan if you want to have uniformly shaped scones. Using a scone pan definitely is a time saver. Your scones will taste the same either way you bake them.
Step 3:
Bake the scones until slightly golden. Use a knife to recut along the cut lines you made in the raw dough.
Serve scones hot or cold.
I broke my scones list into sweet and savory scones. Sweet scones are great anytime, and they even make a great dessert. Savory scones are great on their own, but dipped in hot soup? They are just as good as any gluten free bread or roll!
The Best Gluten Free Scones
These are the best sweet and savory gluten free scones recipes. Enjoy with a cup of tea or as a snack.
Sweet Scones
Sweet Scones that taste so good, they could be a dessert!
If you love classic scones, wait until you try these homemade Gluten Free Blueberry Scones!! They are flaky and perfectly formed.
If you love bacon, these gluten free maple bacon scones are so good! These are some of my favorite scones, especially with the maple glaze on top!
You will love the lightness of these strawberry scones. Drizzle icing on top, or enjoy these fresh strawberry scones plain. These scones are also dairy-free! I made these scones in a scone pan.
These gluten free coconut, pecan, and date scones are my very favorite scone recipe. These are a sweet dessert scone! They go beautifully with my latte.
Even though these gluten free eggnog scones are a popular holiday treat, you can make homemade eggnog (link to a great recipe is in this recipe) and enjoy this year-round! Sweet with delicious cinnamon, nutmeg, and clove!
Get ready for fall with these delicious pumpkin spice scones. Topped with a delicious pumpkin spice icing! These scones are perfect for the fall, harvest celebrations, and Halloween.
Savory Scones
These scones are on the savory side, enjoy as you would a roll and dip them into stew or soup!
Have you ever tried a savory scone? These gluten free cheddar herb scones are a delicious easy scone recipe to try. They are delicious with stew or soup!
Have you ever tried baking with chestnut flour? It adds a deliciously unique flavor to these scones. Easy step by step directions shows you how easy these scones are to make.
These gluten free sweet potato scones are a cross between sweet and savory! They make a delicious snack at tea time. Sweet potato adds a natural sweetness that is perfect with a cup of Earl Grey.
Have you tried delicata squash? Its sweetness blends beautifully with gluten free cornmeal to make these savory scones. Enjoy this scone recipe with a hot bowl of chili :-).
If you love the recipes you find on my blog, I would love for you to sign up for my newsletter (and get my free gluten free holiday cookies baking tips!)