If you love chocolate chips, I have some of the best Gluten Free Cookies with Chocolate Chips recipes to try. Gluten free chocolate chip cookies are one of the most popular cookie flavors to make. My recipes are easy to make in just minutes and I share all of my best cookie baking tips!
Jump To:
If you are looking for the perfect gluten free chocolate chip cookies, I have pulled together all of my best gluten free chocolate chip cookie recipes in one place so you can find them all easily.
I have traditional gluten free chocolate chip cookies and lots of fun variations of chocolate chip cookies for you to bake.
If you love cookies as much as I do, be sure to check out all of my delicious gluten free cookie recipes!
What Gluten Free Flour Is Best For Cookies?
There are several gluten free flour blends that work really well for cookies. I typically use King Arthur Measure for Measure, but I also like to use Bob's Red Mill 1 to 1 Gluten Free Flour, Pillsbury Gluten Free Flour, Better Batter, and Cup4Cup Gluten Free Flour.
Can You Make These Cookies Dairy-Free?
Yes, you can use dairy-free or vegan butter to make any of these cookie recipes dairy-free! Be sure to use a dairy-free chocolate chip like Enjoy Life if you are dairy-free.
Gluten Free Cookie Baking Tips:
Use room temperature butter and eggs. I know that it sounds crazy to use butter and eggs at room temperature, but it dramatically helps how your cookies will turn out. You'll thank yourself later if you try it.
Take special care to measure the gluten free flour correctly. If you add in too much gluten free flour or other ingredients, it can make your cookies too wet or too dry. If they don't have the proper ratios of ingredients, you may end up with a disaster.
Chill the dough when possible. Some gluten free flour blends are gritty, so letting the dough sit and chill helps to eliminate the grit! I know you are probably ready to eat your cookies right now, but taking a few minutes to chill the batter makes them less likely to spread.
Your oven temperature may be off. Periodically, check your oven temperature to ensure it's accurate with an oven thermometer. Otherwise, the cookies will, for sure, spread if it's not accurate.
Use a cooled cookie sheet when baking. Don't take a hot cookie sheet and put the batter on it, or I promise the cookies won't turn out. They start baking immediately, and it messes with the shape of the cookies. Use a couple of sheets and rotate them out when making large batches of cookies.
Don't let the cookies sit on the pan too long. After they have baked, only let them sit up to 5 minutes on the baking sheet. The pan will still be hot, and continue baking them otherwise. I like to use parchment paper so I can slide the paper with the baked cookies onto a cooling rack.
Are the Ingredients Gluten Free?
Chocolate Chips - Read here to see Are Chocolate Chips Gluten Free and get the list of gluten free safe brands.
Butter - Most butter brands are gluten-free, but you can read more about whether butter is gluten-free. You can also read about whether margarine is gluten free.
Baking Powder - Baking powder is also typically gluten free, but check the list to be sure your baking powder isn't cross-contaminated. I also always recommend using aluminum-free baking powder!
Vanilla Extract - I typically recommend using pure vanilla extract in my cookie recipes. Pure vanilla extract is gluten free, but keep an eye on imitation and flavored vanilla because they may not be!
Brown Sugar - Brown sugar is very common in chocolate chip cookies. Find out if all brown sugar is gluten free.
Sugar - White sugar and coconut sugar are also typically gluten free.
Tools For Baking Gluten Free Cookies:
These are the typical tools I use when making chocolate chip cookies. You can find out more details on my favorite kitchen tools and gluten free ingredients page.
Cookie Sheet
Hand Held Electric Mixer
Large Mixing Bowls or a Standing Mixer
Parchment Paper or Large Spatula
Cooling Rack
Check out my chocolate chip cookies web story too!
All of the Gluten Free Cookies Recipes: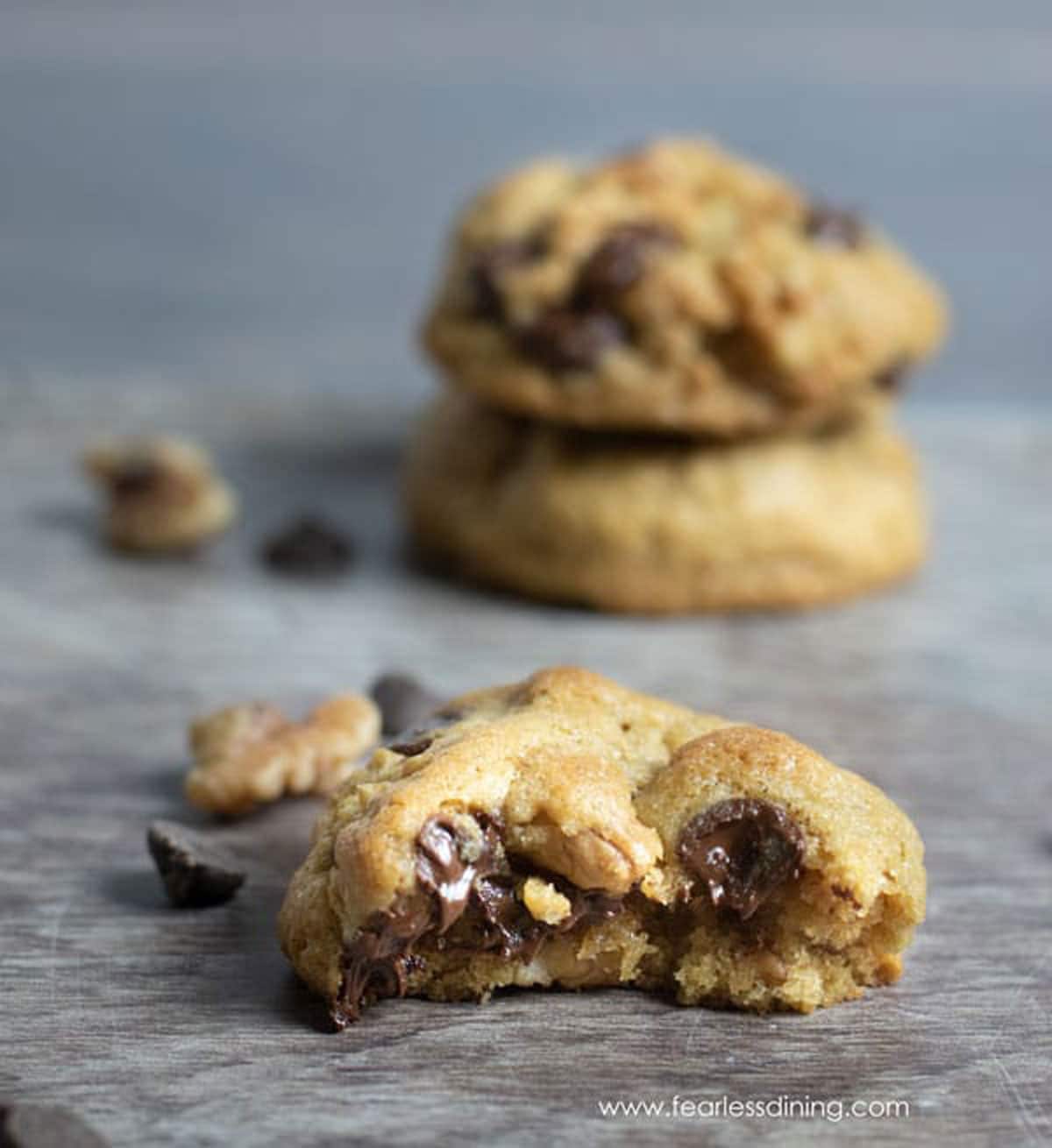 These delicious cookies have the best classic gluten free cookie chewy texture!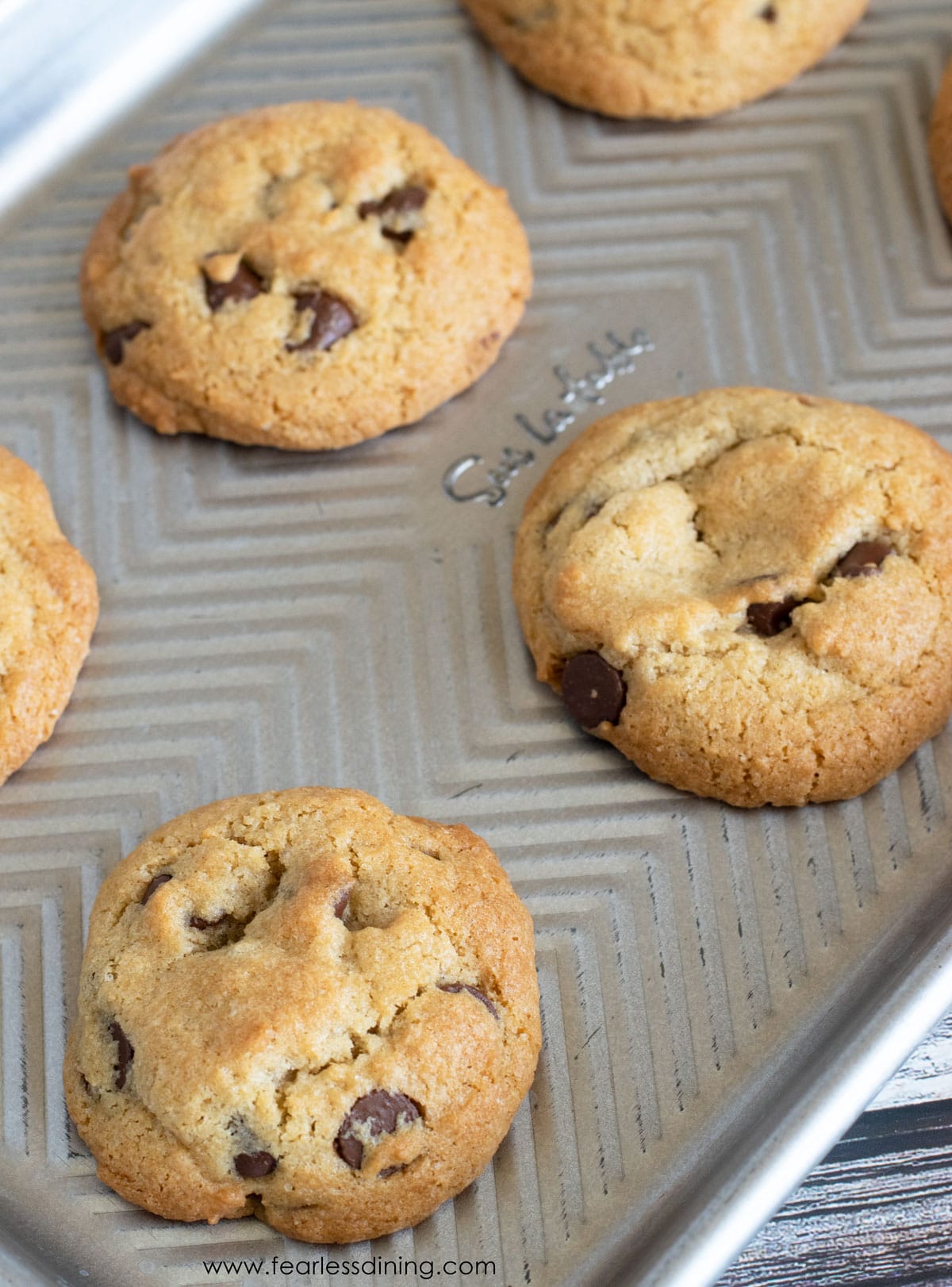 If you have missed Toll House Cookies since going gluten free, you will love the small tweaks I made to the recipe! These Gluten Gree Toll House Cookies taste like the real deal!
These chewy Gluten Free Oatmeal Chocolate Chip Cookies are full of delicious flavor. Be sure to use certified gluten free oats!
If you are looking for one giant cookie, this Gluten Free Chocolate Chip Cookie Cake is fun to make! It is perfect for a party!
If you are looking for a fun variation, try these Gluten Free Cranberry White Chocolate Chip Cookies. They are popular all year round on the blog!
I absolutely love hazelnuts and they are incredible in this Gluten Free Hazelnut Chocolate Chip Cookies Recipe!
Chocolate chips never tasted so good as in this easy Gluten Free Double Chocolate Espresso Cookies recipe. If you love lots of chocolate and espresso flavors, these cookies are amazing.
If you love lots of mix-ins in your cookies, these Gluten Free Cowboy Cookies are for you. They are loaded with chocolate chips, shredded coconut, and nuts!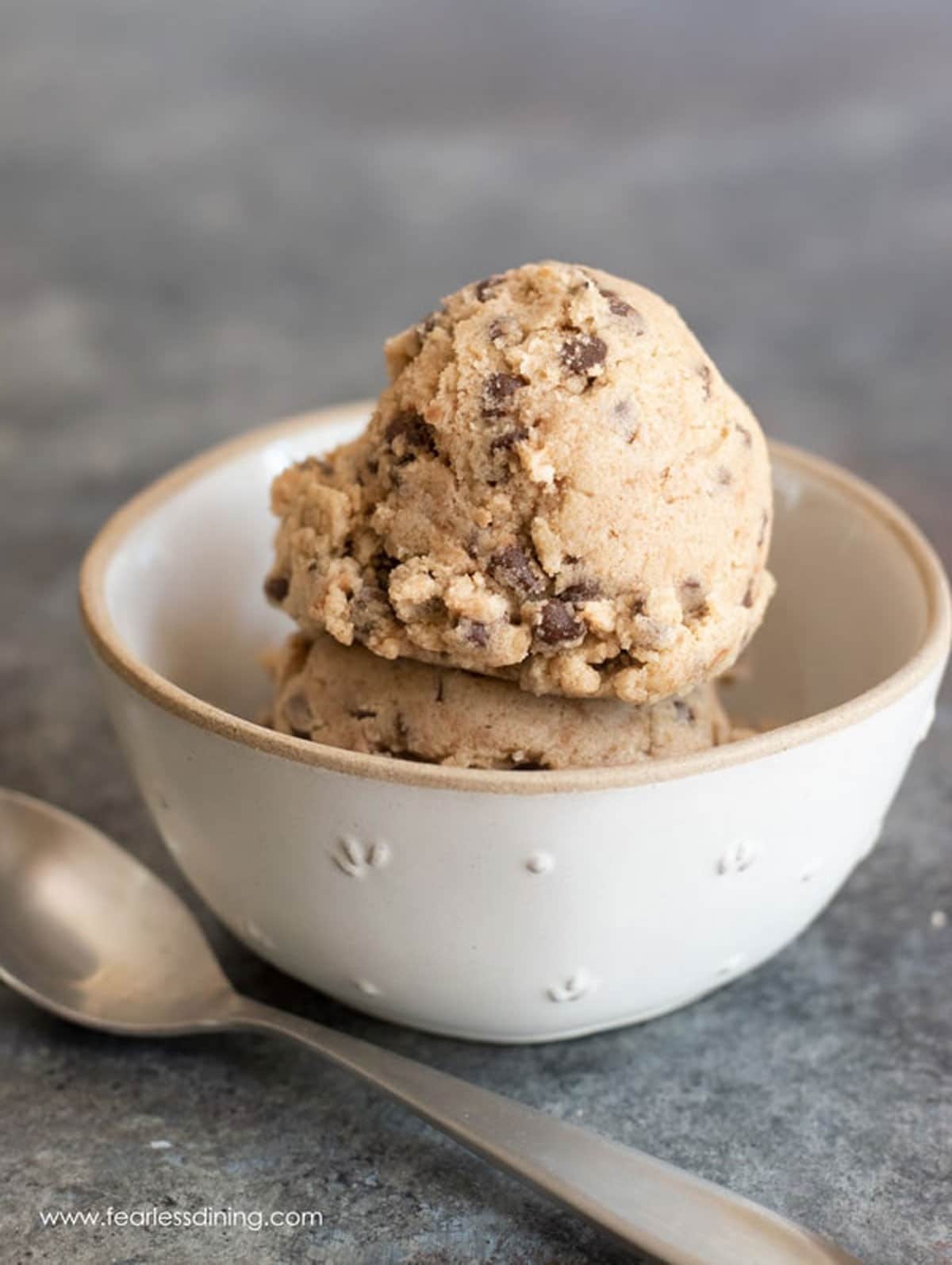 Who says you have to bake the cookies? This easy Edible Gluten Free Cookie Dough is fun for those who love to eat cookie dough. This is a safe egg-free version that is best eaten with a spoon!
If you love the recipes you find on my blog, I would love for you to sign up for my newsletter (and get my free gluten free holiday cookies baking tips!)