Gluten free churros are one of my favorite recipes ever and I am thrilled to share this recipe with you! The cinnamon sugar flavors of these homemade churros are irresistible. They are quick and easy to make with just a few simple ingredients.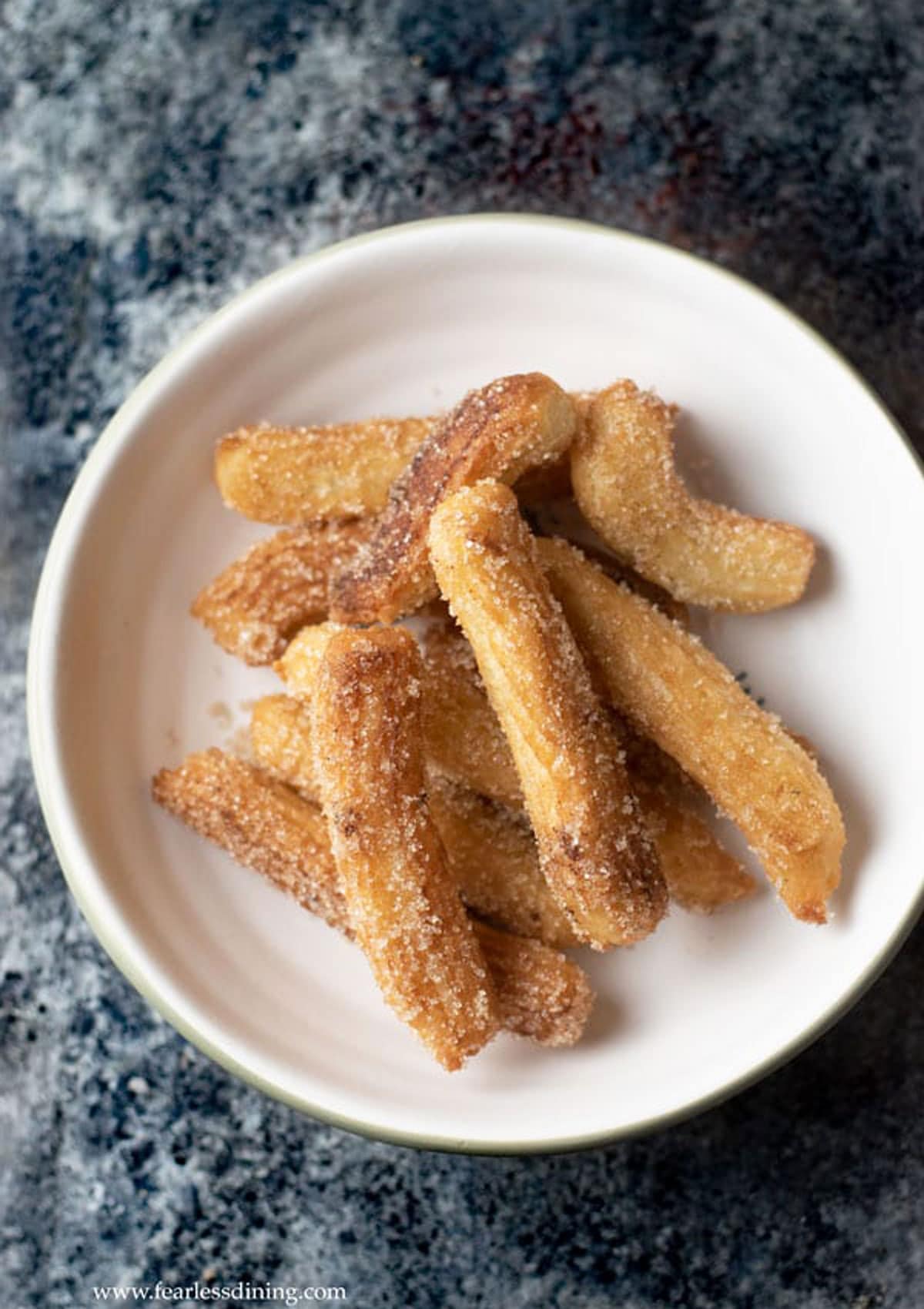 Jump to:
I am not going to lie; it is hard to resist churros! Something about the crispy outside and soft insides, surrounded by cinnamon sugar, makes me want more. Serve them up for Cinco de Mayo or any time!
Whenever we have friends come over for dinner, we often like to serve Grilled Pork Street Tacos and some gluten free churros. You won't believe how quickly the food can disappear! I know that sometimes, serving food for other people who aren't gluten free that there can be some anxiety.
If you love Mexican foods as much as I do, I put together a delicious collection of Gluten Free Mexican recipes our whole family loves.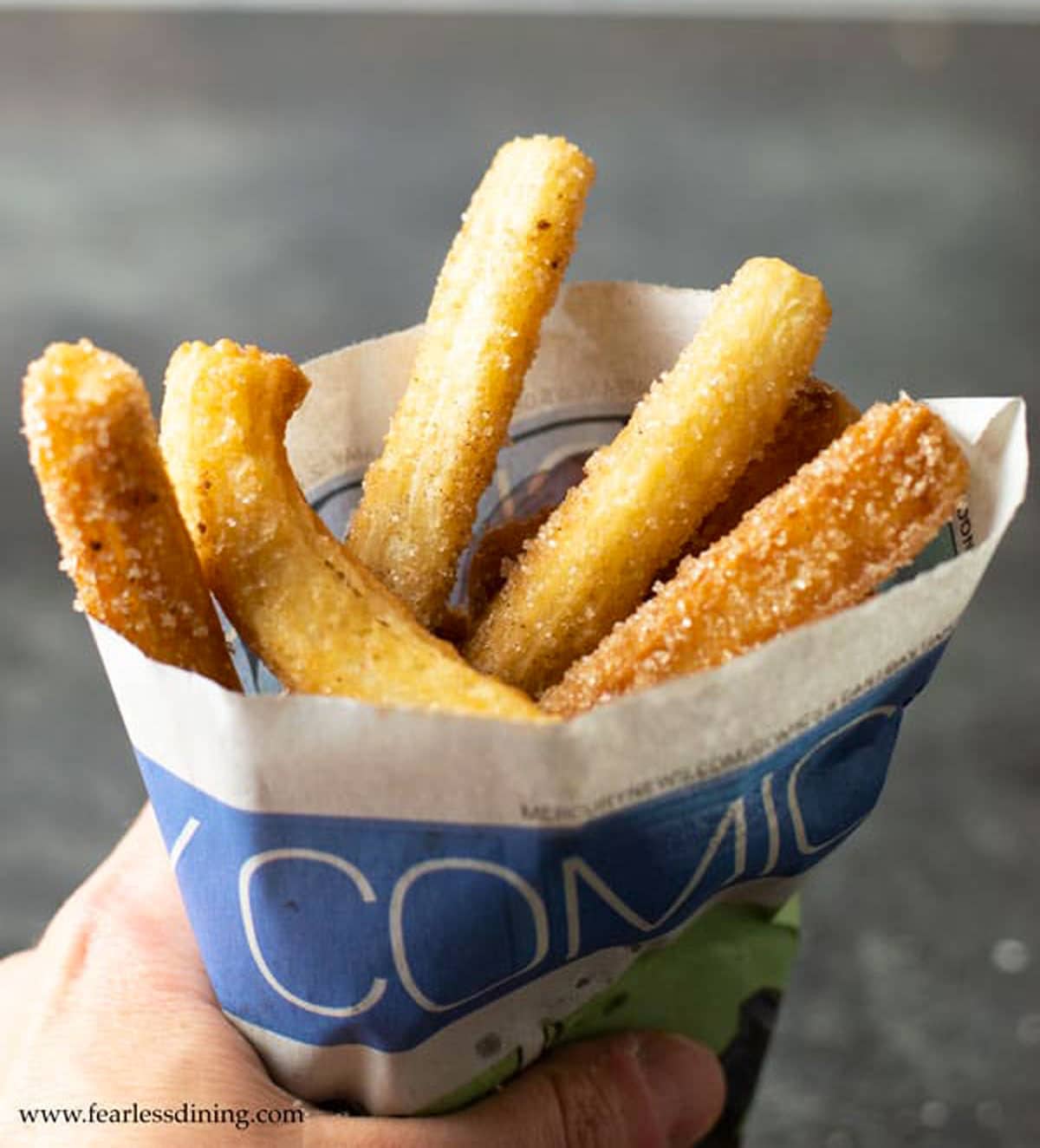 Why This Recipe Is Great:
This gluten free churros recipe is easy to make following my simple steps.
Mixing the batter quickly is a matter of frying them in coconut oil and then carefully rolling the churros in a sweet cinnamon-sugar mixture.
The insides of the gluten free churros are soft, while the outside is slightly crispy. Once you try this churros dessert, you may never want anything else! For real, they are that good!
Top Pick
King Arthur, Measure for Measure Flour 3 lbs
This is one of my favorite gluten-free flour blends for cookies, cakes, pie crust, biscuits, and muffins! (Do not use this flour blend for yeast recipes.)
Buy Now
We earn a commission if you make a purchase, at no additional cost to you.
Ingredient Notes:
Gluten free flour blend - I tested this recipe using Bob's Red Mill 1 to 1 Gluten Free Flour Blend, Pillsbury Gluten Free Flour Blend, and King Arthur's Measure for Measure Gluten Free Blend. That doesn't mean others will not work; I have not tested other flours, and I can not guarantee the recipe will work if you use other mixes.
Xanthan gum - make sure your blend contains Xanthan gum or Guar gum. Otherwise, you will need to add a teaspoon to your mix.
Coconut oil - this is the best oil for frying these gluten free churros.
Butter - you can use vegan butter if you are dairy-free.
Are you ready to learn how to make this delicious Mexican treat? Drop me a note and let me know what you think!!
How To Make Gluten Free Churros:
Step 1: Grab a medium-sized saucepan and place it on the stove. Add the water, butter, and sugar to the pot and bring the liquid to a gentle boil over medium heat. This will create a syrup for the dough. Reduce the heat.
Step 2: Add the gluten free flour to the hot liquid and mix well.
Step 3: This is what your dough will look like after you mix it. The dough is sticky and a little tough to stir.
Step 4: Place the gluten free churro dough in a standing mixer with the eggs and mix the ingredients together at low speed. Add the dough to a pastry piping bag. I like these extra-large cake decorating tips.
Note: You can also mix them together with an electric mixer.
If you don't have a piping bag and decorating tips, the best way to pipe the dough is to use plastic baggies. (I recommend the quart-size bags.) Fill the bag with the dough and make a small cut to remove the bottom corner of the bag so the dough can be piped out.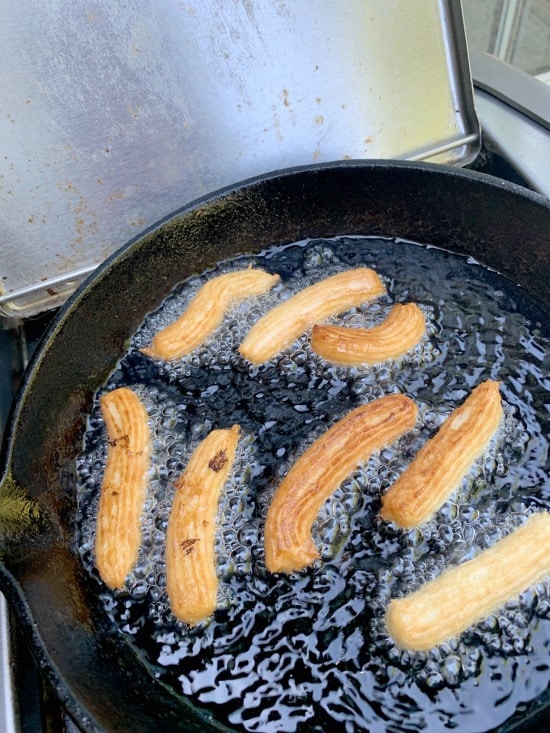 Step 5: Heat the oil in a cast-iron skillet. It is important to make sure the oil you use can tolerate high heat and have a high smoke point. Heat the oil to 350º to 375º F.
I tend to use coconut oil because it lends a nice, sweet flavor that works really well with the cinnamon sugar. You can also use canola or avocado oil. Canola has a very mild flavor. Olive oil and other more sensitive oils can not tolerate high heat, and they will leave a rancid flavor to your frying.
Step 6: Take your dough-filled piping bag. Squeeze the bag to pipe the churro dough into the hot oil. Use scissors to cut the dough off the tip when you are done piping each churro. You can make your churros as long as you like.
Step 7: Cook the churros for 1-2 minutes on each side and then flip them over with metal tongs. Grease will spatter, so I cooked this outside on a burner attached to our grill.
TIP: If you will be frying these gluten free churros indoors, use a Dutch oven. The high sides of the Dutch oven will help minimize the oil spatter.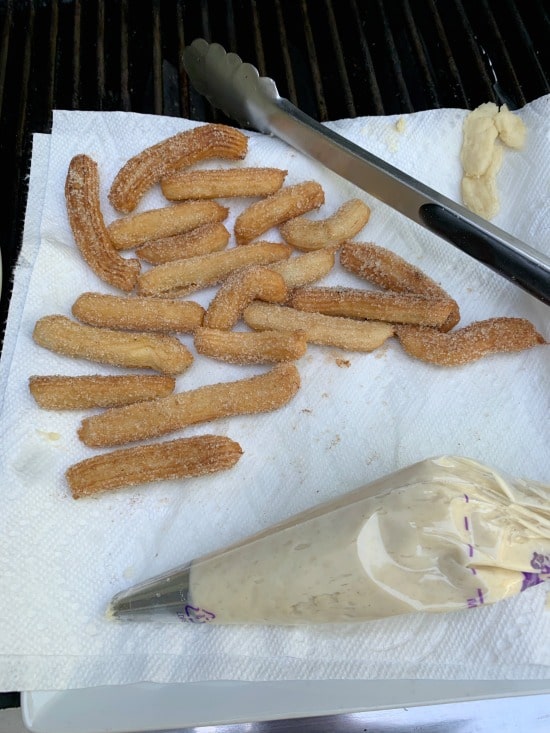 Step 8: When each churro is cooked, remove it from the hot oil to a paper towel-lined plate. Let the churros sit for one minute so extra oil can come off on to the paper towel.
Step 9: Use the tongs to put the churros in a bowl of cinnamon sugar. I recommend coating one to two churros at a time so you have room to really roll them to ensure they are evenly coated with cinnamon sugar.
I am making churros in all lengths. The short ones will be decorating my Gluten Free Churros Cupcakes. Enjoy the churros while they are warm.
Expert Tips and Recipe FAQ:
What is a churro?
A churro is fried pastry dough that is popular in Mexico. The churro is fried in the hot oil, then it's coated in a cinnamon-sugar mixture. They are soft, sweet, and just plain delicious. You will most often find them in restaurants, carnivals, and fairs. Now you can make easy gluten free churros right in your own kitchen.
What oil is best for frying?
It is important to use an oil that can tolerate high heat. I recommend coconut or canola oil for this recipe.
Can you freeze uncooked churro batter?
Yes, you can freeze the churro batter. The best way is to pipe the gluten free churro dough onto a parchment-lined sheet pan. Then, place the entire pan into the freezer for 30-45 minutes. After they seem to be frozen, you can put them into a freezer-safe bag or container.

They will last 10-12 months in the freezer. If you happen to notice freezer burn, then toss them. Otherwise, you can grab what you need, fry them, and devour every bite.
How long will the gluten free churros keep fresh in the fridge?
Yes, you can save leftover gluten free churros. Simply, place leftovers in the fridge in an airtight container. You can place a paper towel in the container to help protect them.
How do you reheat churros?
You can reheat the churros in an air fryer or oven. To reheat them in an air fryer, place the churros into the air fryer basket and cook at 360º F for 4-5 minutes. To reheat in the oven, bake the churros at 350º F for 5-10 minutes.

I do not recommend using the microwave to heat the churros because they will get soggy.
Why did the churros turn out raw inside?
This is common if the churros are not cooked in the hot oil long enough. If the outsides of the churros look really dark quickly, your oil may be too high. Make sure your oil is between 350º and 375º F.
What is the history of churros?
Churros originated in Spain as a breakfast food. They have evolved over the years. There are many historians who don't agree where the churro actually came from, but honestly, they are so good it's okay if the history is a little sketchy!

Some say that the Spanish shepherds made churros as a replacement for fresh bread and that they were named after the Churra Sheep. Similar to churros, Churra sheep have ridges, and that is what inspired the name.

Modern-day churros are used for breakfast, brunch, snacks, and dessert! Basically, any reason we can have to make or eat churros is acceptable!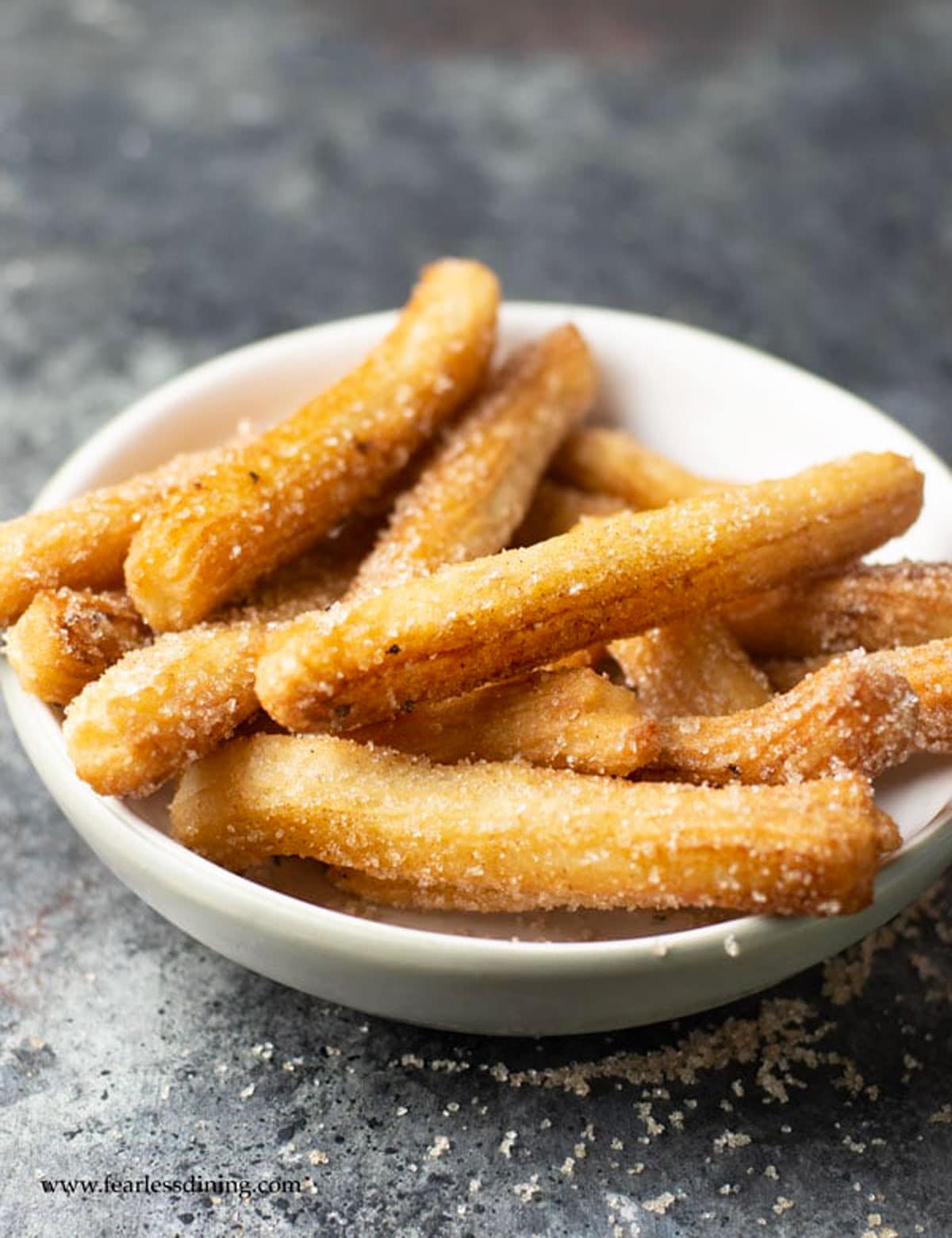 Churros Topping Ideas:
You can eat this easy churros recipe as I made them or change it up with some of these fun variations. They all taste great with just about anything! Here are my go-to ideas:
Chocolate - Dipping your churros in chocolate is probably the most common way to eat these sweet treats! Just drizzle chocolate on them or dip the gluten free churros into a bowl of chocolate.
Vanilla Cream Sauce - Seriously, this is highly addictive! Take a peek at my homemade vanilla cream sauce and pair the two for an amazing combination.
Butterscotch Sauce - Make yourself a bowl of my creamy bourbon butterscotch sauce and dip the churros into it. Oh my goodness, so scrumptious!
Icing - Drizzle a little bit of your favorite vanilla or cream cheese icing.
Reader adaptations:
I didn't have the tip to make the traditional looking churro. But, they come out delicious anyways! They are more like donut holes. Will make them again!"

Olivia, Pinterest User
More Gluten Free Dessert Ideas:
Looking for more gluten free desserts?
📖 Recipe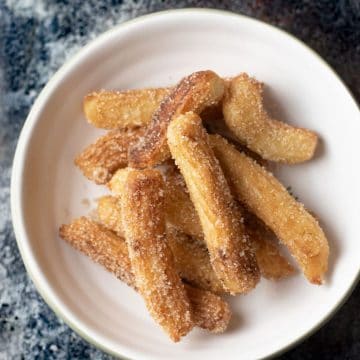 Mouthwatering Gluten Free Churros
Delicious gluten free churros. Fried churros are rolled in cinnamon sugar and are a delicious Mexican dessert.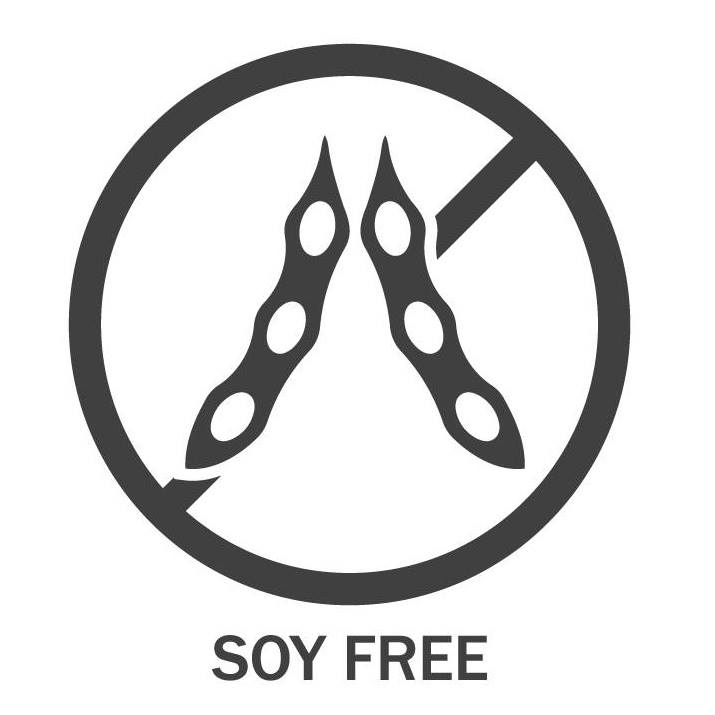 *As an Amazon Associate, I earn a small commission from qualifying purchases.
Ingredients
1

cup

gluten free flour blend

* see note

⅛

teaspoon

salt

2

tablespoons

sugar

1

egg

4

tablespoons

butter

* see note

1

cup

water
Topping:
⅓

cup

sugar

2

teaspoons

ground cinnamon
Instructions
In a pot, cook water, butter, and sugar on medium heat.

Bring to a gentle boil. Turn off the heat and add the flour.

Mix well.

Transfer the mixture to a standing mixer and add the egg.

Mix on low speed until blended.

Move the churro dough to a piping bag with a large tip (see post for tip suggestions).

On a stove heat coconut oil in a cast iron pan. You want the oil between 350º and 375º F in temperature.

Pipe the churro dough into the hot oil, use a knife or scissors to cut the end of the dough stripe.

Cook 1-2 minutes and turn the churros with tongs.

Add cinnamon and sugar to a bowl and mix.

When the churros are done, transfer to a paper towel lined plate for 1-2 minutes.

Move churros to the cinnamon sugar mixture and roll the churros to coat.

Enjoy warm, dip in chocolate or eat as is.
Notes
I have tested this recipe with Cup4Cup, Bob's Red Mill 1 to 1 GF blend, and Authentic Foods Multi Blend. That doesn't mean others will not work, I just have not tested other flours.
If your gluten free flour blend doesn't contain Xanthan Gum or Guar Gum, please add 1 teaspoon.
To make this recipe dairy-free, substitute the butter for vegan butter.
These churros will keep up to 4 days in an air-tight container, or up to 4 months in the freezer.
Frying can make a bit of a mess with the oil spatters so if you have a portable cooktop outside, fry your churros outside to avoid the big clean-up.
SPECIAL NOTE
Please know that every gluten free flour blend has a different starch to grain ratio. If you use a blend I didn't test, you may need to adjust your moisture levels in your baked goods.
Nutrition
Serving:
1
g
Calories:
34
kcal
Carbohydrates:
5
g
Protein:
1
g
Fat:
1
g
Saturated Fat:
1
g
Trans Fat:
1
g
Cholesterol:
8
mg
Sodium:
21
mg
Potassium:
3
mg
Fiber:
1
g
Sugar:
3
g
Vitamin A:
46
IU
Vitamin C:
1
mg
Calcium:
5
mg
Iron:
1
mg
Share by Text
Nutrition Disclaimer
Nutritional information is an estimate provided to you as a courtesy. You should calculate the actual nutritional information with the products and brands you are using with your preferred nutritional calculator.
Simplifying the art of baking and cooking gluten-free recipes.