If you are unsure how to use herbs in cooking, keep reading because I am all about using fresh herbs!! Here are some cool ideas that will teach you how to begin cooking with fresh herbs. I am also giving you some yummy recipe ideas to get you started.
Jump to:
These are the best cooking herbs and they are so easy to grow! These green leafy herbs are sure to add incredible flavors to your recipes! Check out these tips on 9 Herbs To Grow In Your Kitchen Window!
How to use herbs in cooking
Before you begin cooking with herbs, learning how to use them is important. Some herbs are used more in savory recipes, while others are more commonly used in dessert recipes (think fresh mint!) You may also find a few herbs which can be used in sweet or savory recipes!
I challenge you to try using a different herb each week!! There are all kinds of herbs that can be used in cooking and baking.
When chopping herbs, I love to use these Herb Scissors. It makes your chopped herbs sized consistently. You can also use this cool angled chopper that helps you chop herbs really quickly.
Cooking herbs I love:
parsley
cilantro
rosemary
sage
oregano
basil
thyme
chives
mint
Fresh herbs to use with chicken and turkey:
My favorite herbs for chicken include basil, marjoram, sage, thyme, tarragon, and rosemary. These are all common herbs in many popular poultry seasonings. These would all taste amazing and added to chicken or turkey recipes.
You can pan sauté chicken or roast your chicken with herbs.
Here are some of my favorite chicken and turkey recipes with herbs:
Fresh herbs to use with pork:
Fresh herbs taste delicious with pork!! Try basil, cilantro, savory, thyme, and marjoram with pork chops. Sage is another common herb used most often in sausage. You can use pork roast, pork chops, pork tenderloin, or any other cut of pork.
Here are some delicious pork recipes with fresh herbs in cooking:
Fresh herbs to use with lamb:
Thyme, sage, rosemary, parsley, garlic, fennel, or rosemary will add so much flavor to lamb. Dill is also really popular on lamb chops.
Fresh herbs to use with fish and seafood:
When preparing fish, you may want to use dill, thyme, basil or tarragon. Fish has a very mild flavor, and herbs will complement the fish no matter how you cook it!
Fresh herbs to use with beef:
Want a quick way to add fresh herbs to a beef dish? Add fresh, sweet marjoram or rosemary to butter and spread it over roast beef or steak. Herbs can be used in beef marinades or even crusted onto the beef.
Fresh herbs to use with eggs:
Eggs may not be the first thing you think of when cooking with fresh herbs, but herbs can really add some zing to your morning breakfast!! I typically cook my egg dishes in my cast iron pan, it makes clean-up so easy.
Fresh herbs to use with vegetables:
Vegetables also benefit from the flavor of herbs. No more boring vegetables with these delicious vegetable recipes with herbs: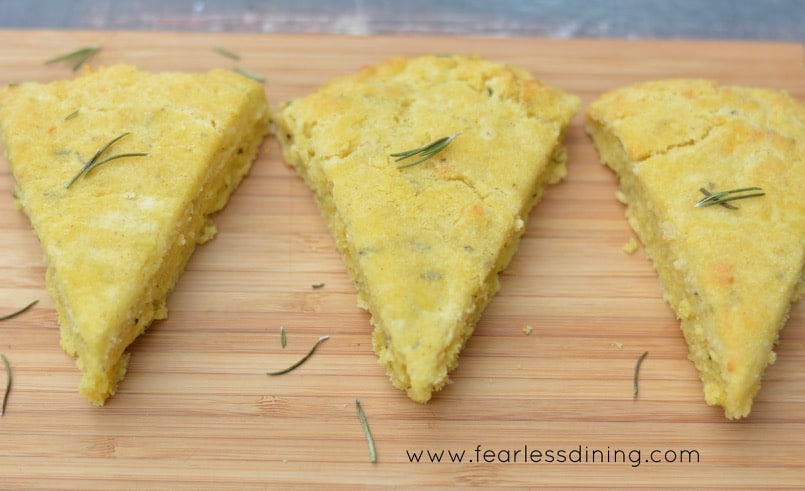 Fresh herbs in baking:
When was the last time you baked with herbs? Cheese and fresh or dried herbs work beautifully together in these muffin and scones recipes.
You can find fresh green herbs or dried herbs in most grocery stores. However, it is important to remember that dry herbs provide a bold flavor while fresh herbs are generally milder. You must use 3x more fresh herbs than dried herbs for flavor!
TIP: Use dried herbs with fat such as when making a flavored butter or infusing oils. When using fresh herbs, be sure to crush the herb before using it to cook with."
Remember that a little often goes a long way when it comes to herbs. You'll want to experiment with your herbs, and if you don't know how to use herbs in cooking, go light at first so you don't want to overwhelm the dish. As you become more comfortable using a few herbs, you can then begin branching out and trying more exotic ones!
Looking for more? Get my FREE Gluten Free Lemon Desserts E-Cookbook when you sign up for my weekly recipe newsletter!