This is it friends, the moment when we find out if my readers have the same huge sweet tooth that they had last year. If you remember last year in my 2016 Most Popular Posts article, 9 out of 10 of my most popular posts were sweets. I teased you all mercilessly :-).
Do you think my sweets lovers are going to win again this year? (There are so many delicious gluten free desserts on my blog for you to try.)
I was surprised to see several recipes back on my gluten free top ten recipes list this year. Are you ready to check these recipes out? If you made any of these recipes last year, please drop a comment and let me know what you thought.
Feel free to check out what is in my https://www.fearlessdining.com/gluten-free-gift-guide-for-foodies/Gluten Free Pantry for list of ingredients I use to make all of the recipes on my site.
Share a picture with me of what you made and I will show it off on my Facebook!
2017 Top Ten Gluten Free Recipes:
Should we count down from 10, or start with number one? I can't wait for you to see my most popular gluten free recipes!
Gluten Free Edible Chocolate Chip Cookie Dough
This is the #1 most popular recipe on my blog. This edible gluten free cookie dough is smooth enough to use as a frosting, as I did on these Gluten Free Chocolate Donuts for my son's birthday.
If you are a chocoholic, I have a chocolate version too in this Gluten Free Edible Chocolate Cookie Dough recipe.
Vegetarian Stuffed Roasted Kabocha Squash
I was shocked, and pleased to see a savory dish in the #2 spot this year!! This kabocha squash is sweet and perfect if you have vegetarians in your house. Switch to vegan cheese like Daiya to make this recipe vegan! Roast an extra kabocha squash and enjoy this delicious Kabocha Squash Mousse dessert!
You may recognize this recipe from my top ten last year! This fresh raspberry mousse is #3 for 2017! It is easy to make and is full of fresh raspberry flavors. My kids love this easy mousse recipe and I don't feel guilty making it because it isn't super sweet.
Gluten Free Fried Cheese Sticks
Here is to stretchy cheese and all things gooey! #4 in 2017 is Gluten Free Fried Cheese Sticks. This is one of the appetizers I craved most when I went gluten free and I can say that you will never know these are gluten free!
This is the second savory recipe in the top ten. I am so excited!!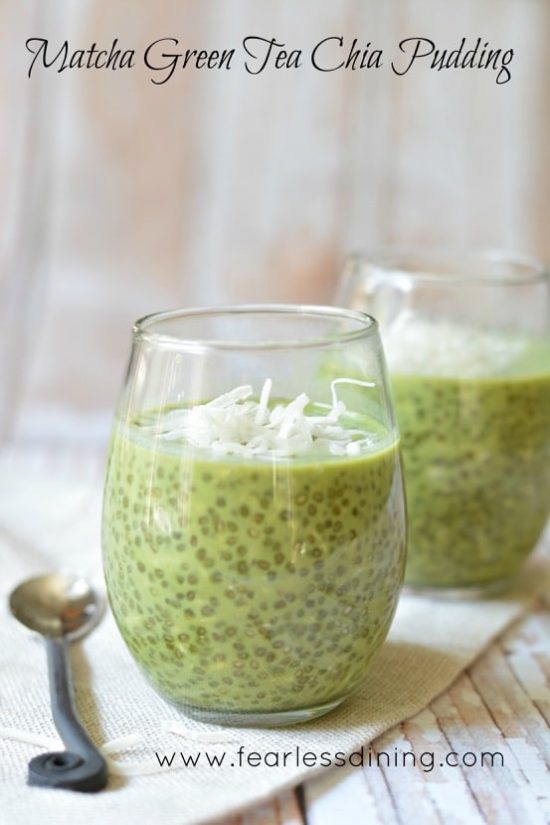 #5 is this crazy easy matcha chia pudding recipe. You will recognize this from 2016 too…my favorite way to use matcha green tea is in this easy overnight matcha green tea chia pudding. I discovered I loved chia pudding after a trip to Austin.
If you love chia pudding, you may also love this Cherry Coconut Chia Pudding recipe. Both recipes are vegan and paleo…and make the perfect breakfast or snack.
Gluten Free Russian Tea Cookies
These were the surprise favorite over the holidays and came in at #6 for the year. These gluten free tea cookies melt in your mouth and apparently, they were one of Santa's favorites. If you love cookies, here are some of my most popular gluten free cookie recipes to try.
Gluten Free French Apple Cakes
#7 is an older recipe on my blog that is ALWAYS in my top ten. I redid the recipe pictures and added a video tutorial this year. This gluten free French apple cakes recipe is as close as I have gotten to France in the past few years.
If you love apple cake, you will also want to try two recipes that were in my top 2016 list; Gluten Free Creamy Apple Cake and this Gluten Free Caramel Apple Cake.
These are the best healthy breakfast muffins! Grain free, refined sugar free, and made with healthy almond flour…they can't be beat. Feel free to use apple or any fruit! If you don't need to be grain free, these Gluten Free Oatmeal Breakfast Muffins are packed with nutrition!
#9. I created this recipe years ago as an April Fool's joke for my family. Moist delicious meatloaf disguised to be cupcakes. This is one of the first recipes I made on this blog, but this is the first time it made the top ten!
Do you have a favorite foodie April Fool's joke you have played on your family? I would love to hear it!!
Gluten Free Strawberry Oatmeal Bars
Lastly, #10. You are going to love these easy gluten free oatmeal bars. These fruity bars make a delicious snack. You can easily substitute coconut sugar if you want to keep this recipe refined sugar free!
And if you want a more dessert version, try these Gluten Free Raspberry Cream Cheese Crumble Bars!
Top Ten Recipe Runners Up:
I had a few other recipes that were SOOOO close to the top ten, I feel I should include a couple just because I love them :-).
Gluten Free Pfeffernusse Cookies
Another holiday favorite cookie…but why only enjoy it over the holidays? We make these year round because they are so good!
Pink Grapefruit Margaritas with Sriracha Salt Rim
And a cocktail. This is one of my favorites! Grab some pink grapefruit and a few friends for a delicious cocktail.
Thank you to everyone. I am truly grateful to all of my readers. Your notes, emails, and comments on my social media mean so much to me. If you have a recipe you would like me to convert to gluten free and feature on my blog, please let me know. Living a gluten free life is much easier than you may think.
Feel free to follow me on social media Instagram, Facebook, and Pinterest.
XXOO,
Sandi
P.S. My kids wanted you to know their personal favorites too!