My Gluten free brownies recipe makes the perfect dessert to serve when you want to go all-out, full-on chocolate flavor. This is my family's favorite chewy, fudgy brownie recipe because the brownies are chewy on the inside with that famous crinkle top.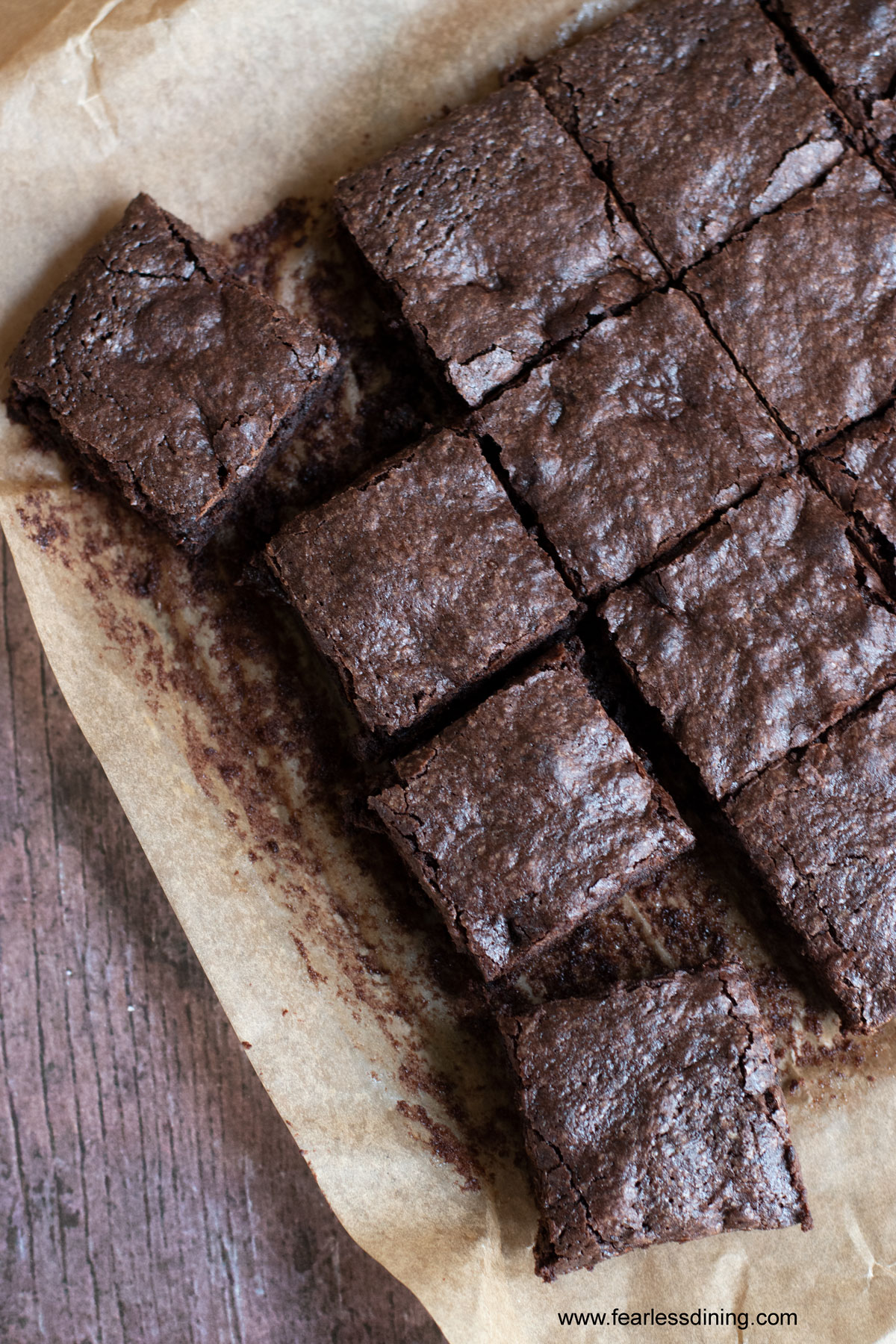 Jump to:
When my husband first went gluten free for medical reasons, before the big gluten free fad diet, there were no gluten free products in the grocery stores. No gluten free crackers. No gluten free bread, let alone brownies. No sweet treats. Everything had to be figured out.
This brownie recipe was one of the first recipes on my blog back in 2014, and it has been wildly popular. Today, I am upping my brownie game. I tweaked the recipe to make it fudgier and wrote up the directions to include even more tips for the perfect no-fail gluten free chocolate brownie!
If you love chocolate as much as we do, you will want to try all of my delicious gluten free chocolate dessert recipes.
Why People Love These Gluten Free Brownies:
These are the fudgiest chocolate brownies. They are simple to make and guaranteed to solve your chocolate cravings!
Add in your favorite mix-ins. You can also freeze the extras and always have a chocolate fix.
My brownie recipe is also dairy-free, so if you are both gluten free and dairy-free, you can enjoy these brownies!
You can make these homemade brownies in under 30 minutes!
If you love brownies as much as we do, you can also make these into bite-sized gluten free brownie bites. They are easy to decorate for the holidays, too.
Ok everyone, STOP what you are doing right now and go make these! I followed the recipe exactly as written and they are incredible! My non-GF family are devouring them."

Stacie M., Facebook user
Ways To Use This Brownie Recipe:
Make them regular or thin the batter in a larger baking dish and use these brownies to make ice cream sandwiches!
Use the brownie batter in a tart pan as a base for a tart.
I love using my gluten free brownie recipe as a base for these Gluten Free Almond Joy Bars.
Use this brownie recipe as a bottom layer, as in these Gluten Free Brownie Cheesecake Bars.
You can also make fun Gluten Free Brownie Bites, which are fun to decorate!
Top them with gluten free frosting!
Top Pick
King Arthur, Measure for Measure Flour 3 lbs
This is one of my favorite gluten-free flour blends for cookies, cakes, pie crust, biscuits, and muffins! (Do not use this flour blend for yeast recipes.)
Buy Now
We earn a commission if you make a purchase, at no additional cost to you.
Ingredient Notes:
Gluten free flour blend - I tested this recipe using Bob's Red Mill 1 to 1 Gluten Free Flour Blend and King Arthur's Measure for Measure Gluten Free Blend. That doesn't mean others will not work; I have not tested other flours.
Xanthan gum - If your gluten free flour blend doesn't contain xanthan gum or guar gum, please add 1 teaspoon.
Non-dairy milk - I used almond milk, but other dairy-free milk will work. I do not recommend canned coconut milk.
Cocoa powder - Several great gluten free cocoa powder brands have a rich, superior chocolate flavor. The ones I use the most are Anthony's and Ghirardelli's. (Anthony's Cocoa Powder has incredible flavor and is a bargain on Amazon!)
Cooking oil - I used canola or coconut oil to make this gluten free chocolate brownies recipe. Coconut oil adds a little coconut flavor, so if you do not want this, use canola or light oil.
Eggs - Use size large.
Vanilla extract - I really recommend using pure vanilla extract and not imitation.
Chocolate chips - If you are dairy-free, I recommend using Enjoy Life chips. Otherwise, feel free to use your favorite gluten free chocolate chip brand. Note Wilton chocolate is made on shared equipment, so avoid this one.
Not until my kids and I went gluten-free did so many gluten-free products start hitting the markets. Now, we are spoiled with variety. There are dozens of gluten free brownie mixes on the market now!
Recipe Step-By-Step Directions:
Step 1: Add your gluten free flour blend, cocoa powder, baking powder, and salt to a large mixing bowl and use a whisk of the dry ingredients to blend them all together.
Add in your mix-ins, like chocolate chips, nuts, or anything you like. see below for some fun ideas!
Step 2: In a smaller bowl, add the light cooking oil, eggs, vanilla, and non-dairy milk and mix the wet ingredients.
NOTE: You can also use a standing mixer to make this recipe. Add the wet ingredients to the mixer bowl first. Blend them using the paddle attachment for 20-30 seconds.
Gradually add in the dry ingredients. Mix in the chocolate chips by hand with a large spoon.
Step 3: Mix the wet ingredients into the dry ingredients.
Step 4: See how fudgy this brownie batter is. You can see how chocolaty these will turn out! This is going to bake so amazingly good!
Step 5: Grab a 9x13 baking pan and line it with parchment paper. (Or, if you make tarts like my original recipe pictured below, use the cute little tart pans and spray with coconut oil to prevent sticking.)
The actual baking time will depend on what pan you decide to bake your gluten free brownies in. If you like thick brownies, use an 8x8 pan. Bake at 350º F for 20 minutes.
Step 6: Let the brownies sit on a cooling rack for 5 minutes, then pull the brownies out of the pan with the parchment paper very gently. Cool on a wire cooling rack. Wait until they are completely cooled before slicing!
These really are delicious and, in our opinion, the best gluten free brownies EVER!
If you love white chocolate, try my moist Gluten Free White Chocolate Brownies recipe!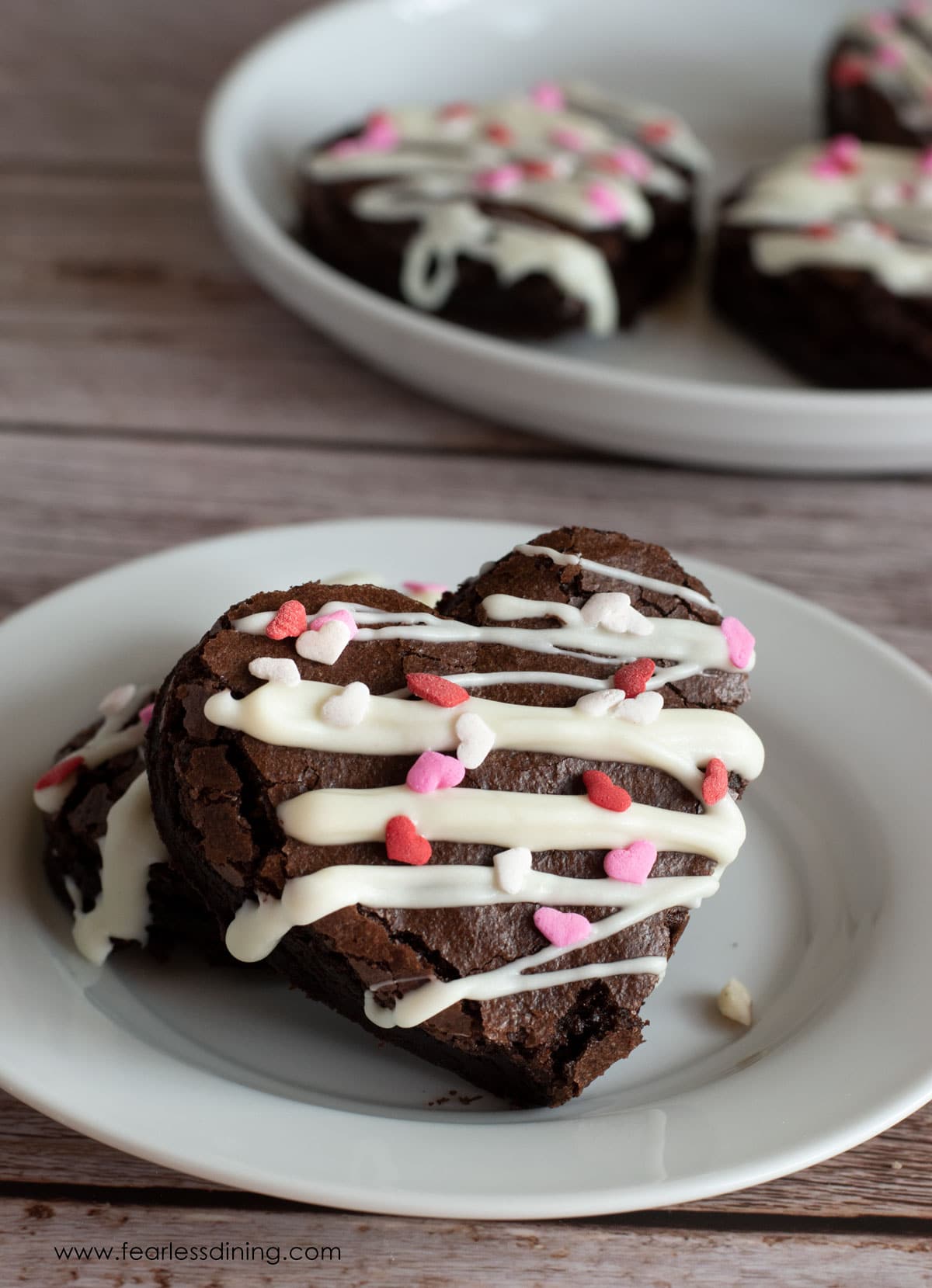 Use cookie cutters to make shapes to decorate for your favorite holidays!
Mix-In Ideas:
Chocolate or white chocolate chips
Nuts like walnuts or pecans
Swirl peanut butter into the brownie batter
You may also love this flavor variation, Gluten Free Chocolate Mint Brownies.
Pro Gluten Free Flour Tips:
There are a lot of brands of gluten free flour blends, and I have two tips when shopping for gluten free flour to use in your baking.
If you are making a dessert, ensure your gluten-free flour blend does NOT contain bean flour. Some do, which can add a slightly bitter taste to your gluten free baking. Now, these gluten free flour blends with bean flour do work well for savory dishes like Gluten Free Fried Chicken.
Make sure the gluten free flour blend you choose includes Xanthan Gum. If your blend doesn't have this, add 1 teaspoon when making this recipe. If you are sensitive to Xanthan Gum, substitute Guar Gum.
I recommend using either the spoon or the leveling method to measure your gluten-free flour. Spoon Method: You can also use a spoon to fill the measuring cup. Use a knife to level along the top to remove the extra flour. Leveling Method: Put the measuring scoop into the flour and fill. Do not pack the flour. Use a knife to scrape along the top to remove the extra flour.
Recipe FAQ:
Can you use butter instead of oil?
If you do not have to be dairy-free, you can use butter instead of coconut oil when making this brownie recipe. Use the same amount, 8 tablespoons. You can also substitute almond milk for regular milk.
What brands of cocoa powder are gluten free?
My favorite cocoa powders are by Rodelle, Anthony's, and Ghirardelli brands. There are quite a few more brands of gluten free cocoa powder. Check the labels.
What can you use instead of xanthan gum?
I would recommend using guar gum or psyllium husk (1 teaspoon) instead of xanthan gum.
How long will these brownies keep?
These brownies will keep fresh for up to 4 days in an air-tight container or up to 4 months in the freezer.
How do you know when the brownies are done baking?
Because of how fudgy these brownies are, the standard toothpick test won't work well. I like to go by touch. After 20-25 minutes, gently touch the top of the brownies if it feels firm and not jiggly.
I have kept this delicious gluten free brownies recipe over the years, tweaking it depending on what I had. Did you know you can even make a delicious Gluten Free Brownie Cake? It is perfect for chocolate lovers!
So so yummy!! No frosting even needed!"

Rochelle E., Pinterest user
More Gluten Free Chocolate Desserts:
📖 Recipe
Fudgy Gluten Free Brownies
The best fudgy dairy free and gluten free brownies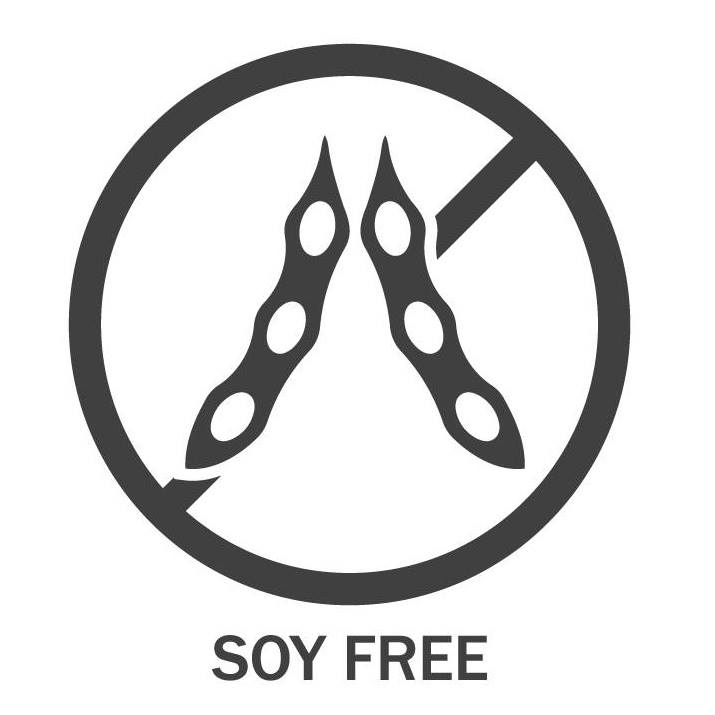 *As an Amazon Associate, I earn a small commission from qualifying purchases.
Ingredients
½

cup

unsweetened cocoa powder

* see note

1

cup

gluten free flour blend

* see note

1

teaspoon

baking powder

½

cup

brown sugar

1

cup

sugar

½

cup

light oil

* see note

½

cup

almond milk

3

large eggs

2

teaspoons

pure vanilla extract

¼

teaspoon

salt

6

ounces

chocolate chips
Instructions
Preheat the oven to 350º F.

In a large bowl, add all dry ingredients and the chocolate chips and mix well.

In a small bowl, add all wet ingredients and mix well.

Add wet ingredients to dry ingredients and mix.

Line a 9x13 baking pan with parchment paper. (If you don't have parchment paper, spray the pan with non-stick spray.)

Pour batter into baking dish.

Bake for 20-25 minutes until done.

Allow the brownies to cool before cutting them.

You will know the brownies are done baking when the top is firm to the touch. They are so fudgy, the typical toothpick test won't work so the touch test is the best way to know.
Notes
I have tested this recipe with King Arthur Measure for Measure GF and Bob's Red Mill 1 to 1 GF blend. That doesn't mean others will not work, I just have not tested other flours.
If your gluten free flour blend doesn't contain xanthan gum or guar gum, please add 1 teaspoon.
I used almond milk but other dairy-free kinds of milk will work but I do not recommend canned coconut milk.
You can make this brownie recipe in tart pans, or bake in an 9x13 pan.
These brownies will keep up to 4 days in an air-tight container, or up to 4 months in the freezer.
SPECIAL NOTE
Please know that every gluten free flour blend has a different starch to grain ratio. If you use a blend I didn't test, you may need to adjust your moisture levels in your baked goods.
Nutrition
Serving:
1
g
Calories:
155
kcal
Carbohydrates:
23
g
Protein:
2
g
Fat:
7
g
Saturated Fat:
2
g
Trans Fat:
1
g
Cholesterol:
22
mg
Sodium:
46
mg
Potassium:
59
mg
Fiber:
1
g
Sugar:
17
g
Vitamin A:
46
IU
Vitamin C:
1
mg
Calcium:
34
mg
Iron:
1
mg
Nutrition Disclaimer
Nutritional information is an estimate provided to you as a courtesy. You should calculate the actual nutritional information with the products and brands you are using with your preferred nutritional calculator.
Simplifying the art of baking and cooking gluten-free recipes.